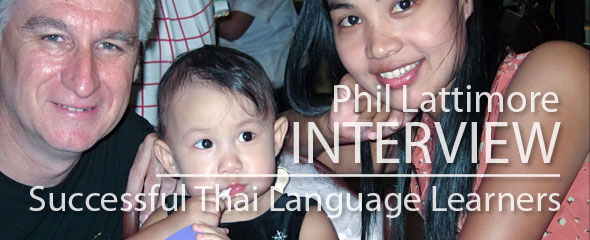 Interviewing Successful Thai Language Learners…
Name: Philip Lattimore
Nationality: English
Age range: Early 50's
Sex: Male
Location: Hat Yai
Website: phil.uk.net: Learn to read Thai
Profession: Retired professionally, previously an IBM'er in the UK for 19 years. Now a handyman, gardener, chauffeur, bottle washer, husband and father to my daughter and two cats.
What is your Thai level?
I think that the superficial and predictable nature of most casual conversations in Thailand flatter many foreign speakers of Thai. When I meet Thais for the first time and engage in conversation I know already what questions they will ask and I know how to answer. I also have a standard set of questions that I ask Thais. I can carry this off quite well and the casual observer might think that I am fluent. I'm not … at all. I'm not a beginner, either, and so I guess that makes me intermediate, which is the level I expect to be for the rest of my days. If a Thai were to ask me some deeper, more meaningful and penetrating questions I would have difficulty understanding and answering the questions.

In forums I have read comments from farangs who describe themselves as being fluent in Thai. Quite honestly, I don't believe them. I don't believe they can go into any situation in Thailand and speak fluently, as a Thai would. The only farangs I know to be fluent are normally celebrities or authors! I have immense respect and admiration for the likes of David Smyth, Chris Baker, Andrew Biggs, Todd Lavelle, etc.

I am a slow reader, although my reading speed is improving gradually. With English we don't read every letter in a word; we just see the shape of words. With Thai I need to read every letter of most words. I find signs and menus very easy these days. Sometimes I read things and then can't remember if I read it in Thai or English.

Newspapers, magazines, books and passages of texts are a completely different matter. Lots of Thai text on a page looks intimidating and the written language gets more formal. I can translate some things with a dictionary, but it takes a long time. Thai is very idiomatic and when you translate word-by-word it often doesn't make any sense.

Writing is tough. I can hear the sound of the initial and final consonants, but what consonants do I use because there are so many that make the same sound? Are there any tone marks? Are there any silent consonants at the beginning or ending of the word, and any gaa-run's? Many characters in Thai are rarely used and I can't remember how to write some characters that don't show up often.

Everything in life is relative, of course. In a typical Thai coastal tourist resort full of farang tourists and expats, my Thai ability – especially reading – would probably be considered advanced. However, when I looked at some of your other interviewees and saw who was there, I am nothing but a beginner compared to these giants of the Thai language learning world.
Do you speak more street Thai, Issan Thai, or professional Thai?
If street Thai means slang, the answer is no. I have always believed that the Thai I speak is the central dialect. My wife speaks the southern dialect to her family, who come from Nakhon Sri Thammarat. When I hear her on the phone it is like listening to another person. Apparently, the southern dialect has more than the standard five tones. There is also a high and rising tone. It starts off high and gets even higher. Yes, the tones get very high and when her family are talking in full swing I can't understand a word! The southern dialect also contains some different vocabulary. Most Thais can speak the central dialect in addition to their own dialect and I have no interest in learning regional dialects. Well actually, I feel it is beyond me. One dialect is enough for me.
What were your reasons for learning Thai?
I find this a bit of a strange question for anyone living permanently in Thailand. When people move to Thailand and live there permanently, why would they not attempt to learn the language? If still living in England would I wish to be mute, deaf and illiterate? Of course not, and it is the same in Thailand. Apologies if any of the terms used here are politically incorrect.
Do you live in Thailand? If so, when did you arrive?
Yes, I made my first visit in 1987 and after further vacations came to live in Thailand in November 2003.
How long have you been a student of the Thai language?
One of the very first things I did after I arrived was to sign up for a 20 hour conversation course with a Thai teacher. I think this was in January 2004 and I have been a student ever since.
Did you learn Thai right away, or was it a many-pronged approach?
I did a short, structured course when I first arrived and after that I have taught myself at my own pace. In the first few years I bought quite a few books and dictionaries, but I haven't bought any new resources for a long time. I try to learn in a natural way. I listen to Thais speaking and try to read everything I come across. I went to see the 'Pee Mak' movie yesterday and fortunately it had English subtitles. If I really concentrated I could understand some things, but I lost a lot of the meaning. Thai TV is also tough for me to follow.
Did you stick to a regular study schedule?
Never. It becomes boring and as soon as you are bored you don't learn. This is the problem I had during my schooldays and working life. I was always expected to be at my best at certain hours of the day and my body doesn't function that way. When I work on my website I choose times when I feel like working. When I don't feel like working I don't do anything because I know it will be unproductive time. I could never get away with this excuse when I was employed!
What Thai language learning methods did you try?
I have some books with accompanying CDs. I can read the text in Thai and then listen to the audio. I bought some software years ago in Chiang Mai. There are different situations and the written dialogue is in Thai. The idea is to try to read the dialogue and then to click a button to check against a recorded dialogue.

My preference is to read and listen in Thai. When I first started to learn to speak my biggest frustration was terrible transliteration. The way that I read transliterated versions of Thai was completely different to how the words sounded in Thai. This was my biggest motivation for learning to read.

For example, I picked up one book and the phrase to drive a car was written as 'cab rod'. The way an English speaker would say this is nothing like how it sounds in Thai. Transliteration is always a compromise and there are no correct ways, only wrong ways. It could be a lot better – 'kup rote' would be slightly more accurate, but the only real way you can learn is to abandon transliteration and learn to read Thai.
Did one method stand out over all others?
After buying some utterly useless phrase books (Lonely Planet springs to mind), I came across David Smyth's Teach Yourself Thai and Benjawan's Thai for Beginners. I still use these two books for reference purposes and these two authors remain my favourites regarding learning Thai. Both books, from very early on, put a lot of emphasis on reading. This frightened me when I first picked up 'Teach Yourself Thai' (not being able to read anything at the time), but it really is the only way. Learn to read while you are learning to speak.
How soon did you tackle reading and writing Thai?
I started learning to read and write very shortly after I started learning how to speak Thai. As I said, awful transliteration was the biggest motivator. There was no consistency and most transliterations were inaccurate. Which one was correct, or maybe none of them was correct? I was fed up and frustrated with having someone else (wrongly) tell me how Thai words were pronounced. It was essential that I knew how to do it myself. I was very motivated to learn.

Armed with David Smyth and Benjawan, I bought join-the-dots books of Thai script and plastered my walls with posters of Thai vowels and consonants. These resources aimed at very young Thai kids are plentiful and cheap in Thailand. Whenever I went outside I would try to read Thai and if I couldn't read something I would ask a Thai or consult my books. I started to make progress quite quickly and I'm still learning and trying to read faster. The learning never stops.
Did you find learning to read and write Thai difficult?
Not really, to be honest. I never had any moments when I thought it was beyond my ability. It wasn't always easy, but I knew that if I persevered I would get there. I always found Thai very logical and took pity on my Thai students who were trying to get to grips with written English, which isn't at all logical. Spelling is a perennial problem because there are so many ways you can spell Thai words, yet only one is correct. The rote learning system employed in Thai schools receives a lot of criticism, which is justified a lot of the time, but it is an excellent system for learning Thai and remembering Thai spellings. Rote drums things into the heads of Thai students and they remember.
What was your first 'ah hah!' moment?
Learning to speak has always been a gradual process and I can't remember any 'hallelujah' moments. About six months after I started to teach myself to read I had been using books and wasn't sure of my progress. I then took a trip to Bangkok and in the taxi from Don Meuang airport to my hotel I could read every direction sign in Thai. On my previous visit to the capital I hadn't been able to do this. Wow!
How do you learn languages?
I find it boring just setting aside time to 'study'. Thai students do too, which is why they often fall asleep in class. While writing and updating my Learning to Read Thai tutorials I study at the same time, and because I'm doing something productive it doesn't seem like studying.

While living in Thailand I 'study' almost constantly, but not in a traditional sense. If I'm in a vehicle or on foot I try to read everything I see. In restaurants I will look at the Thai version of the menu even if there is English. I actually like eating at places where there is no English menu, and at some places you have to write your order instead of telling the waitress.

If watching movies at home we normally have an English soundtrack for me and Thai subtitles for my wife. Not all the time, but I do try to listen to the English and glance at the Thai subtitles. It soon becomes clear that if you translate Thai into English word-by-word, as some Thais do, that it makes no sense at all.
What are your strengths and weaknesses?
For some reason, reading has never been a big problem. Catherine has chosen several website owners for these interviews and these people by nature are normally quite good with programming languages. It also happens that they are good at Thai. I guess that the two skills use similar areas of the brain. I have an engineering and IT background.

My speaking skills and tones aren't great. Impatience and being 'ใจร้อน' are other weaknesses. These days, having lived in Thailand for 10 years, I get extremely impatient when I speak to Thais for the first time who assume that because I am a farang I can't speak any Thai and then they refuse to understand me. They could understand if they wanted to, but they refuse to even make an attempt. They just close their ears and refuse to listen. I've had Thais behave this way and then 10 minutes later, when they realise that it is Thai coming out of my mouth, they tell me how 'geng' I speak Thai. Aaaaagh!
What is the biggest misconception for students learning Thai?
That it is difficult to learn, especially reading. They see an unfamiliar script and think that it is beyond them. I try to explain that written Thai is only consonants and vowels, the same as English. It's not Chinese or Japanese. There are some rules to learn, but they can be learnt. There are more consonants and vowels, but English has too few consonants and vowels. English uses the same vowels for different sounds (put, but) and the same consonants for aspirated and unaspirated sounds, as well as the same consonants for different sounds – 'c' and 'g', for example. I can give lots of examples. In many ways, written Thai is a much better and more logical written language than English.
Can you make your way around any other languages?
I attended high school in the UK during a time when it was compulsory to learn a foreign language – French or German. It's probably not the same now. I started learning French but changed schools and did German. I was an unruly and lazy student. My French is non-existent, but the German stuck somehow.

I last visited Germany in 2002 and I could converse with the locals. When I started to learn Thai, the more Thai I remembered, the more German I forgot. Some German friends came to visit recently and now my German is non-existent. It would seem that my limited brain capacity has room for English plus one other language. I am no polyglot!
Were you learning another language at the same time as Thai?
No.
What advice would you give to students of the Thai language?
Don't make the same mistake as Thai students. In order for language learning to become enjoyable, you must first reach a certain level of proficiency and getting to this stage is tough. It takes a lot of hard work and pushes students outside of their comfort zone. However, it is necessary.

If you reach this stage, learning becomes fun and it is easy to make rapid progress. Unfortunately, a lot of people simply give up before they have made it to that point. Don't give up. Persevere and the rewards will come in time.
Philip Lattimore
phil.uk.net: Learn to read Thai
The Series: Interviewing Successful Thai Language Learners…
If you are a successful Thai language learner and would like to share your experiences, please contact me. I'd love to hear from you.