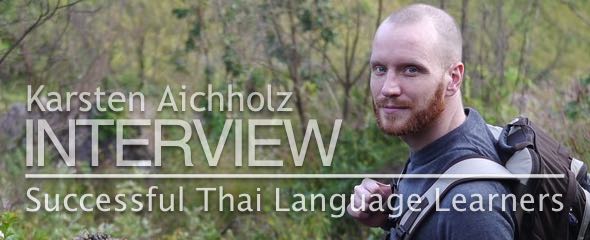 Interviewing Successful Thai Language Learners…
Name: Karsten Aichholz
Nationality: German
Age range: 35
Sex: Male
Location: Bangkok
Profession: Aspiring writer. Actual entrepreneur.
Website: I run a website that provides people with free guides on living, working or starting a business in Thailand: ExpatDen
What is your Thai level?
Advanced.
Do you speak more street Thai, Issan Thai, or professional Thai?
Professional Thai. I can read and understand the fee structure of a SET-traded fund, but for the life of it have no idea why the lady with the pancake makeup and the helmet haircut is angry at that other lady on some soap opera.
What were your reasons for learning Thai?
My former business partner is a language prodigy. Unless I studied the language extensively I would come across as having learning-disability when sitting next to him in a meeting. I also didn't want to be the guy who after 10 years in a country still doesn't speak the language. Initially it was that and some curiosity.

Later on it was mostly for social reasons and some limited business benefits.
Do you live in Thailand? If so, when did you arrive?
I have been living in Bangkok since 2006.
How long have you been a student of the Thai language?
2006+
Did you learn Thai right away, or was it a many-pronged approach?
Back in 2006, the first year I arrived in Thailand, fiddled around with books and websites without making much progress beyond 'turn right', 'vegetarian, please' and 'that's not vegetarian'. I got serious when I first took an intensive Thai class at Chulalongkorn University in 2007. I wrote a review about that experience here: Thai Language School Review – Intensive Thai at Chulalongkorn University. I've been studying on and off ever since.
Did you stick to a regular study schedule?
Not as much as I'd like to have. Doing full-time intensive classes forced me to do it for a few weeks each and it helped a lot. In other years it was more of a 'time permitting' approach where I'd take up regular classes when my work schedule permitted.
What Thai language learning methods did you try?
I did some self-study (okay, to maintain current level), an intensive Thai class (very good to overcome roadblocks), and took private lessons (great if you can find a topic that interests you and combine it with dedicated self-study).
Did one method stand out over all others?
One very labor intensive but effective way of self-study was to put entire sentences from Thai Grammar Books on Anki flash cards. It definitely helped with getting a more intuitive understanding of grammar. I would gladly pay good money for ready-made, sentence-based flash cards that can be purchased by topic. Finding topics that excite me (e.g. finance) was one of the biggest factors in making me more dedicated to self-study.

This said, the biggest improvements came from externally imposed schedules that force you to commit time and thought to learning the language.
How soon did you tackle reading and writing Thai?
The first word I read in Thai was the transcription on the McDonald's sign. That was a week after arriving. I picked up enough to 'make out' words reasonably quickly, but didn't learn how to properly read and write until I took an intensive Thai class that taught me about a year after I arrived.
Did you find learning to read and write Thai difficult?
It didn't come naturally beyond some newbie gains, but I feel more at ease with written Thai than colloquial Thai.
How do you learn languages?
With dread and reluctance. I wish I was kidding. My work-around is to find a setup that forces me to study or provides a tangible reward in the near future (e.g. signing up for a class, learning the lyrics of a song, reviewing essential information for my business…).
What are your strengths and weaknesses?
I have a hard time doing something for which I don't see rewards in the near future. Though once I believe there'll be a benefit, I can put up with a lot in order to reach it.
What is the biggest misconception for students learning Thai?
That reading is hard and grammar is easy.
Can you make your way around any other languages?
I'm a native German speaker and picked up English on the internet. French I struggled with in school long enough to allow me some rudimentary communication while crossing a French-speaking country.
Were you learning another language at the same time as Thai?
That would be pure horror to me. Nowadays when I try to speak French, Thai comes out. I can't imagine how confusing it would be to learn two languages at once.
What advice would you give to students of the Thai language?
Find a very specific benefit you'll want that requires speaking Thai. It'll give you a lot of direction, motivation and you'll have an easier time showing self-discipline. In my humble opinion, motivation alone won't work: Stop Asking How to Get Motivated.
The Series: Interviewing Successful Thai Language Learners…
If you'd like to read more interviews the entire series is here: Interviewing Successful Thai Language Learners.
If you are a successful Thai language learner and would like to share your experiences, please contact me. I'd love to hear from you.