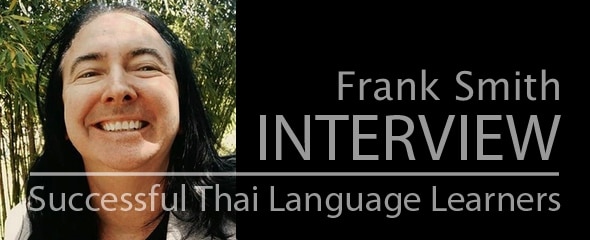 Name: Frank Smith
Nationality: US
Age range: 50-60
Sex: Male
Location: US
Profession: University language lecturer (Khmer)
Websites: Study Khmer and Study Lao
What is your Thai level?
Speaking: low-mid advanced
Listening: high advanced
Reading and Writing: low advanced
Do you speak more street Thai, Issan Thai, or professional Thai?
Mostly colloquial/informal, but I can speak polite/formal when needed; I also speak Issan (Lao) at pretty much the same level as I speak Thai.
What were your reasons for learning Thai?
General interest in Southeast Asia, but my ability greatly increased when I moved to Thailand…then I learned it to function as a member of society on a daily basis.
Do you live in Thailand? If so, when did you arrive?
I lived in Bangkok from 2002-2008; visited once a year starting in 1999, visited 3x a year from 2009-2013, now back to once a year. I'll eventually retire to Thailand.
How long have you been a student of the Thai language?
1999-2018
Did you learn Thai right away, or was it a many-pronged approach?
I started learning from an informal Thai tutor in Seattle in 1999 once I knew I was going to visit, both speaking and reading/writing. From the moment I first landed in Thailand I tried to speak only in Thai to all Thais I interacted with, a strategy I maintain to this day. The only exception was a group of Thais educated in the US (mostly artists and musicians) I interacted with in my first few years of speaking Thai–I spoke English with them then, but speak only Thai with them now.
Did you stick to a regular study schedule?
Not really, since I was pretty much always working on improving my Thai from the moment that I moved there.
What Thai language learning methods did you try?
Learning vocabulary and grammar from an old (1950s or 60s?) textbook (I no longer have it and can't remember the name or author), constantly practicing with native speakers in a wide range of social situations, reading signs, newspapers, magazines, watching karaoke videos, reading songbooks.
How soon did you tackle reading and writing Thai?
Immediately.
Did you find learning to read and write Thai difficult?
Not difficult at all, because I was already fluent in [spoken and written] Khmer when I began to study Thai.
What was your first 'ah hah!' moment?
After living in Thailand about 1.5 years and using it daily, there was a moment when I had finally figured out all the proper spoken uses of ก็ (and distinguishing those uses from how it's used in Khmer) and was able to use it confidently in my own speech; that was a significant moment that I remember clearly. Other, related, 'a-hah!' moments like that came when I was able to start using the final particles นะ and เลย correctly in my speech.
How do you learn languages? (learning styles)
I learn languages by using them as much as I can for communication, with periodic study of vocabulary and grammar to fill in gaps in my communicative ability. When I decide to learn a language, I will refuse to speak anything but that language to native speakers, no matter how good their English is and no matter how much they protest.
What are your strengths and weaknesses?
Strengths: Pronunciation, speed/fluidity, use of colloquial vocabulary, domestic issues/relationship discussions, pop culture, expression of personal feelings/opinions.

Weaknesses: political vocabulary/discussions on issues such as politics, the economy, etc.; tones.
What is the biggest misconception for students learning Thai?
Probably the same misconception that all students of a language that differs radically (grammar, etc.) from their native language share: the belief that every word in the target language (in this case, Thai) must have an exact equivalent in their native language. Once one accepts that the "semantic range" of many Thai words is way, way broader than any one English (or whatever) word, learning gets a lot easier. "Translation" and "word lists" are very inefficient and often frustrating ways to try to learn a new language.
Can you make your way around any other languages?
Khmer (fluent), Lao (probably the same level of proficiency that I have in Thai, including reading and writing), Vietnamese (knew it well years ago, but I can only speak it now when I'm physically in Vietnam), Spanish.
Were you learning another language at the same time as Thai?
No…and as a language teacher, I highly recommend NOT trying to learn two or more languages at the same time.
What advice would you give to students of the Thai language?
Speak as much Thai as you can, to native speakers, as often as you can…resist the urge to resort to English, despite how much more comfortable it might be. Have as your goal "thinking in Thai," and get away from the notion that learning Thai means translating from English words or grammar into Thai. Also, learn to read and write as soon as you start to learn to speak, and do not use any sort of phonetic transcription or transliteration.
regards,
Frank Smith
Study Khmer and Study Lao
The Series: Interviewing Successful Thai Language Learners…
If you'd like to read more interviews the entire series is here: Interviewing Successful Thai Language Learners.
If you are a successful Thai language learner and would like to share your experiences, please contact me. I'd love to hear from you.