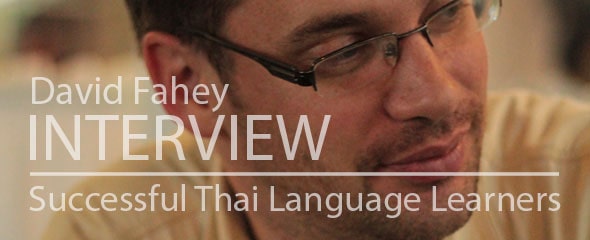 Interviewing Successful Thai Language Learners…
Name: David Fahey
Nationality: British
Age range: 30-40
Sex: Male
Location: UK
Profession: Management Consultant
What is your Thai level?
I can converse comfortably about most everyday things and watch and understand Thai soaps and films etc as long as they are set in the present in Bangkok so from that perspective, I consider myself fluent. An off the wall analogy perhaps, but anyone familiar with karate, for example, will know that students aspire to attain a black belt, but once there, that's where the real learning begins as you focus your attention on moving through the "Dan" grades which come after the black belt. Where learning Thai is concerned  I'm a black belt but only a low ranking one with vast amounts left to learn.
Do you speak more street Thai, Issan Thai, or professional Thai?
I speak standard central Thai which is a product of the materials I started using when I began learning, that I lived in Nonthaburi and commuted into Bangkok for work and that my wife is from Samphran, Nakorn Pathom. My teenage street slang is a bit rusty now but at 37, I don't worry too much about this! My Isaan is non-existent but we have a bit of land up in Chiang Mai where we plan to put a house one of these days so learning the northern dialect is on the cards at some stage.
What were your reasons for learning Thai?
When I was 22 having left university and gone straight to work, I decided on a bit of an adventure before the rat race consumed me. I took a teaching job in Bangkok – word of mouth, friend of a friend who knew someone sort of thing. I started to learn from a book a few weeks before travelling to Thailand so it was about survival and being keen to integrate as much as possible at first. Nowadays Thailand is very much a part of the fabric of my life so it seems only fitting I should speak the language. We also try as best as we can to bring the kids up in a bi-cultural environment so I try and set an example and we speak Thai at home a lot.
Do you live in Thailand? If so, when did you arrive?
I lived in Thailand from 1998 to 2005. We visit for 6 weeks in the UK summer holidays every year and it is our intention to return to Thailand in the medium term. Our plan is to live out a "simpler" existence ad flit between bases in Nakorn Pathom and Chiang Mai.
How long have you been a student of the Thai language?
Since 1998 and I am still very much a student – something I don't expect will ever change.
Did you learn Thai right away, or was it a many-pronged approach?
I learned to read early on but had I been more consistent with my studies my Thai would have been stronger today. Learning for me has involved a series of plateaus where I have had to spend time consolidating what I already know. A two steps forward, one and a half steps back scenario.
Did you stick to a regular study schedule?
No. Not when I was living in Thailand, though I try to do now.
What Thai language learning methods did you try?
I have used a variety of books to supplement my learning over the years and these days I always have a subscription to a web-based resource. I've used Learn Thai Podcast and now I'm trying Thaipod 101 – both have their place, strengths and weaknesses but I am of the opinion as much exposure as possible from different sources is a good thing and it helps to recycle previously learned language in a different context. I also meet up with an ex (Thai) student of mine, now a good friend and who also has relocated to England, once a week where she pushes me conversationally for a couple of hours. However, my secret weapon is my long-suffering wife, Ple. She has a degree in education specialising in Thai from Chulalongkorn University and before we relocated to England she was the High School Thai language teacher at a well-known international school – ISB. One resource I do use is a magazine which I can get here in the UK called "Koo Sang Koo Som". Whilst a light read for Thai native speakers and not the kind of thing I'd go in for in my own language, it provides me with sufficiently challenging material for my level at the moment. I try to read two to three articles a week, extracting new vocabulary etc and then discuss at least one of them with my wife.
Did one method stand out over all others?
This one is easy – Teach Yourself Thai by David Smyth. He presented the Thai reading system in bite-sized chunks in a logical manner. I still think it is the best starting point for those wanting to learn to read Thai and gives you a solid foundation to build on. I bought it before I went to Thailand and have had two or three copies since. Even though my level is beyond this book now, I think that is largely because of this book and I still have a copy on my shelf! I hope to meet Professor Smyth one day.
How soon did you tackle reading and writing Thai?
Straight away, again due to David Smyth's book which gets learners to tackle the Thai alphabet early on. It made sense –  I thought that instead of learning a Romanised version I might as well focus my energy on the real thing. Also, Professor Smyth's book made clear the tonal component of the language was implicit to the written system. The way this has evolved is quite elegant l really. My frustration now is being able to read everything but not understand everything – I still struggle with newspapers for example though that is down I think to certain stylistics which are characteristic of Thai tabloid journalism.
Did you find learning to read and write Thai difficult?
Not particularly. I am a scientist by training and look for patterns and logic in things and the Thai writing system has plenty of that in it.
What was your first 'ah hah!' moment?
Figuring out what was meant by a "rising tone" – it took me a while to be able to distinguish between some of them
.
How do you learn languages?
I have TEFL and NLP qualifications which I sort of reverse engineer into my own Thai learning. But I guess I do an number of things all of which add up to developing the four core skills through various types of intelligence – e.g. logical/linguistic, visual/spatial etc. so I might do gap/fills, free-writing, diagrams and charts etc because I've always subscribed to differentiated learning strategies like Gardner's Multiple Intelligences. I have a conversation class which is meant to stretch me so these sessions always generate lots of new vocabulary which I try and weave in again and again during the course of the lesson. I take a note of these words and create a flashcard with each and drill them. This way the types of words I deal with are the words I have used myself in real conversation and will probably need to do again at some point. I also try and make up sentences or stories or diary entries using this vocabulary. Then I try to read something (aloud) in Thai, or listen to something in Thai everyday. If I manage to get a quiet half an hour, I try to "think" in Thai as well – this is incredibly useful and I can practise anywhere and anytime.
What are your strengths and weaknesses?
Weaknesses are vocabulary range for what I want to be able to do – I try and work on this everyday. Collocation too – Thai is a language of verbs and these often combine in a way they perhaps wouldn't in English. The fourth (high) tone is also an effort for me – not words in isolation but within sentences, making that shift. My strengths are being able to read – it helps me take responsibility for my own learning more.
What is the biggest misconception for students learning Thai?
Not sure – perhaps that Romanising the Thai alphabet is in any way a good idea?
Can you make your way around any other languages?
No, none whatsoever.
Were you learning another language at the same time as Thai?
I had a bash at Mandarin for a year or so but I struggled and also Khmer years ago as well but gave up – not enough opportunity for exposure to the language.
What advice would you give to students of the Thai language?
Learn to read as early as possible.
David Fahey,
Management Consultant
The Series: Interviewing Successful Thai Language Learners…
If you are a successful Thai language learner and would like to share your experiences, please contact me. I'd love to hear from you.