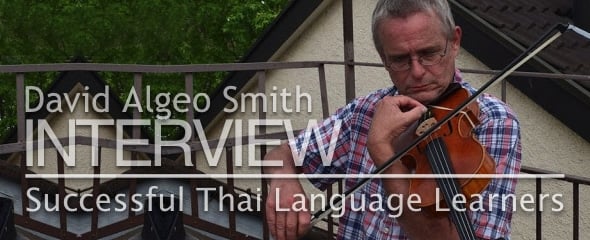 Interviewing Successful Thai Language Learners…
Name: David Algeo Smith
Nationality: American
Age range: 50-60
Sex: Male
Location: Wisconsin, USA
Profession: Violin/fiddle teacher
Website/blog: I have a couple start-stop travel blogs which may have some interesting writing, not exclusively about Thailand, but I'd rather share my music here (there are 2-3 Thai traditional tunes on the album including Khang Khao Kin Kluay–"Bats Eating Bananas"): ค้างคาวกินกล้วย
What is your Thai level?
Intermediate spoken, beginner reading.
Do you speak more street Thai, Issan Thai, or professional Thai?
I've always tried to speak polite standard Thai. Although I lived primarily in Chiangmai I didn't learn "kham muang" or any dialects apart from the odd phrase.

I know some curse words and other "mai phraw" words but even with friends I'd go there only very rarely.
What were your reasons for learning Thai?
Necessity! When I first arrived in Thailand in late 1989 I quickly realized I needed to learn the language if I wanted to stay–and I really wanted to stay for awhile.
Do you live in Thailand? If so, when did you arrive?
I lived in Chiangmai from December 1989 until about November 1994, then in Bangkok until late 1995. Then I spent about another year in the North in 1997-1998 and another six months in the North and Isaan in early 2001. During those years I often explored the South when on visa runs to Malaysia and I did several runs to Laos in the early '90s– when it was very different from today.

Sadly, since 2001 I've only been able to manage about five 2-month visits up to my most recent in 2014. I feel as if I've really been trying to move back toThailand for 20 years now! Without success 😔
How long have you been a student of the Thai language?
I started learning almost immediately–within the first month of my arrival in December 1989–and I continued learning for my entire immersion experience through 1995.

Actually I've never been a formal student in the academic sense but feel I've never stopped learning since I caught the "Thai bug", and I probably will always be an eager student of this language.

That said, since I'm not the world's best language student, I find it difficult–even almost pointless–to continue to study the language when I'm not living in Thailand. So since 1998 I haven't progressed much past the low to mid intermediate level, to my increasing regret today.

But every time I return for a visit the skills come back quickly and within days I'm improving to advanced intermediate levels. That tells me I can reach higher levels–if only I were to apply myself to more disciplined study.
Did you learn Thai right away, or was it a many-pronged approach?
It was right for me! But I never took formal lessons. I was very lucky to have a good Thai friend whose mission in life was to pull Westerners into the Thai cultural orbit, and I learned my first words and sounds from her.

I used a notebook to create my own transliteration which eventually made a lot more sense to me than the others available at the time. And I was fascinated by the alphabet early but concluded that I'd be better off focusing on listening and pronouncing words first.

I started with my friend to get to the market (beginner), then I continued with other friends I made in the music world (intermediate beginner), then finally with my girlfriend (advanced beginner).

This was during my early immersion period from 1990-1993. When I returned to the States for a year in 1996 I stopped studying completely and really missed it.
Did you stick to a regular study schedule?
No, but I was living and playing with Thai musicians on a daily basis then later I had a Thai girlfriend. None of my closest friends at that time had any more than basic English–not even enough for "Thaienglish", really!

My friends were all Chiangmai or Phrae musicians with very little experience dealing with farang. I learned a lot from them even though they always talked in Chiangmai dialect with each other–very graciously they spoke "Bangkok" with me.

My girlfriend was from Lopburi so her "mother tongue" was the one I was trying to learn: Central Thai. I have her to thank for teaching me in the most patient, empathetic manner imaginable. I was so lucky to meet her, and my years with her were my best in Thailand.

To succeed in love and in music in a totally foreign culture I had to rely on these friends/colleagues/lovers to be my teachers, and they all taught me so much more than just the language. I learned about food and family and phu yai/phu noi and about Thai music and politics, and about jai rawn/jai yen and grengjai, and so much more.
What Thai language learning methods did you try?
As a beginner I tried my "teacher/friend's method–hers was an excellent way to get me quickly comfortable, on my own, in the neighborhood market😀

But seriously it was a total immersion situation and as a young musician on a Thai salary I never had the resources to try school or take AUA classes. I learned from the friends and acquaintances I made.
Did one method stand out over all others?
I grew up as a Suzuki violin student. Suzuki music students can achieve a high level of ability on the instrument with listening, imitation, repetition, review, and delayed music reading. I applied those childhood skills in my Thai learning.
How soon did you tackle reading and writing Thai?
I started basic reading almost immediately but I still can't write today because I don't know how to spell and I'm too lazy to work on improving my "five-year old's" handwriting.
Did you find learning to read and write Thai difficult?
I could see right away that Thai is an alphabet and not an inscrutable "script". And since I love reading I didn't find that particularly difficult.

After learning the basics of the consonants and vowels from my first "friend/teacher" I largely taught myself to read. I was familiar with the "black book"–we had one lying around–but as I've already mentioned I was rather lazy. So I did not study the tone rules used in word construction ( that's on my extensive to do list now–thank you Ajaan Smyth and Khun Cat for making some very fine resources available). Instead I used my "Suzuki ear" to learn the correct pronunciation.

Reading for me was all about what I could gain just running around in daily life. I learned to read all the "changwat" on the "thabien rot", street signs, billboards, any other signs (bus signboards were so much fun to figure out, even if I wasn't particularly waiting for a bus!), and of course menus.

By this point (maybe 2-3 years in) I completely ditched most transliterations. I simply didn't need them anymore, and most of them aren't helpful past the beginner stage. I recommend the beginner create her own if needed.

Oddities like the positioning of the vowels and the many dipthongs/tripthongs never threw me for a loop because I thought it was a fascinating way to construct words–if nothing else, Thai words on the written page are memorable, even if you don't know what the word means or precisely how to pronounce it.

And off the page, all those weird vowel sounds were a lot of fun to try out loud with friends–lots of laughs there, and lots of successful learning too.

By the end of my initial 5-6 years of immersion I was reading trashy magazines and comic books, but I never really graduated to newspapers–too many abstract concepts for me! And I was too often stubbornly lazy with the dictionary even though I usually had two or three handy. If a friend tried explaining it to me and I still didn't understand a written word, I'd might look it up. Or, more often, I'd forget to do so if I didn't have the "dik" with me.

But my instinct during that period told me to delay serious reading study until I could speak somewhat competently, so that's what I did.

Unfortunately at that point I had to return to the West. Which was a huge culture shock, by the way. In fact I'm still recovering 😂
What was your first 'ah hah!' moment?
I saved this question for last because I've had several and want to relate this to you right.

Thais compliment foreigners way too much so they always say "geng" even when we're not. But when they start saying (about you) "phud phraw maak" or "phud chat maak" then you can be sure you are making at least some progress. In Khorat I met a shopkeeper who asked me if I worked for "sathan thoot" (the embassy). That bowled me over.

Another moment was when I could read everything in a 20-page menu (no English) and ask the waiter to explain a new (for me) dish and understand everything he said and decide how to order competently–and humorously!

But my first "ah hah" moment was a very beautiful moment one morning in Chiangmai when my girlfriend woke up and said: เมื่อคืนฉันฝัน (Last night I had a dream…) and I understood everything she said to follow. This was my first experience truly grasping abstract concepts in Thai.
How do you learn languages?
I've outlined above a little about how I learned Thai. I listen a lot and don't talk much at first. I've been fortunate to have had the time and inclination to get immersed in new cultures and stay awhile.

In Thailand I learned from friends, then colleagues, then intimate partners, and finally from everyone I encountered in dozens of provinces of Thailand.

But to reach the next levels I know I have to stop being lazy with reading and dictionaries and go back to creating vocabulary lists. This is the hard work that everyone must do to advance.

But then there's the fun stuff: watch TV, the dumber the material the better (don't be put off by soap operas and reality TV), listen to the radio, watch Thai content with English subtitles and Western content with Thai subtitles, watch the news. Graduate to Thai content with Thai subtitles, if you can get that kind of material now.

I can see from this blog that a whole new world of Thai learning has opened up, and I'm really impressed–and inspired. We didn't have all those resources in the '90s.

I recently spent about six months in France and I learned right away what I needed to do: get out of my comfort zones, speak French as much as possible, and watch TV–lots of it. Before long I had the best beginner French I've had in 40 years of interest in that beautiful, funny language.
What are your strengths and weaknesses?
I think my Thai pronunciation is pretty good because of my music background. I can hear and imitate the tones easily. Maybe they're not even "tones"– just distinct, unique "sounds".

Taw Tao, Paw Plaa and Ngaw Ngu are very foreign sounds for Western speakers, but they are not impossible–just a nice challenge to get right.

Also, while I'm somewhat shy and not really gregarious, I found in Thailand I really loved engaging verbally with people on a daily basis. Maybe this is why I loved everything about Thailand. It awakened something new in me which gradually turned into a strength that I utilized everyday.

As for weaknesses, there's no question: reading and my non-existent writing.
What is the biggest misconception for students learning Thai?
I'm not sure, but this is an important question I'd like to answer thoughtfully. Perhaps I'm a good example for some of how not to learn!

I've had a lifelong love of languages but I always found the Latin languages and German far too difficult. In Thailand, however, I discovered I can easily reach a level, that with increased, more serious study would lead to certain advancement–even for a B-C student like me.

The tones are conquerable, even for a lackadaisical reader, and the reading itself is really fun, especially if you like reading but aren't a stellar student.

Learning Thai, as a young adult, was for me like being a five year old again, in only the most positive sense of that universal experience. The entire world is yours once more, a marvelous place of wonder, which is how I've always felt about Thailand.
Can you make your way around any other languages?
I was a C student in French in high school but gradually gained a beginner level over several visits to France over the years. I have very basic Spanish and even poorer German but only because of my extensive travel in Europe and in Mexico and Central America.
Were you learning another language at the same time as Thai?
When I first arrived in Thailand I was just coming from several months in France.

But no, Thai was all I could wrap my head around once I'd left Europe, "for good", I thought at the time.

This might be the right place for me to mention that in the '91-'95 period I did not return to the West for about four years. In that period, life was just Southeast Asia for me–apart from a couple quick trips to Japan and Korea during the latter part of my 5-6 year immersion.
What advice would you give to students of the Thai language?
Every student is different: just explore a lot and find out the many different methods and resources that work best for you.

What worked best for me was having close Thai friends early in my experience. Get a job with Thais and hang out with people who don't know English.

Find an intimate partner and meet everyone in her/his family and learn as much as possible about relationships and why they matter in Thai society.

Like everyone the world over, Thais love to gossip about friends, family and workmates. Don't be afraid to join in! In my years with the band I learned so much about band politics and the internal hierarchy of that small world, and it really helped me to gain wider comprehension of the culture and the language–which are two things we can't separate anyway​.

Get out of your city and/or schooling bubble, or comfort zones, and travel as much as possible to remote areas or "ban nawk". That's where I learned the most.

But even in the towns and cities you can learn a lot by getting out to market or "bai theeo khon deeo". Go out solo and engage with women in the market and with songthaeo drivers and motorcycle mechanics and the woman who does your laundry. Ultimately I probably learned more from the general public than I did from my many wonderful friends.

Use humor, follow the Thai penchant for sanuk and "law lehn" and don't be afraid when they laugh at your mistakes. Thais are way too complimentary of foreigners but they appreciate​ us too–and for good reason, I believe. We all have much to offer each other.

I like having a Thai-Thai dictionary and a good three-way, if available. Lately I've been carrying Benjawan Poomsan Becker's brilliant Thai-English/English-Thai dictionary and her Thai for Intermediate Learners in my travels.
regards,
David Algeo Smith
The Series: Interviewing Successful Thai Language Learners…
If you'd like to read more interviews the entire series is here: Interviewing Successful Thai Language Learners.
If you are a successful Thai language learner and would like to share your experiences, please contact me. I'd love to hear from you.