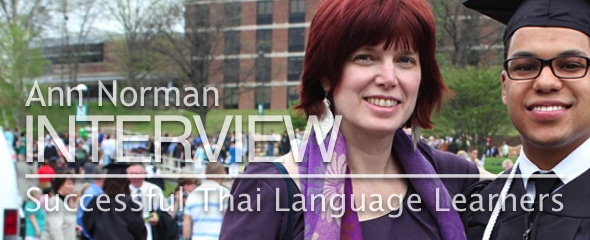 Interviewing Successful Thai Language Learners…
Name: Ann Norman
Nationality: American
Age range: 50-60
Sex: Female
Location: Pittsburgh
Profession: Editor
Website: CarabaoinEnglish.com
What is your Thai level?
Advanced Intermediate.
Do you speak more street Thai, Issan Thai, or professional Thai?
I learned to speak standard Thai while living in the Issan region, so I speak standard Thai but am not thrown by the word "bor" "บ่".
What were your reasons for learning Thai?
Right after college, 30 years ago, I joined the organization Food for the Hungry and they sent me to work in BanVinai Refugee Camp with Hmong refugees in Loei Province. Of course I needed to speak Thai (and also Hmong) to be effective and, importantly, to have friends, so I did it.

While in Thailand I became a fan of the band Carabao (I was an instant fan the moment I heard the first song) and was a huge fan at that time. After returning home, about 20 years later, once the Internet was invented, I realized I could look for Carabao on YouTube. I was astounded to find the band was still together and had been making music nonstop the entire time I had been gone. I had to get caught up on 20+ years of music! I set out to relearn the language.

After my kids left home and went to college, I also hosted two Thai foreign exchange students, which was another motivation to relearn the language.
Do you live in Thailand? If so, when did you arrive?
I lived in Thailand for a little over two years around 1985 and 1986. I never went back.
How long have you been a student of the Thai language?
1985-86, 2010 to present.
Did you learn Thai right away, or was it a many-pronged approach?
I jumped into learning to the best of my ability. Unfortunately, my organization did not send me to formal training, but they did pay for books and cassette tapes and anything I set up informally, such as paying a friend to come sit with me and help me learn. At that time there were some American Embassy language learning tapes and books, which I used, and the other method I used was to have a friend come over and make tapes of the exact phrases I felt I needed. I would state a sentence in English and they would repeat it in Thai into a tape recorder. I would use the tape to memorize the sentences.

The other Americans I was working with seemed fluent in Thai, so it was a good example for me. Much of our social circle was Thai, so I needed to speak Thai in order to have friends. After a year they went home and new people arrived, and I was the expert. I regret that at that time I did not learn to read Thai. It would have been really useful.

Fast forward to the later period: I thought my Thai might just come back to me if I exposed myself to the language again. I had never entirely forgotten it because of the music I brought home. At first I just randomly watched YouTubes of Thai music that had English subtitles. This is how I discovered Palmy, Bodyslam, Be Peerapat, and Scrubb.

I made Thai friends on facebook who had similar musical tastes and listened to anything they posted. Sometimes we skyped. These things were fun, but of course not very efficient for language learning.

My first foreign exchange student brought me a Thai alphabet book, so I had already learned the Thai alphabet when I finally decided to get serious and take a class online.

It was a Thai facebook friend who gave me the link to Learn2SpeakThai.net. Khru Mia assessed me and said, "This will be easy. From this point, you will be able to read in 11 one hour lessons." She was right! It was amazing. The classes were very systematic, each building on the previous lesson in a logical way. Of course, I had to study 2 or 3 hours for each lesson. She even told me that further lessons would not be strictly necessary because I could just go out there and start reading, using Thai2English to help me along, and I would learn grammar from reading.

I also bought Thai for Intermediate Readers and Thai for Advanced Readers books and several Speak Like a Thai series CDs from Benjawan Poomsan Becker, and those were extremely valuable.

With a whole lot of help from the two foreign exchange students and Thai2English, I was already beginning to translate Carabao songs into English. The second student was especially helpful, helping me with many songs. On the last night he was here, he helped me with an "emergency" translation of a Sek Loso song that I needed to impress Sek Loso who (I really believe this happened) had just said hello on one of the facebook pages. On this night, I said, "Oh no. What will I do without you?" And he said, "You are about 85% correct without me. You will be 85% correct." And with that attitude, I soldiered on, translating songs and begging friends to check them until today when I am about 95% correct without help. You can see the results at CarabaoinEnglish.com.
Did you stick to a regular study schedule? What Thai language learning methods did you try?
No, sadly . . . but the obsessiveness with the music perhaps makes up for it. At least there is no problem with motivation. I am constantly involved with the language and learning new things. I forgot to mention that the music also leads me to listen to interviews and TV shows related to the music where I can also hear a lot of spoken Thai. Also, I read the posts in Thai of my Thai facebook friends and learn that way.
Did one method stand out over all others?
The formal classes from Learn2SpeakThai.net were probably most valuable. Khru Nok was my actual teacher (Khru Mia runs the program). Next would be Benjawan Poomsan's books.
How soon did you tackle reading and writing Thai?
Very late in the game! (See above)
Did you find learning to read and write Thai difficult?
No.
What was your first 'ah hah!' moment?
My 'ah hah' moment was when I realized I could read Thai with my mouth shut. It seemed like magic that I could stop sounding out words and still "hear" them in my head. I had a flashback to when I was 5, lol!
How do you learn languages?
I repeat things out loud and memorize. I feel I need to be able to say it in order to internalize the meaning of the words.
What are your strengths and weaknesses?
I have a hard time distinguishing the different vowels. I have been told I'm pretty good with the tones. I used to be better at speaking than listening, but after so long with no one to speak with, that has probably changed.
What is the biggest misconception for students learning Thai?
There are two common misconceptions:

1) That it is impossible to learn Thai because of the tones (the tones are conquerable within 6 months).
And 2) that the language is easy to master because there is no grammar. (There is in fact a rich grammar that I can't hope to ever fully understand.)
Can you make your way around any other languages?
No. Just English and Thai.
Were you learning another language at the same time as Thai?
Yes, Hmong, and long ago I spoke Hmong and Thai equally well. I could also read Hmong, which uses an English alphabet. However, now I've forgotten Hmong.
What advice would you give to students of the Thai language?
Check out the band Carabao! Aed Carabao is a poet and a living legend. He is probably the greatest singer/songwriter in the world. Go to CarabaoinEnglish.com to listen to Carabao YouTubes while reading translations and transliterations of the lyrics. Learn Thai by singing amazing music! ☺
Ann Norman,
CarabaoinEnglish.com
The Series: Interviewing Successful Thai Language Learners…
If you are a successful Thai language learner and would like to share your experiences, please contact me. I'd love to hear from you.