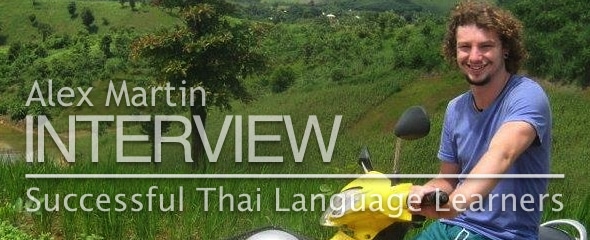 Interviewing Successful Thai Language Learners…
Name: Alex Martin
Nationality: American
Age: 29
Sex: Male
Location: Thailand
Profession: Study Abroad, Grad Student, and soon to be PhD student!
What is your Thai level?
I find it hard to label fluency, even in my own native language of English. I also hate rating things, so I'll just say that I feel very comfortable speaking and reading Thai. My writing could improve.
Do you speak more street Thai, Issan Thai, or professional Thai?
This is a hard one to answer. I speak depending on what situation I'm in. Sometimes it's more "street Thai", while other times it's more formal. I prefer speaking formally and politely unless I'm with close friends. A lot of my pronunciation is influenced by the Northern dialect and I can understand many of them quite well (there are lots of dialects). I don't speak it as much as I should unless I'm with my wife's family, so my colloquial Central Thai is better than my Northern.
What were your reasons for learning Thai?
I wanted to live in Thailand and figured that it would feel strange to live in a country where I couldn't speak the language.
Do you live in Thailand? If so, when did you arrive?
Yes. I visited Thailand for the first time in 2005, fell in love, and moved there shortly after in 2006. I convinced my university of Prescott College to allow me to finish my studies in Thailand independently.
How long have you been a student of the Thai language?
June of 2005 till the present day.
Did you learn Thai right away, or was it a many-pronged approach?
Yes. My first experience in Thailand was a homestay in a village about two hours outside of Bangkok and none of my host family spoke English. I loved it and actually used being in places where I had to speak Thai or not be understood as my method for learning.
Did you stick to a regular study schedule?
Yes and no. When you live in Thailand, every moment is an opportunity to "study". I'm a very hands on person, so I just went out and talked to people, made a fool of myself, and learned new words in the process.
What Thai language learning methods did you try?
I took a course at AUA in Chiang Mai to get the basics down, then switched to a private tutor to learn the alphabet. I made my own study materials and did not use other products.
Did one method stand out over all others?
For me, the best way to learn Thai was to speak it. I didn't feel the need to get caught up in finding the best product. Instead, I put myself in situations where I had to speak Thai. I didn't get stuck in the expat bubble where everyone speaks English and instead made friends with locals. I'd have a few beers with friends and get creative and try to construct my own sentences. I made mistakes, learned from them, and my language abilities grew.
How soon did you tackle reading and writing Thai?
I got the basics down in the first year, but did not really go past reading a restaurant menu till about 8 years in when I decided I wanted to go to grad school and focus on Southeast Asian Studies and primarily Thailand. At that point, I connected with Easy Study Thai in Chiang Mai and arranged private tutoring. They were great as they allowed me to develop my own "curriculum" and helped me achieve goals I had set for myself.
Did you find learning to read and write Thai difficult?
No. It was a lot of fun and put a lot of what I already knew in the spoken language in context. It gets a bit more difficult once you start reading things like Ramakien and Khun Chang Khun Paen (ok, Ramakien is extremely difficult), but it's just another challenge. I still am learning more and more every day.

The most important aspect of getting better at reading for me was to read things that I found interesting. I love folklore, so I bought a bunch of Thai folktales and read them. Now, I read things like Poolputhya's articles on Ramakien because I enjoy it and it's relevant to what I'm studying.
What was your first 'ah hah!' moment?
I can't remember. The latest 'ah hah!' moment happened when I realized I was skimming a dissertation written in Thai and was able to pick out keywords that I was looking for.
How do you learn languages?
Experientially.
What are your strengths and weaknesses?
I think my strengths are that I'm not nervous to speak Thai or afraid of making mistakes. Also, I don't try to rate myself as fluent, intermediate, B1, A8, or whatever other ways people try to create standards for the language. I understand that it is a diverse language and there are many different ways of speaking, reading, writing, and understanding it. I just keep learning because it's fun.

I should speak Northern Thai more, but it's so easy to speak central Thai and then just let people answer me back in their dialect. I'm sure my wife's family would be more happy if I spoke to them in Northern Thai.
What is the biggest misconception for students learning Thai?
There is a "best" way to do it.
Can you make your way around any other languages?
I learned Hebrew as a kid, but forgot it. I can say a lot of useless stuff in a variety of languages, though I really do want to start learning Khmer.
Were you learning another language at the same time as Thai?
No.
What advice would you give to students of the Thai language?
There isn't one way to do anything, so do what works for you.
Alex Martin,
Soon to be PhD student!
The Series: Interviewing Successful Thai Language Learners…
If you are a successful Thai language learner and would like to share your experiences, please contact me. I'd love to hear from you.