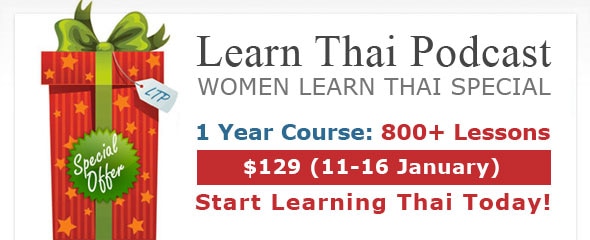 Today is a good day to learn Thai…
Do you know what day it is? It's 11.1.11. I'm not sure if it's auspicious, but it sounds like a day to start something special. Like learning Thai.
Not everyone will admit to making New Years Resolutions, but a lot of us secretly do. And as it's only 11 days into the New Year, I'm going to bet that a number of you have learning Thai on your list.
And if that's true, then Jo from Learn Thai Podcast has a deal for you:
From Jo: With the Women Learn Thai Special (now offline), you can get the entire Learn Thai Podcast Premium Course now for $129 instead of $197 and make 2011 the year in which you learn to speak, read, write and understand Thai!

It's a great time to start our course because we now have so much content online. Even people who want to learn a lot in a short time won't run out of things to do anytime soon.

And of course, any upgrades and new areas added during the year are included in the course too!
Just like the banner says, there are 800 lessons in the Premium Course. Here's a short list of what to expect:
Visuals: Online lessons, downloadable YouTube videos in many formats.
Sound: Individual sound bites in online lessons, YouTube videos and mp3 files to download.
Thai script: Script included with all lessons, complete Alphabet course, transliteration.
Thai only: Lessons without English translations.
Conversations: Movies and sound files of actual Thais talking.
Testing: Reviews after each lesson, vocabulary trainer for individual words.
Extras: Printable notes to download.

If you want to know more about the course, I wrote a rather long-winded review when their entire site was revamped: Review: Learn Thai Podcast Relaunches!
The Women Learn Thai Special Offer is only on the table from the 11th to the 16th of January, so why not celebrate 11.1.11 by learning Thai in 2011?
To do just that, click on the present to your right, or the link below.
Women Learn Thai Special: Now offline