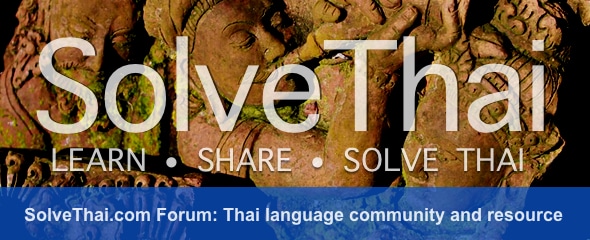 The SolveThai.com Forum…
Since the beginning of the year, the Farang Can Learn Thai Facebook Group has grown incredibly fast. It's a great resource and the most active community of its kind. But, due to the nature of Facebook, the majority of the content gets buried within a week.
Flaws worth noting with a Facebook driven community:
Posts can't easily be searched, browsed, categorized or easily referenced. This leads to large amounts of duplicate content, and the many excellent discussions get lost.
Facebook owns the group. If tomorrow they shut it down, everything is gone. There would be no way to recover the posts, and no way to regroup the community.
The options to develop the group are limited.
Since I started learning Thai a couple years ago, I have been thinking of ways to contribute to the Thai language learning community. And having run several larger online communities in the past, solving the issues noted above seemed the perfect way I could do just that.
Enter SolveThai. The goal of the SolveThai forum is to make the informative discussion at the Farang Can Learn Thai Facebook Group more accessible and easier to use.
Through the Facebook API I came up with a way to preserve and organize existing posts (such that the content of these posts can be used, linked, searched, and referenced). That way all posts are searchable, categorized, and kept as a valuable resource for future use.
The possibilities of further developing such a community are endless. Whereas with it being on Facebook, the possibilities are limited.
The basic vision:
Retain the 55,000+ posts from the Facebook group and make them more accessible.
Create an easy place to arrange meet-ups without clogging down the discussions on Facebook.
Properly organize introduction posts so they'll become a valuable way to get to know each other.
The goal is to work with others to improve this project. It is not for profit. It is not owned by anyone. It's a resource anyone can contribute to. Anyone can join and introduce themselves (it would be great to have more people with a similar vision).
The site has been setup with some discussion, along with the Facebook posts (sans member names) which you can checkout at SolveThai.com. However, I haven't done much more than that as I'm looking for volunteers to help out.
Interested in helping the cause? Contact me (pjkcards[at]gmail[dot]com). Any input, good or bad, would be appreciated.
Patrick Kelly,
SolveThai.com