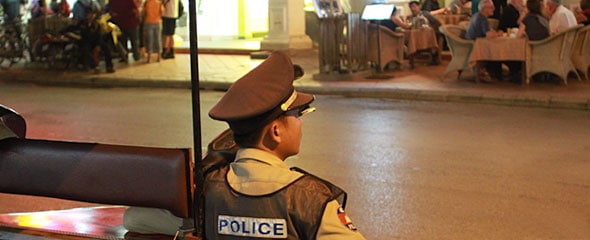 Siem Reap, Cambodia…
Carrying on from Siem Reap. Cambodia. Again. Part One… Snap (Cooee) and I have been leapfrogging Cambodian posts (but she's far quicker off the mark).
Onward to the Bayon and Thom: A good hour and a half later after wandering around Angkor Wat, we cooled down in a nearby café. It was SO hot, other tourists where asking the gardener to hose them off, instead of the plants.
Agreed! It was boiling HOT! The first time I saw this sign was in a ladies' toilet at one of the Wats. I just had to laugh at the shower icon. I mean, who'd stick their heads under a [cough] bum-gun?

The second time I came across the sign I knew just who. ME!
But hot or not, we still had time to fill. So, after sweating through the heads of Bayon, my group opted for a late afternoon elephant ride to the top of Phnom Bakheng hill. Without me. Needing a quiet space, sans elephants and people, I wandered around on my own.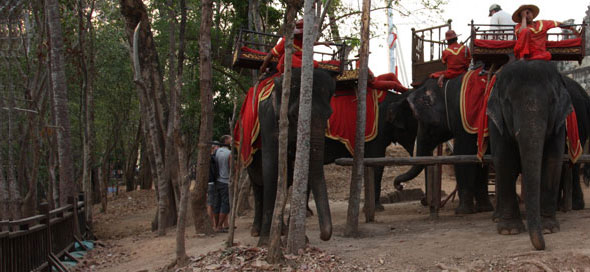 The elephant rides are relatively cheap and the view from the top of the hill is (apparently) worth it. To ride up the hill is a mere US$20 per person, and for the ride back down, US$15. Walking or riding, the entire trip is around 30-40 minutes. But, if you plan on taking in the ruins of Bakheng temple, you'll (obviously) need more time.
Shagged out – them from their walk and me from being quiet – back we went for a shower, a change of clothes, and happy hour at the Heritage Suites Hotel. As promised, the Long Island Iced Teas were tall and cold. Needed.
After dinner is where the evening got interesting. And before you think it, no, I didn't get arrested. Not me.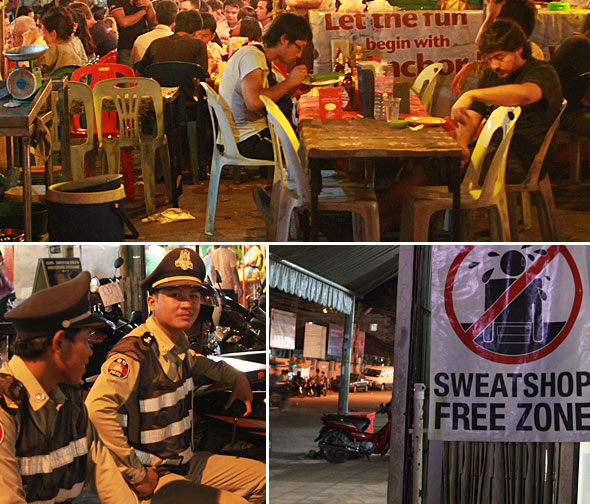 Old town Siem Reap is loaded with places to eat. In search of a fit we made our way through streets lined with restaurants and heaving with tourists. The noise would be deafening, but then we'd turn a corner to find entire streets quiet of customers, sporting staff manning emptiness. What's up with that? With a mostly tourist population, how can entire sections be unpopular?
Anyway… after an uneventful dinner [boring] we went looking for a fish massage [yeah!]
For years I've contemplated the experience of a fish massage. Whenever I came across massage tanks in Bangkok I'd take photos while avoiding the plunge. But Talen did go for it (check out his post, Thai Foot Massage Can be a Fishy Business – no longer online).
One of the main reasons for my reluctance was down to the reported health risks.
Feeding frenzy: Thailand's fish spas nibble on despite health fears: Britain's Health Protection Agency recently announced it was investigating the possibility of human infection from fish spa pedicures, but had no confirmed cases of disease.

Infected human blood can turn a fresh water aquarium into a potential mixing vessel. Pieces of uneaten, dead or diseased skin floating in the tank during the treatment add to the risk of additional skin diseases, according to health officials.
Sounds appetising. Yes? Seems with one Island Iced Tea (most) of worries were gone.
Old Siem Reap had fish massage places galore. Some of the tanks were milky-murky with dark bits attached to the glass. Hmmm. But two tanks, side by side, were crystal clear. And these tanks just so happened to be manned by a lovely, high-spirited character. So fun!
Seriously, I don't know what he was on, but, wow. Our host bounced around. Cracked bad jokes. And then agreed to free Angkor Beers and a pee. Into the water we went.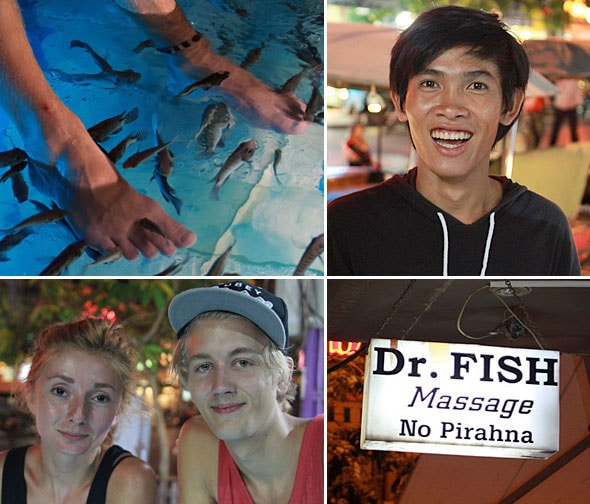 See that lovely Swedish couple in the photo? On the bottom left? They not only put up with fish nibbling their toes but with us as well. Oh dear. My friends and I were in an [um] cheerful mood and the free beers were possibly one drink too far. Poor things. Alexander and Mathilda, if you two are reading this, thank you for putting up with our merriment.
We were having such an amusing time that at first I ignored the fish nibbles going from gentle to pain. The fish had gone beyond the outer layers and were making inroads into my skin. Ow. I'd cover one foot with the other, and when the foot on top was hurting too much, I'd switch. Double ouch. And time to go.

In the morning I woke up to multi-hued feet covered with red dots. The larger bites oozed blisters. Oh joy.
During the day my toes got fat. Just like little sausages. And angry red dots abounded.
And my friend? Nadda. Her feet were fine.
This is sooooo typical. When I went to write a series on Thai street food I came down with food poisoning. And that was before I even got a chance to review the first hawker stall!
Which reminds me… Pssst… Talen … I won't be jumping out of a plane this coming May with you after all. I'm not overly superstitious but… three strikes at that height and I'd be seriously out.
Please stay tuned for the next post featuring Kulen Mountain (Valley of a 1000 Lingas) and Banteay Srei (Citadel of Women). Until then!