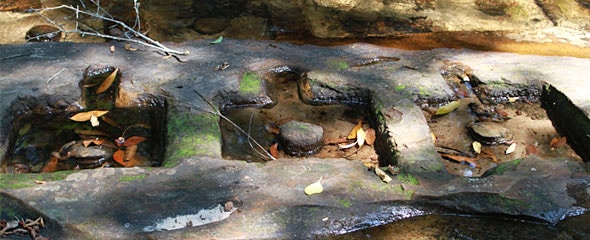 Siem Reap, Cambodia…
As mentioned in Part One and Part Two, on my return to Siem Reap I revisited Viva's nachos and 'buckets' of margaritas, Ankor Wat, Ankor Tom, and the heads of Bayon. A new (and not to be repeated) adventure was the fish massage.
And day two? Well, the second day was saved for a trip out of Siem Reap to Kulen Mountain.
Phnom Kulen National Park: Kulen is considered by Khmers to be the most sacred mountain in Cambodia and it is a popular place for domestic visitors during weekends and festivals. The hill is used as the ancient capital city II in AD 802 to declared himself as god king and announced independence from Java, then giving birth to present day Cambodia.
If you jump in your vehicle and drive straight through from Siem Reap to Kulen Mountain it takes about an hour. Our guide added detours so it took us twice as long. And at each stop he shared insights into the Cambodian countryside. It was perfect for me because I love learning new stuff.
If you are looking for a good resource to learn Thai online, check out Learn Thai from a White Guy. Upon entering your email, you'll get five free lessons to help you start learning to read Thai.
The first stop was at a small family owned… I'd like to say 'store' but it was more than that. They sold baskets and tourist bits but they also educated tourists on the production of palm sugar. I remember stopping by this very same place 5 years ago (I still have the baskets) but I somehow missed their sugar palm spiel (if it was even around back then).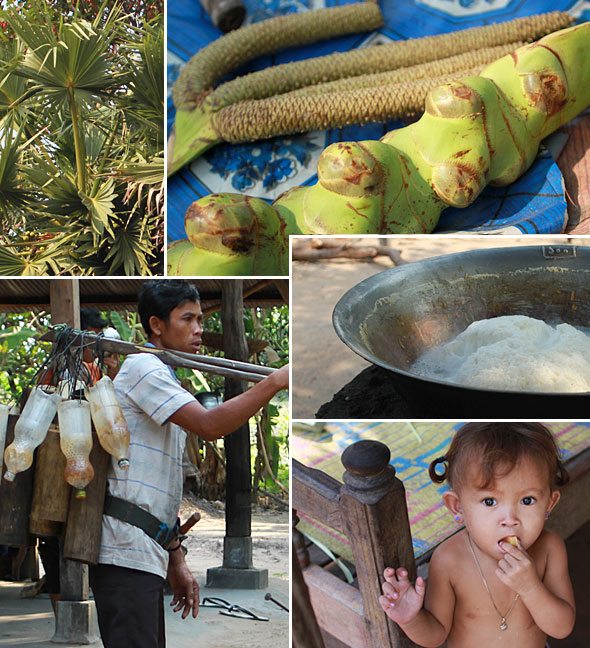 I find the practicals of tropical living interesting, so please bear with me… For pollination to occur, both a male and female coconut palm tree are needed. While I realise you can't see it clearly, in the photomontage above the male tree is on the left and the female on the right. And just like you'd expect, the male flower (top right photo) pollinates the female flower (shown underneath). The female flower is bent down, cut, and a container (bamboo or plastic bottle) is attached to gather the dripping nectar. Each morning a palm sugar worker climbs into the trees to collect the harvest. On his return, the nectar is then boiled down to create palm sugar.
Was my explanation of palm sugar production as clear as mud, or what? To help fill in any holes, above is a video explaining the how to's of palm sugar. The video is shot in nearby Amphawa (Thailand) so I just might stop by at some point.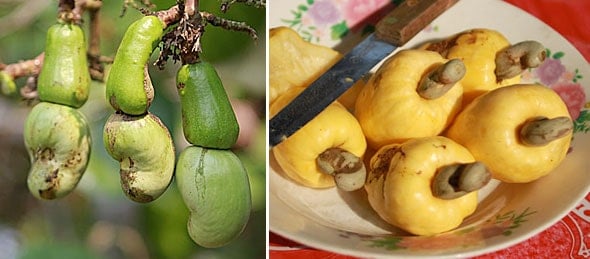 Another first for me was seeing a real live cashew tree. And who knew that a cashew tree has two types of fruit? As you can see from the photos, the cashew grows out of the middle of the green fruit, which turns yellow when ripe.
Tasting a bite of the yellow fruit I found it watery and slightly sweet. Refreshing actually. And from the piles rotting on the ground I'm guessing that the yellow fruit isn't the main cash crop.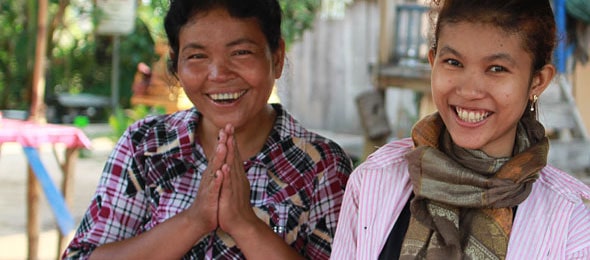 This is a lucky shot taken out the window of the van as we drove away. Along with other family members, these two beautiful Cambodian gals ran the tourist stall.

And here are two more things that surprised me about Cambodia: 1) Cigarette butts offerings at spirit houses, and 2) monks asking for money donations.
When I asked the guide about the cigarette butts shoved on top of joss sticks he suggested that it was a joke, not a serious offering. Because same as in Thailand, Cambodians leave whole cigarettes for the spirits, not just the butts.
Further up the road we stopped to donate money to novice monks. I was surprised because in Thailand monks are not supposed to ask for money. If they do they are usually fakes. But apparently, in some parts of the Cambodian countryside, the locals are too poor to support their monks. Being practical the monks take to the roads to get money to feed themselves.
It just goes to show how impoverished Cambodia is in comparison to Thailand. Or perhaps I haven't been to the dirt poor parts of Thailand yet?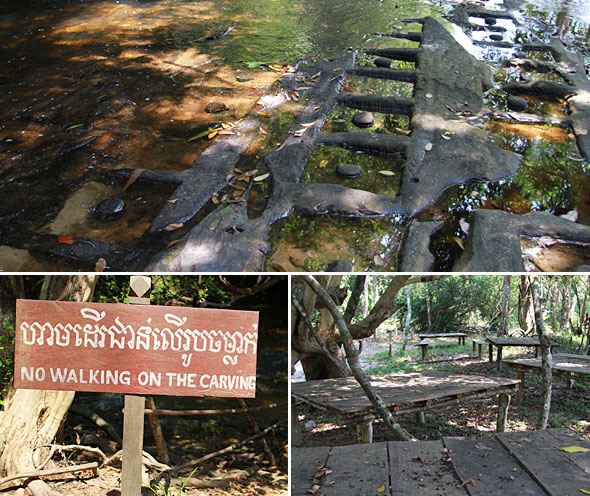 We saw other sights along the way but let's fast forward to Kbal Spean's 1,000 Shiva Lingas. I grew fond of lingas while researching for my post, Bangkok's Fertility Shrine: Chao Mae Tuptim. So of course, when the chance came to see 1000 more, well, there I was!
wiki: Kbal Spean: The site consists of a series of stone carvings in sandstone formations carved in the river bed and banks. It is commonly known as the "Valley of a 1000 Lingas" or "The River of a Thousand Lingas". The motifs for stone carvings are mainly myriads of lingams (phallic symbol of Hindu god Shiva), depicted as neatly arranged bumps that cover the surface of a sandstone bed rock, and lingam-yoni designs.
Before we got out of the van the guide told us to avoid standing on the carvings. But everyone does. Locals walk over them. Tourists stand on them. Oh well.
As you can see from the top photo, the lingas are boxes carved into the river rock with carved circles protruding from their middles. The boxes are symbolic of the yoni (lady parts) and the circles the lingam (man parts).
wiki: (Sanskrit: योनि yoni) is the Sanskrit word for the vagina. Its counterpart is the lingam, interpreted by some as the phallus.
wiki: The Lingam (also, Linga, Ling, Shiva linga, Shiv ling, Sanskrit लिङ्गं liṅgaṃ,Tamilலிங்கம், meaning "mark", "sign", "gender", "phallus", "inference" or "eternal procreative germ" is a representation of the Hindu deity Shiva used for worship in temples.
As I was taking this video I couldn't help but be impressed at the dedication needed to pull off a project of this size. Hermits started carving in the 11th century and finished in the 12th. That's a 100 year stretch, give or take. Very impressive.
In Thailand there's a mix and match of Hindu and Buddhism so to simplify it in my head, I sometimes lump the two together. And that's why I at first assumed the lingas were carved by monks. Wrong. Monks aren't Hindu. Plus, the issue of sex comes into play. True? Obviously, monks on their knees carving male and female sexual organs doesn't make sense. Or does it?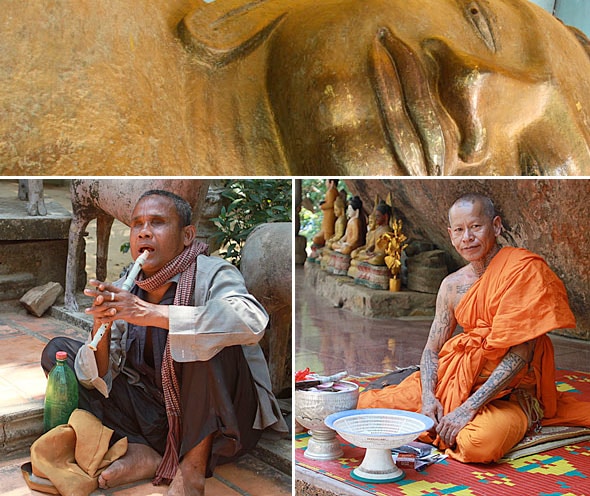 After wandering around in the heat of Kbal Spean for hours, off we went to Preah Ang Thom.
wiki: Preah Ang Thom is an 8 meter tall statue of the reclining Buddha reaching nirvana. The statue is carved into a huge sandstone boulder. Preah Ang Thom is the sacred and worshipping god for Phnom Kulen.
The Buddha at the top of the mountain is (I'm told) the largest reclining Buddha carved out of a solid piece of rock in all of Cambodia. Note: The photo of the Buddha shown above is not mine but was taken by a dear friend.
Before you get to the reclining Buddha you have to first run the gauntlet of professional beggars. The guide instructed us to get small change from the money changers to share around. After seven plus years in Thailand I'm cynical about beggars, so instead of giving handouts, I opted to wield a camera. Not much different than I was doing previously but it kept my hands busy.
At the shrine before the shrine, and after the first bit of stairs, you take off your shoes and then get blessed. And only then can you climb the next steep lot of stairs to the top of the mountain.
I'm not a wimp, but I've been there, done that. I've climbed many stairs to see many Buddhas on many mountain tops. Most in the baking sun. Opting out (yes, again), this time I stayed back to take photos of an equally cynical monk. To get photo permission I waggled my camera. Nodding his reply, he put out his cigarette and signed off from his mobile (both are on the mat in front of him).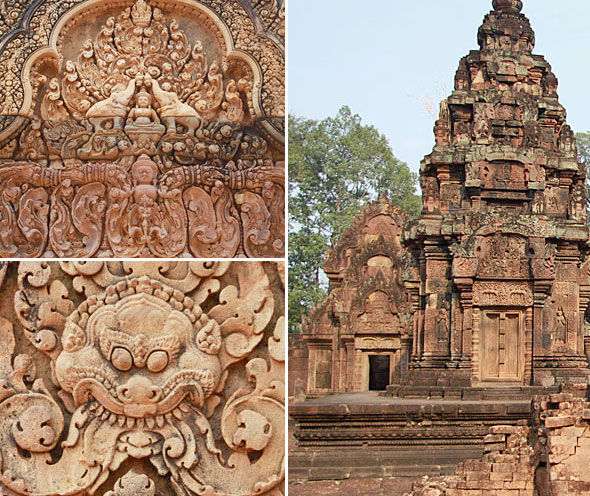 PHEW! The last monument of the trip was Banteay Srey (Citadel of the Woman).
wiki: Banteay Srei or Banteay Srey is a 10th century Cambodian temple dedicated to the Hindu god Shiva. Located in the area of Angkor in Cambodia. It lies near the hill of Phnom Dei, 25 km (16 mi) north-east of the main group of temples that once belonged to the medieval capitals of Yasodharapura and Angkor Thom. Banteay Srei is built largely of red sandstone, a medium that lends itself to the elaborate decorative wall carvings which are still observable today.
Banteay Srey is truly stunning. A must see. I did stop by this Wat on my first trip to Siem Reap and I was thrilled to do it again. In my opinion, the carvings are the best out of all the Wats on the tour. And if you catch the sun just right you come away with fabulous photos. Again, on my first trip the sun was perfect. This one not so much. Regardless, I found the ambiance of the area much the same. Fabulous.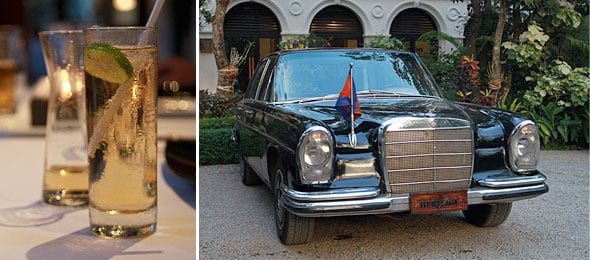 Returning to the Heritage Suites Hotel we were tired, hungry, and dusty. Checkout time was around noon but to accommodate our late flight they moved us from our Bungalow Suits (see the wraparound view) to a smaller but equally suitable room to relax and do whatever. Bless them.
After being showered, watered, and fed, we were tucked into a vintage Mercedes Benz (formerly owned by the King of Cambodia) for a ride to the airport. And home. Finish.