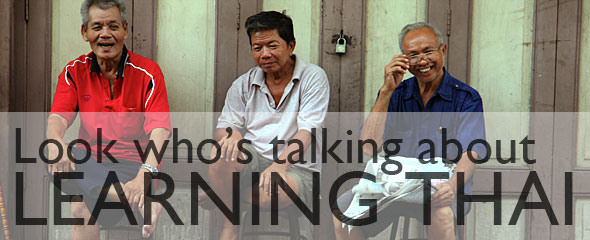 Look who's talking about learning Thai…
Welcome to the first roundup of bloggers, twitter peeps, and podcasters talking about the Thai language. But before I get started, a thanks goes to Martyn at Beyond The Mango Juice for giving me the idea, and Camille at Samui Weather for joining in on the fun.
WLT is all about supporting the learning Thai community, so why didn't I start this sooner? Hmmm. I'll have to get back to you on that one…
September: Who's talking about learning Thai…
Talen: Thailand, Land of Smiles (no longer online)
First up just has to be Talen from 'Thailand, Land of Smiles'. After long last, Talen arrived in Thailand on a student visa. And if you have a hankering for learning Thai in Thailand, following his adventures is the next best thing to attending.
Early September, Talen bounced in with a guest post, 'Review: Thai Language Schools in Pattaya'. His Thai language school of choice? Pro Language.
After taking time to recover from the flu as well as a head threatening to explode from of all things Thai language, Talen started writing about his studies. 'Telling Thai Time by the Numbers' was followed by 'Hello, My Name is Tim'. There are sure to be maaaaannnny more, so perhaps attach yourself to his feed?
Snap: Learning Thai In Chiang Mai
Snap from Australia is another expat aiming to learn Thai on an education visa. Not even in Thailand yet, she's having a devil of a time getting paperwork sorted. I predict that her experiences will have both good and bad repercussions. Bad, because (obviously) it's been frustrating. But good because she won't arrive in the country all rosy-eyed.
Lucky for Snap, Hugh is the former director of AUA in Chiang Mai and knows the lay of the land she's landing in.
Lani Cox: tell thai heart
Also in Chiang Mai is blogger and guest writer Lani Cox. Lani's contribution at WLT – A Thai Learning Thai – was an eye-opener. After moving away from Thailand and jumping into Spanish, Lani is back in Chiang Mai taking Thai lessons. You can read about her latest adventure in her September post, asian invasion, where she is no longer the lone Asian learning Thai.
Hopefully both Lani and Hugh can lend Snap a helping hand. And maybe a shoulder to cry on as well. Snap just might need both.
Stu Jay Raj: stujay.com
Exciting times for Bangkok, Stu Jay Raj is in town to give his workshop. I wrote about it here and Stu's new site has more: Cracking Thai Fundamentals Bangkok Workshop October 2010.
A former student of Stu's also took the time to share his learning experiences: Cracking Thai Fundamentals: Interview With Scott Eddy.
Both Talen (twitter: @landofsmiles) and Claudio (twitter: @DemoWell) will be attending Stu's workshop. If you are interested in finding out what comes of it, follow their blogs and twitter accounts. I will interview both Talen and Claudio about their Stu Jay experience, so watch this space as well.
Anothai Dara: Anothaidara
If you like Thai music, you are going to love what Anothai Dara came up with for the month of September. Total sweetness? The Key Is Still Located in Its Old Spot and The Way Home. Anothai Dara puts a LOT of work into translations, so please stop by and show your appreciation.
Andrej: Bakunin Learns Thai (no longer online)
Andre had two posts for September, both of them top-notch. 'What I currently watch on dootv' is a great resource post, and 'Why I don't want to (consciously) learn grammar' is a must read. Totally. It's brilliant. Oh, and ignore my typo in the comments. Please.
Ajarn Pasa: Tweet Yourself Thai | twitter: @AjarnPasa
Ajarn Pasa has both the blogging and tweeting talens. He's made it easy to find his September posts (lessons) by the pull down tab. Nice. What I really find useful about Hamish's blog is that he covers Thai living (festivals, culture, times of year) in a timely fashion. For instance, Flood! is totally Thailand now. And if you are interested in the near future, then maybe Mooncake Festival is for you. But my favourite post this month is one I've been waiting to link to with a post of my own (time…):Sam Chook 100 Year Market – a little history.
Brett: Learn Thai from a White Guy
The Way of the Blog points to older posts. My favourite is De-Farang-ify. My bad, I often forget to remind readers at WLT to pay attention to how many ฉัน/ผม and ค่ะ/คะ/ครับ they pepper around their conversation. I automatically add all to the Thai phrases on WLT, but then wander off without explaining.
Chris: chris_thai_student
Chris also came out with two Thai learning posts for September: FSI Thai Course (btw, we are still working on the Thai Language Wiki), and A break from learning Thai. Just like Chris, I take a lot of breaks from learning Thai. It's called writing for WLT 😉
Josh Sagar: Learning Thai, now Let's Talk Thai
Josh is making his way through the Manee books. So far he has two posts: Translating Manee: Part 1 and Translating Manee: Part 2. If you are just starting to read Thai, you can't go wrong with Manee. The Thai government has deemed Manee too old-fashioned for modern study but I've yet to meet a Thai of a certain age who hasn't brought them up.
Luke Cassady-Dorion: Goldenland Polyglot
Luck is heavy into exams (something like that), so he only has the one post on learning Thai: Studying Thai Through Poetry. I didn't even know that Thai schools had official trees. Did you?
Palmisano: Thai Blog
His September posts are mostly Thai vocabulary lists. If you are in need of vocabulary, then check them out.
Richard Barrow: Using the iPhone in Thailand (no longer online)
Richard has been brilliant at finding great Thai language learning apps for the iPhone. I'm running behind in my reviews so please jump over to Richard's to read 'Free Thai Phrasebook for the iPhone' and 'How to read the Thai alphabet'.
Sebastian: Language – Life – Work (no longer online)
Sebastian, one of the newest Thai learning bloggers on the scene, takes studying languages seriously. Reading his blog, it almost seems as if he is learning languages via an assembly line method. Yes. I'm seriously paying attention. In September, three posts showed up: 'Thai and Cantonese', 'Slowly Becoming Literate', and 'Thai Mission 3: Immersion and Core Vocabulary'.
This blog is so brand spanking new I don't even know who's writing it. I only know that it's a Thai she. And that she writes beautifully. Without any explanation, her September contributions: ก๋านตี้แม่ญิงเยียะ and แลกเข้า and ต่างน้ำ and ปาก and ง่าว and รดชาด. Enjoy.
Bloggers who sometimes tweet more than they blog…
There are several bloggers who are straddling both worlds. All are quality. There are too many tweets to single out, so I'll point you to their accounts instead.
Ajarn Pasa: Tweet Yourself Thai | twitter: @AjarnPasa
Ajarn Pasa's blog is also listed above. He came up with the brilliant idea of twittering his Thai language goodies and they are all good.
Kaewmala: Thai Women Talks | twitter: @Thai_Talk @thai_idioms
Kaewmala has a more of political bend at @Thai_Talk but shares needed insights on the Thai language at @thai_idioms as well. Both are grand.
Rikker Dockum: Thai 101 | twitter: @thai101
Does Rikker even need an introduction?
Who's all a Thai twittering…
Those who twitter do it daily, hourly, and more. So again, I won't mention specific tweets. As I don't spend as much time on twitter as I used to (cough cough), please let me know if I've missed any major players.
@AjarnPasa
@andrewbiggs
@English4thai
@js100radio
@ikimmim
@literallythai
@stu_jay
@Thai101
@ThaiAlive
@ThaiShortNews
@thai_idioms
@Thai_Talk
Podcasts about learning Thai…
So I'm sitting here after midnight. Totally awake. And I get this BAMB like I don't often do at crazy times of the night.
Podcasts. I totally forgot podcasts.
Rikker: Bangkok Podcast
Apologies Rikker. You do know that I'm a fan of your podcasts. Right? Anyway. Here you go. Thai Language Series 5.
Btw, the full list of both twitter people and bloggers can be found here: Thai Language Bloggers. Again, let me know if anyone is missing. Like… podcasts. Yeah. And I will get to podcasts in the morning. Promise.
Until the October version, enjoy…