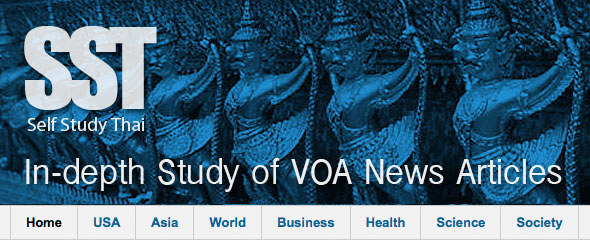 Study Thai with VOA news articles…
Selfstudythai.com creates study materials from news articles with corresponding audio from the voathai.com website. Articles are broken down so you can listen to and read them a line at a time, and for each line an English translation is also provided. As some of you may be aware, articles on the VOA Thai website don't always match the audio provided, but selfstudythai changes this so can read along with what you're hearing. The site is for people who have at least a basic understanding of how to read Thai. For those who can't, I highly recommend starting as soon as possible. That way you can learn from material that's out in the real world, instead of being stuck learning what someone else has decided is important.
Currently over 50 articles are available covering a wide range of topics. Aside from the first few, I've made an effort to choose topics I hope others will find interesting. I try to cover the hot topic of the day, whether it's political unrest in Egypt, the latest US mass shooting incident, the resignation of the Pope or even the Gangnam Style craze. I also try to add diverse topics to gain exposure to different vocabulary, like online dating and winemaking, plus I've also added a few Thailand related topics, like looking back on the 2004 Tsunami, a recent Lese Majeste violation, and hunting for criminals in the Thai entertainment districts. I hope to keep adding at least one article a week to keep the site from becoming stale. Next up are a couple of articles related to outer space.
There are many ways to use selfstudythai. Extensive vocabulary lists are provided in alphabetical order at the end of each article and for each study page. This makes it easy to either choose an article with vocabulary you'd like to learn or choose an article to reinforce the vocabulary you're already familiar with. Since you can listen to an article one line at a time, you can also use the study pages to help improve your reading skills. Simply try reading a line and then hit the play button to see how you did. The study pages also include a way to listen to a paragraph or two at a time. This way you can see how well you understand everything when it's all put together before moving on. Of course you don't need to use the study pages at all and can use the site similar to thairecordings.com, where you play audio and follow along reading the article text.
The project started as a way to help me improve my Thai language skills while at the same time helping others. Having lived in Thailand for just over a decade, I was hoping I would have picked up more of the language by osmosis. Unfortunately the word a week I was learning wasn't cutting it. When I posted selfstudythai's 50th article, I decided it was time to go back and proofread everything, taking all I had learned and applying it to my earlier work. I've made a huge number of changes, and feel the site is now the best it has ever been. That said, I'm always looking for ways to improve the site and welcome any comments or suggestions.
Mike Arnstein,
Selfstudythai.com