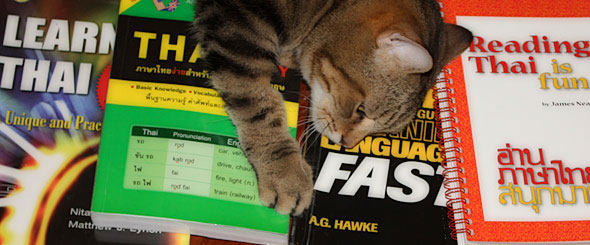 So let the language learning games begin…
I ended My Thai Language Experience with…
I know there has to be an easier way to learn Thai. I just have to find it. Or, design a program to suit how I learn.
No. I'm not ignoring the amount of hard work it will take to learn a language as difficult as Thai. I'm just suggesting that it doesn't have to be mind-numbingly dull OR painful.
So I guess I need to source out how…
Learning a new language is tough. And sourcing a learning method that is not dull or painful? Oh my. But, after digging around the internet, I did manage to discover a genuine possibility.
Lessons that are not mind-numbingly dull…
I started out by researching tips, tricks and methods for learning languages. Specifically, Thai languages. I read language forums, books, and online articles.
Within reason, I purchased the top advised books, Thai language courses (with or without CD's), and language tools.
The idea? To collect a multitude of Thai language learning resources and see what clicked.
The Michel Thomas Method…
At the inspiring How-to-learn-any-language.com I came across an old favourite, the Michel Thomas Method.
Backing up… When I lived in Pau, France, I went through the Michel Thomas Method for learning French. Except for the end, I found the course effortless and enjoyable.
Problem is, Michel Thomas does not offer a Thai version. And poking around, I discovered that the company has no future Thai plans. An additional problem? Michel Thomas is no longer with us.
Not ready to give up just yet, I took a close look at his method in order to source the next best thing.
In a nutshell, Michel Thomas breaks a language into its component parts to enable learners to reconstruct the language and form their own sentences.
So it was simple really. I now needed to find a method that builds on vocabulary and grammatically correct sentences.
Sounds like all foreign language lessons everywhere, right? Perhaps. But think about it. Are they effortless and enjoyable? Or mind-numbingly dull and painful?
SRS and 10,000 Sentences…
How-to-learn-any-language.com led me to All Japanese All The Time Dot Com which led me to Input and 10,000 Sentences and SRS.
The 10000 Sentences method of language learning is similar to an assimilation-based learning program — armed with enough Comprehensible Input you get the feel for what is "correct." You assimilate enough sentence patterns and vocabulary to be able to produce new, original content.
SRS is short for "spaced repetition system". Generally speaking, it's a piece of electronic flashcard-like software that helps you to long-term-memorize large quantities of information by effectively working on only a small subset of the information each day, using spaced repetitions.
Pimsleur uses spaced repetition, but SRS goes further by handing total control to the learner. And that's exactly how I prefer to learn a language. In control. With toys. And SRS has toys.
Finally, the Grand Plan minus mind-numbingly dull and painful…
Extract sentences from dictionaries, books and Thai course materials.
Record, then input into a SLR of choice.
So for starters, I could theoretically grab sentences from Pimsleurs course to put into an SRS. Sentences that suit me.
And for good measure, I could add the Thai vocabulary and sentences created from The Quick and Dirty Guide to Learning Languages Fast.
And to make sure I had the basics covered, I could also add pertinent sentences from the two top Thai grammar books, Thai: An Essential Grammar and Thai Reference Grammar.
Update: The original Thai: An Essential Grammar is now a free (legal) download.
And all in all, I'd have the beginnings of a useful learning tool tailor-made just for me. Not too shabby, right?
I can hear the doubts and questions from here. Like, is that ALL you are going to do to learn the Thai language? Listen to sentences?
Well, not quite. But I'll reserve that for another post…
SRS Products:
SRS Resources:
10000 Sentences Resources:
Success Story: Tried Many Methods Before AJATT.
And the Holy Grail of 10,000 Sentences and SRS, (insert Thai for Japanese): How To Learn Japanese, On Your Own, Having Fun and To Fluency.