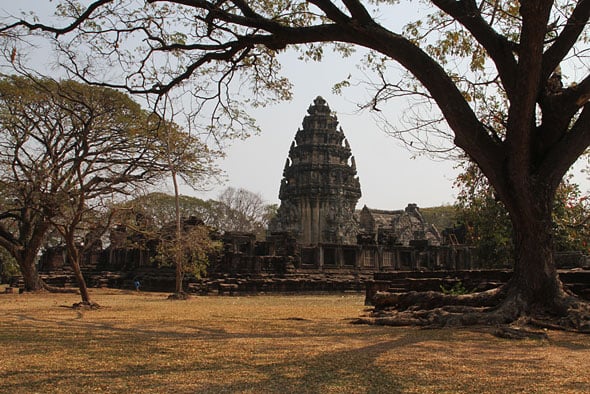 The Ancient Khmer Temple at Phimai…
Beautiful temples are dotted all around Thailand. As a fan of Khmer style temples especially, it's been my aim to visit each and every one (and I'm counting on Joe's book to show the way).
During a baking hot trip to Buriram, the ancient Khmer temple at Phimai Historical Park was a must-see.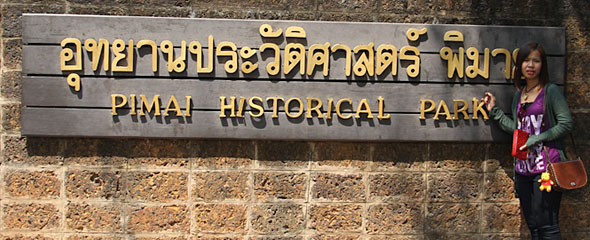 Pssst: No, I don't know the gal in the photo. I needed a photo of the sign to jog my memory. She didn't move fast enough.
wikipedia: The Phimai historical park (Thai: ปราสาทหินพิมาย) protects one of the most important Khmer temples of Thailand. It is located in the town of Phimai, Nakhon Ratchasima province.

The temple marks one end of the Ancient Khmer Highway from Angkor. As the enclosed area of 1020x580m is comparable with that of Angkor Wat, Phimai must have been an important city in the Khmer empire. Most buildings are from the late 11th to the late 12th century, built in the Baphuon, Bayon and Angkor Wat style.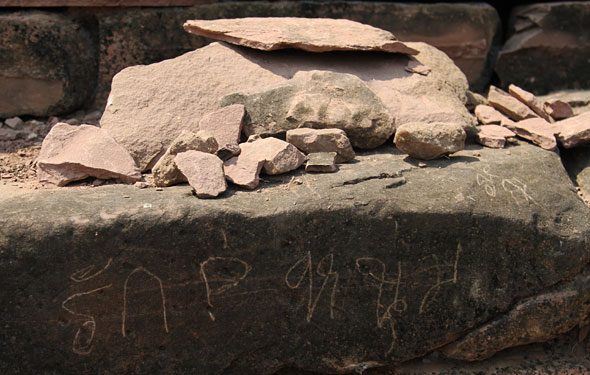 After admiring the main part of the temple area I veered off to a quiet part of the grounds. That's where I discovered a wall decorated with modern graffiti.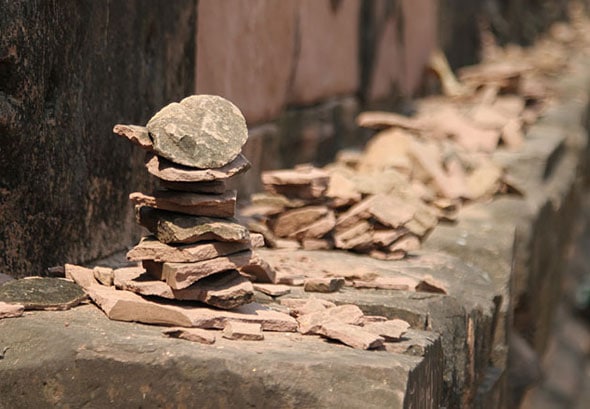 But graffiti isn't new to me, even on ancient monuments (Pompeii comes to mind). It was the carefully stacked rocks that caught my curiosity.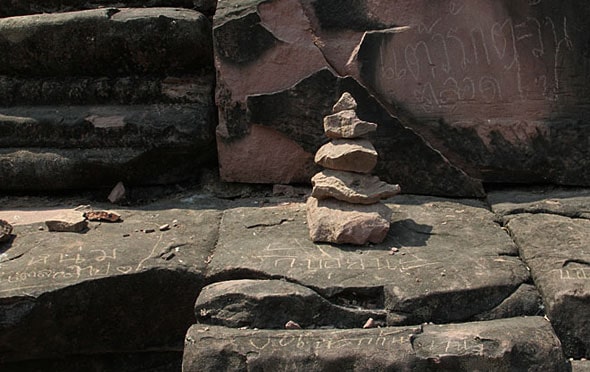 Along the entire wall marched varied piles. Some tall. Some squat. All had graffiti at their feet. Many of the scratchings include รัก /rák/ (love).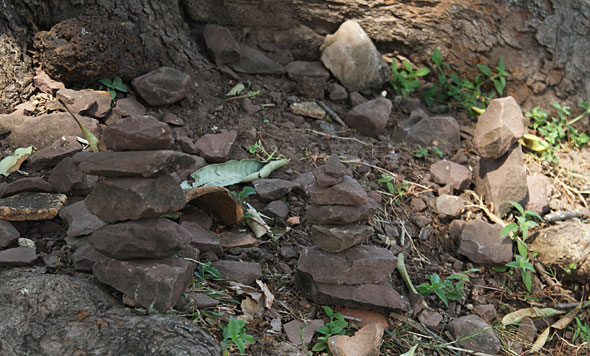 Nearby the wall was a tree shading a part of the lawn. Under the tree I found even more stacks of rocks. No graffiti. There was nowhere to write.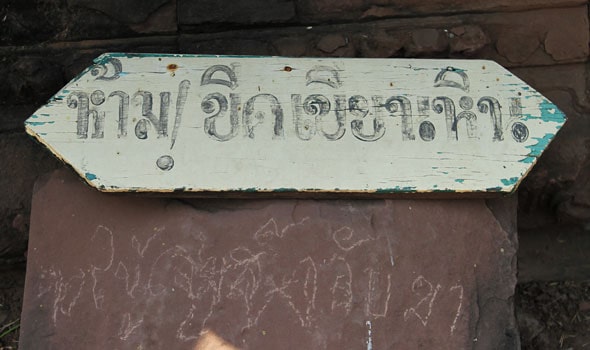 Cheeky buggers…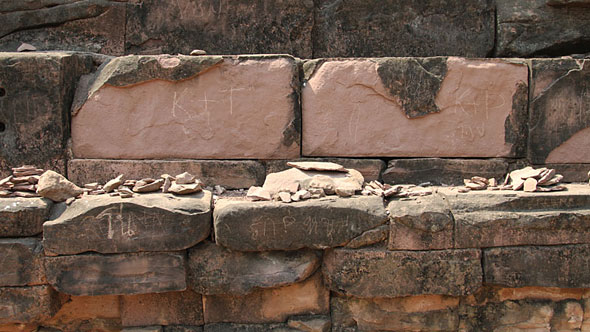 Highbeam: Almost a thousand years ago, the walled city of Phimai (ancient Vimayapura) (Siribhadra and Moore 1997:232) was a major center of the polity of Angkor, which dominated much of mainland Southeast Asia from the ninth to the fifteenth centuries A.D.
To create the stacks and etch on the walls, large slabs were stripped from sandstone blocks carved and fitted over a thousand years ago. It's awful to think about really. But, I'd still like to know why. Why stack rocks?
Googling for answers specific to Thailand, I found this article: Rock Stacking in Koh Lipe, Thailand
gokatayama.org (no longer online): The art of rock stacking has different meanings in various cultures. While in Koh Lipe, Thailand I witnessed an entire island dedicated to stacking rocks. In Thailand, people visit this island off the coast of Koh Lipe and stack up the rocks and make a wish.
Curious. Does anyone know the significance of the rock stacking at this particular Khmer temple? Do the rocks represent the person of their desires? Or just desire?