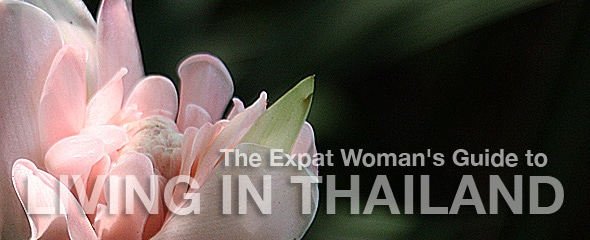 What's a woman gotta do around here to get a bite…
EDIT: This book is no longer around – I'm leaving this post live in the hope it'll make a comeback (of sorts).
When a western woman arrives in Bangkok, she's overwhelmed with a multitude of tasty sites and resources on offer. Mostly for men.
Bangkok, a city for the hungry male? Or is it?
First up (when googling), she'll find Stickman's Bangkok. A classic. And while there's decent information on offer, from a female point of view, we be going hungry.
Bangkok Bob (no longer online) was another fav of mine. But again, heavy on the guy angle, (as it would be).
Other well-written sites have the same tang. There's interesting chunks for sure, but I don't really need to know what some poor sod paid over the going price, or even the ins and outs of a man's guide to Bangkok's steamy nightlife (but I will peek).
With a female flavour, I need to know about reasonable housing and what areas to avoid, safe travel, the nearest market to suit my tastes, where to eat, the best masseurs (and why), English book stores (should I bring my own), what shops have shoes in my size (ditto), how to make new friends (male and female), and tips on important Thai customs (a biggie for women avoiding uncomfortable snafus). And all in my particular brand; a zesty, zingy, female munch.
And that's where Amy's ebook, the 'Expat Women's Guide to Bangkok' comes in.
Amongst it all you'll find needed resources such as BNOW (Bangkok Network of Women) and British Women's Group (Bangkok).
And that's just the icing on the cake. Or (as they say out here), The Big Mango…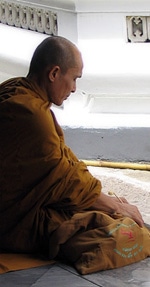 Take a DEEP breath while I do a quick skim down the index. You know, just to see if I can grab your fancy.
Right away you'll get an indispensable dose of Thai etiquette (whatever you do, do not skip this section), possible ways to get around Bangkok and beyond (airport, taxi, buses, subway, skytrain, tuk tuks, boats, motorcycle taxis, maps, car and driver hire), everything to do with money (cost of living, taxes, tipping, paying bills, credit cards and transferring money), safety tips (emergency numbers and personal tips from women living in BKK), accommodation (where, what, how and how much), communications (landlines, mobiles, Internet and postal services), shopping (supermarkets, hypermarkets, malls, tech malls, markets, book stores and more), eating out and in (street hawkers, restaurants to drool over and who delivers), health (hospitals, dental, insurance, pharmacies, fitness clubs and parks), entertainment (cinema, concerts and cultural centres), organisations (women's groups, Chambers of Commerce, cultural clubs, expat clubs and those with special interest), Thai language learning (where you'll find Women Learn Thai )… all to delight the female palette.
PHEW! That's a lot…
Time to talk about Amy…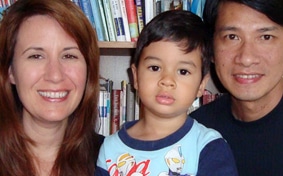 Although western women are outnumbered here, we are not exactly scarce (even if it seems so).
Expat women in Bangkok are successful teachers, writers, designers, mothers, wives and business owners.
But not all women slide into this city as smoothly as a finely baked souffle. Like Amy did.
Amy left her comfy position back in the US. Packed what she needed. Then changed her life forever.
Within months of being taken under the wing of a knowledgeable American, Amy started helping others coming into Bangkok fresh. And that's really when the idea for the Expat Women's Guide to Bangkok came about. From Amy's desire for exploration, excitement and a taste for all things new.
Amy's adventure on buses, boats and tuk tuks eventually led to a greater adventure. Her dear Thai husband Golf. And (as often happens), they now have a sweet addition, Aidan.
Amy presently resides in California with her young family, hopping over to Bangkok for experiences new and old. I can't wait to see what's new on the menu, for sure.
As previously mentioned, the Expat Woman's Guide to Living in Bangkok is no longer online. Here's hoping it'll come back soon or someone else picks up the project.