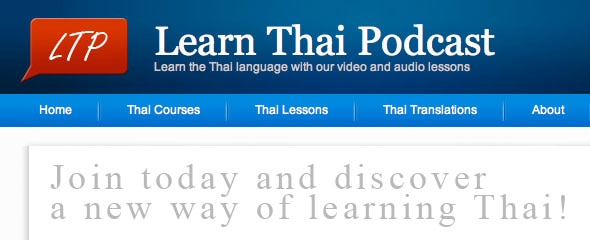 Seeing Learn Thai Podcast anew…
I ran into Jo and Jay years back, when they had a few choice Thai sound files on offer. It was a simple affair, and popular. They dropped out of sight to later reappear with a professional looking product loaded down with audio and video files. I contacted Jo with a, 'Hey, is that YOU?'
It has been my plan to review LTP, so when Jo mentioned their coming upgrade, it was time.
An overview of LTP…
When you first jump into learning a foreign language, you automatically start compiling a mental wish list of what you need to make your language learning adventure easier. And for a tonal language such as Thai, sourcing that list could save you from future frustration and bother.
After figuring out how I learn languages, for Thai I discovered that I had needs: I needed visuals, I needed to hear the tones while reading actual Thai script (not transliteration), and I needed to be able to test what I learned.
And at the top of my wish list? The desire to see and hear Thais speaking, and to study the breakdown of their conversation (vocabulary, phrases, and grammar). I mean, how many times have you sat amongst Thai friends, wishing that you understood everything being said? And how many times have you tried to quickly write down or record the conversations to review later?
If you are reading this right now, then I'm betting your answer to my question is, 'recently'.
Checklist for LTP:
Visuals: Online lessons, downloadable YouTube videos in many formats.
Sound: Individual sound bites in online lessons, YouTube videos and mp3 files to download.
Thai script: Script included with all lessons, complete Alphabet course, transliteration.
Thai only: Lessons without English translations.
Conversations: Movies and sound files of actual Thais talking.
Testing: Reviews after each lesson, vocabulary trainer for individual words.
Extras: Printable notes to download.
Incase you didn't catch that, LTP is big on sharing videos, some with Thais talking. And from what I've seen, LTP is one of the few complete Thai courses that offers real conversations spoken by real people. On video. With explanations.
So if you have a similar checklist, then please do read on.
Free LTP 6 day course…
To give you an idea of how LTP works, they've created a free 6 day course. The free course comes with: Audio files, video files in a wide range of formats, and pdf transcripts to download. Be sure to download the free study guide as well. LTP's study guide outlines the various learning methods, and gives a sample schedule to follow.
Free LTP 6 Day Course
Day 1: Grammar Lesson: Question Words in Thai.
Day 2: Review Lesson: Question Words in Thai.
Day 3: Vocabulary Lessons / Introduction to cycles.
Day 4: Conversation Lesson: Bell and Wa plan their summer holidays.
Day 5: Grammar Lesson: Bell and Wa plan their summer holidays.
Day 6: Review Lesson: Bell and Wa plan their summer holidays.
After you complete the mini-course, you will know if LTP is for you. But no matter if you are wavering or not, check out their Learn Thai Podcast Premium Course Structure.
Learn Thai Podcast premium courses…
Under the signup form for the free LTP 6 day course there is a 1 year curriculum download in pdf format. Including the writing section, there are presently more than 700 lesson segments on offer, so you will find their recommendations enormously helpful for planning your Thai studies at LTP.
This 1 year curriculum is just a suggested learning schedule. You can download and keep all lessons on your computer so you can learn at your own pace. The course enables you to access lessons at any time. So if you want to start learning with intermediate lessons earlier, no problem.
To prepare for this product review, I deleted the LTP files I already had in iTunes. I did it because I wanted to start from the beginning. Because that way, I could describe most everything for you. Fresh. And while I have been using iTunes for years, pulling LTP in properly taught me a few new tricks (tricks that I'm sure most everyone knew but me).
To pull the files into iTunes, I copied the RSS feed url for my level, went up to the iTunes menu >> Advanced >> Subscribe to Podcast >> and pasted the feed url into the available box. What this does is sucks in a list of the lessons, each in the different formats to chose from. After reading about video resolution, I deleted everything except for HD and SDw, and then pushed the button that said 'select all'. And from now on, whenever LTP adds new lessons, the lessons appear in my iTunes automatically. Btw – HD and SDw plays fine on my iTunes, iPhone, and Video iPod.

Now, you can study the downloaded lessons by watching the videos and listening to the mp3 files, but don't forget that LTP has downloadable pdf's and text files for each lesson too. These are especially useful in the reading and writing section.
And if you are learning how to read Thai, their online lessons at any level are invaluable. See, what you do is listen to the audio files by repeatedly clicking the red arrow next to the Thai word. So you get to listen to the pronunciation while being able to read the Thai script at the same time. And YOU are in control.
Learn Thai Podcast Premium Course: Beginner…
The beginners course covers 3000 basic vocabulary words that you absolutely must get into your head if you are serious about learning Thai: Verbs, adjectives, personal pronouns, conditional questions, confirmation questions, question words, conjunctions, prepositions, family, professions, pets and animals, body parts, groceries, cooking, drinks, Thai spices, drug store, numbers, time, telling time, days of the week, and months. And more (go here to see the full list).
And not only do you acquire the needed vocabulary, you get immersed in beginning grammer and pronunciation as well. Mini-conversations are included and new lessons are added all the time so keep an eye on your iTunes. The available conversations for all levels can be found at: Speak & understand real street Thai.
As mentioned, you need to get the basics down. And to do this, you need to go into repetition overdrive and listen, listen, listen, repeat, repeat, repeat, read, read, read. Now, you can spend a lot of time creating sound and text files to pull into a SRS (Spaced repetition learning systems). Or, you can start studying right away with a course such as LTP. Up to you.
On a personal note: I've made no secret about the fact that I'm an insomniac. When I'm in full non-sleeping mode, I have no desire to do much of anything. But what I can do is sit my face in front of a computer and watch video files. Over and over. It's mesmerizing.
So when you've had a long day and you don't have it in you to study, perhaps sit your face down and start watching too?
Learn Thai Podcast Premium Course: Intermediate…
The beginner course has conversations in text, whereas the intermediate lessons ramp up to video conversations. But you can follow along with the video conversations no matter what level you are.
The intermediate course is built around conversations and it goes like this: Vocabulary, grammar, conversation, review. Both the grammar and the vocabulary lessons include sentences with sound only.
As I'm a visual person, I especially love how the conversations work. Some of you will study the vocabulary and grammar before the conversations, but I would do it the other way around as I get a lot out of seeing people talk. So I would first watch the conversations, then go to the vocabulary and grammar, and then back to the conversations to check how I'm doing, and then finish with the review.
To see just what I mean, LTP uploaded sample videos for you to play with:
Just incase you missed it: By the time you get to the Intermediate level, you might be ready to do away with the English translations. You are indeed given that option, so if that's your thing, be sure to take advantage.
Learn Thai Podcast Premium Course: Advanced…
At my last count, there were around around 30 lessons on this section (but don't quote me). In the Advanced lessons you get regular conversations and newscasts. As it's advanced, the conversations are noticeably longer. And while the conversations up to this point have been modern Thai, in the news section you are treated to the formal Thai spoken on TV and in certain settings.
The Advanced course is split into two sections like so:
News: Vocabulary, grammar, report, review.
Conversation: Vocabulary, grammar, conversation, review.
In the Advanced course, same as with the others, there are pdf and text files to download.
Reading and Writing and the Thai alphabet…
For the Reading and Writing course, the subjects include: Thai alphabet, theory, and practice. To break it down you get lots of tone markers and tone rules, live and dead syllables, consonant clusters, and real clusters. And, as always, there's more.
The Thai alphabet course uses mnemonics. It might feel a bit odd at first, but if you are a visual learner it really is the easiest way to learn shapes, sounds, and classes. And to get you practicing at writing out each letter, alphabet sheets are available for download.
After you sufficiently suss the Thai alphabet, you'll want to move on to the reading and writing lessons. First you go through the Thai alphabet again (consonants and vowels). If you are studying via your computer, you will notice a skip in numbers every once in awhile. So perhaps treat the gaps as a hint to get over to LTP to download the practical practice pdfs.
And if you are following the course with a mixture of on and offline, again, this is where the ability to click those red arrows comes in handy.
We are often told that learning how to read and write Thai is terribly important, so perhaps I should have put this section up front? Or have you heard this from me too many times before?
And that's a LTP wrap…
Jo and Jay have put a lot of work into Learn Thai Podcast, and they continue to add more resources and courses. And btw: if you do sign up for the Thai courses at LTP, be sure to pass over a huge hello from me.