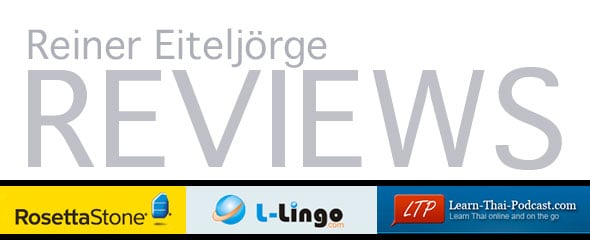 Learning Thai: L-Lingo, Learn Thai Podcast, and Rosetta Stone…
I have a very logical mind. My job is software development, quality assurance in software engineering and search engine optimization. My hobby is chess and on my holidays I solve Sudokos.
My mind is always working. I want to "understand" the software problem, the position on the chess board, and the structure of languages. But as I have no "feeling" for foreign languages, I have to "build" the sentences, piece by piece.
I started learning Thai with Rosetta Stone, but had nearly no progress. Learning without translation and grammar was impossible for me. Frustrated, I stopped studying Thai for 12 months.
With L-Lingo I found a similar concept to Rosetta Stone: pictures, audios, Thai- and Latin-writing, translations and lessons. But there was no introduction to grammar, and I needed it. I thought "I will never understand, I have to memorize the sentences".
I found the grammar explanations the most important advantage of Learn Thai Podcast (LTP). The grammar introduction helped me to "understand" the sentences and get a feeling for the structure of the Thai language. Also, being able to download mp3 lessons to listen to while traveling in Germany was a huge help.
After some weeks with LTP I had a basic understanding of Thai so I again tried Rosetta Stone. Rosetta Stone uses a very intensive method to repeat and check the content. And while I don't feel that it is possible to learn solely with Rosetta Stone, I did find it helpful to repeat the basic lessons.
Rosetta Stone and L-Lingo have a better course structure and statistics than LTP. They say "follow me, I show you the next lesson". In LTP there are hundreds of lessons, and I have to repeat each lesson until I have learned it. With LTP there are no tests and no visual indicators for my progress.
So my breakthrough with the Thai language started with LTP, but I learn vocabulary best with L-Lingo. For my Thai studies so far, I've been using a mix of three courses: start with LTP to learn "content", learn vocabulary with pictures and quizzes with L-Lingo, and finish with the intensive tests in Rosetta Stone.
Reviewing the L-Lingo update…
When L-Lingo updated this week I was asked give my opinion. The new grammar notes are a good introduction for beginners, and if I had this software a year ago I would have seen much more progress in my Thai studies.
Each lesson is introduced with a short summary and grammar notes for the lesson. The new words needed to understand the sentences are also introduced. I found this angle very good for my learning style.
In comparison to LTP, the L-Lingo grammar notes are shorter and easier. LTP's grammar instructions are much deeper. For instance, in LTP, when teaching "how to ask questions", the question words and how to place them in sentences is explained.
LTP is more helpful for me because after learning basic vocabulary I am now creating real life sentences. In addition, the grammar lessons in LTP are labeled, so I can choose lessons that are interesting to me.
L-Lingo has matching grammar notes for each lesson, while LTP has grammar notes for topics. Both ways are good, but for learning grammar I prefer the LTP way. To learn the grammar together with the vocabulary in the course program of L-Lingo, the grammar notes are a good solution. Maybe L-Lingo can extend the notes (I cannot explain what I'm missing, but it feels a little bit short for me).
In some notes from L-Lingo the explanation for new words are in the examples (but I haven't checked to see if L-Lingo introduces every new word). For me, it is important to know the words being used, even if they are not in the exercises. Here LTP is nearly perfect for me because every word in every example is translated. And even if the words are not in the exercises, you get a feeling for the common words like "have", "is", "he", "they", "everybody", and how to use them.
L-Lingo made a big step in the right direction with the grammar notes but I will continue with my method of learning by using the three courses together: LTP, L-Lingo and Rosetta Stone.
Learning languages is very hard for me (even getting new English vocabulary is not easy). Now, with LTP and L-Lingo, I am making progress in Thai. Week after week I see that my vocabulary is extending. Sometimes I even understand words in Thai movies or songs 🙂
In spring next year I will try "learning with Skype". I want to have human partner for speaking and understanding, for discussions and getting into unexpected situations.
Reiner Eiteljörge
www.antaro.de