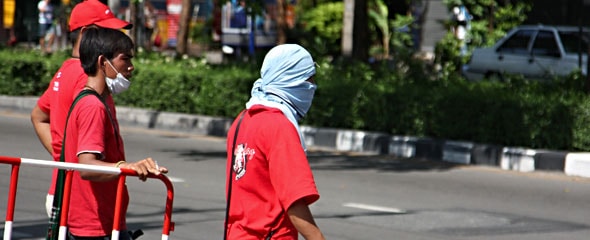 The Red Shirts have been and gone…
This morning, first thing, I headed to Victory Monument via the Skytrain. The train was mostly empty, but instead of sitting, I stood at the exit to see out.
We passed streets with Red Shirts, buses and flames. And when the doors opened at Phyathai, I could see black smoke billowing as high as a 20 story building. Maybe more.
On arrival, all seemed quiet at Victory. Buses were placed at entries/exits around the roundabout, but the limited traffic easily drove around the barricades.
Heading towards a crowd of people on the walkway above, I found the Red Shirts congregating on the road, facing the army. The army were blobs of dull green in the distance.
At one point, the Red Shirts started yelling over the sound of fireworks(?) and the people on the walkway took off. Not running, just walking fast and nervous. Mere minutes passed and everyone flowed back again.
With even more noise and the brandishing of sticks, a group of Red Shirts climbed into a stolen bus and roared off, motorcycles and trucks speeding along side.
Since nothing seemed to be happening (and I didn't want to be there when it did), I walked back to Ari from Victory. Along the way there were locals out for a stroll, Red Shirts driving by on motorcycles, and buses abandoned at strange angles.
Ah. I almost forgot. Going past was a truck filled with old tires, headed back to Victory to burn.
Passing the army holed up behind barbed wire in what looked to be a shopping complex, I came across more Red Shirts blocking traffic. Close together, I could take photos of both the army and the Red Shirts by swivelling my camera.
Except for Victory, my morning stroll was peaceful. Noticeable was the change in the Thais wearing red; yesterday the Thais were all proud smiles, today there were none.
Only minutes after leaving Victory Monument, the army moved in to move the Red Shirts out. A lost photo op? Dunno. All I do know is that I'm tired of it all. And besides, I'm not that brave.
The Bangkok Post stated that the bullets fired over the Red Shirts' heads by the army were made of paper. I hope so, because over their heads could have been towards those standing on the walkway above.
A few snaps of a Red Shirt moment…







Where the Red Shirt news is being reported…
LIVE: Bangkok skirmish (no longer online)
Live blogging: Nirmal Ghosh reports from the clashes between protesters and troops.
Bangkok Pundit (no longer online)
Live blogging: A blog about Thai Politics and the insurgency in Southern Thailand.
Bangkok News Links (no longer online)
A collection of links to news and people reporting on what is happening in Bangkok in real time.
Everything Tom (no longer live)
Tom Barrett: Liveblogging the Thai Redshirts crisis.