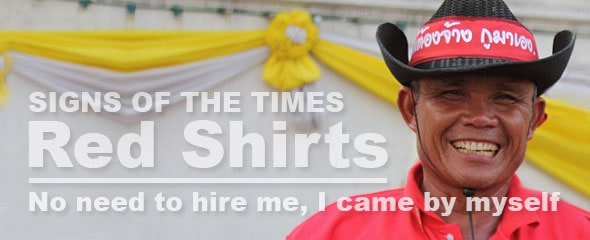 The signs of the Red Shirts…
Bangkok is dripping in red: Red shirts, red hats, red clappers, red headbands and more. All are slathered with slogans. Some are for an English audience – hello BBC! – but most are in Thai.
So… do you know what the Red Shirts are saying? In Thai?
If you intend on witnessing the Red Shirt march this weekend, how about brushing up? It would be good reading practice. Or, at the very least, a lark.
Bangkok Post: UDD reveals route for Saturday march: The convoy would move along Yommarat and Phetchaburi roads to the Asoke intersection and turn right to Ratchapisek road, he said. From the Fortune Town department store, the red-shirts would turn to the right and march along Lat Phrao road to Bang Kapi, Lam Sali intersection, Ramkhamhaeng road, Rama 9 road, Khlong Tan, Phra Khanong, Silom, Rama IV, Klongtoey, Odeon circle, Yommarat and back to Phan Fa bridge.
Additional rounds found via twitter @tulsathit: Pokklao Bridge, BanKaek intersec, Wongwien Yai, Taksin, Tha Pra, Jaran intersec, Pin Klao Bridge.
To make sure I understood the nuances of the slogans (translated below), I sat down with Khun Phairo (my long suffering Thai teacher). As we were under time constraints, Friday night I asked Rikker from Thai 101 to check for mistakes (mine).
Rikker's input cleaned up typos, tidied up my too literal translations (although I did leave one in), and added the needed political background. A good thing too, as I did not cotton to the change when bouncing between Red and Yellow. I did notice references to the elite in the English language news, but… sigh… Sometimes Thai numbs me.
Red Shirt headbands…
There was no lack of headbands anywhere. At Phan Fa Bridge I watched Red Shirt's marking out their territory for the duration, while others were just arriving. As I wandered around taking photographs, these fun-loving guys (below) waved me over.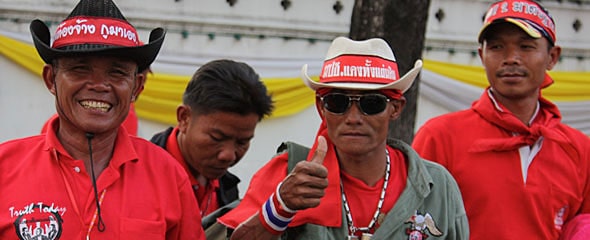 ไม่ต้องจ้าง, กูมาเอง
mâi dtông jâang, goo maaayng
No need to hire me, I came by myself.
Kaewmala: Not hired, I fricking came on my own.
How fun! This headband is about Red Shirt supporters getting paid to show up in Bangkok. There are crazy rumours about payments, but the standard figure being batted around is 300 baht a day, which is a little over US$9. US$9 is pocket change for some, but in Thailand (especially in the rural north) it's a decent day's wage.
แดงทั้งแผ่นดิน
daeng táng pàendin
The whole land is red.
Apologies, but I couldn't make out the Thai script located on the far right headband.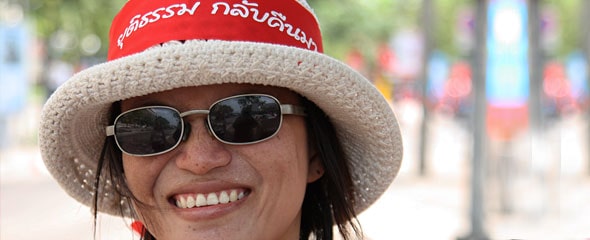 ยุติธรรมกลับคืนมา
yút-dtì tam glàp keunmaa
Bring back justice.
This photo was taken alongside Central Mall (Ladprao), on day four. Compared to previous days, day four had wealthier Red Shirt supporters amongst the rest. That's what I noticed anyway (did anyone see the same?)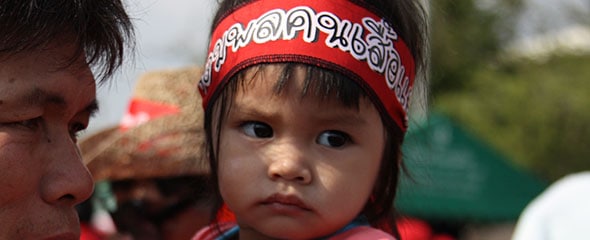 รวมพลคนเสื้อแดง
ruam pon kon sêua daeng
Red Shirts unite!
During my four days running around with the Red Shirts, the slogan "Red Shirts unite!" came up most often.
And isn't she sweet? She wasn't comfortable surrounded by strangers making noise – there was a LOT of noise at Phan Fa Bridge – but her daddy was visibly proud.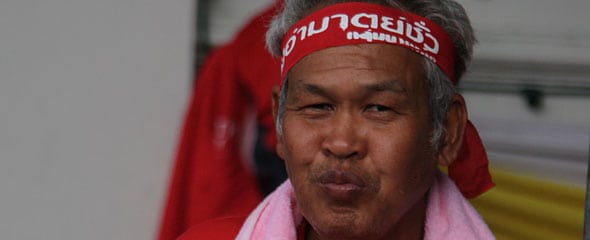 อำมาตย์ชั่ว
am-màat chûa
Wicked/evil elite.
What a great face he has 🙂 Btw – He's not blowing me a kiss. He was finishing a snack, but wanting me to take photos anyway.
In my reckoning, there wasn't enough street food available in the Phan Fa Bridge area to feed the thousands of people from the countryside. When I queried Khun Pissout, he replied that the supporters were fed elsewhere (and I believe, for free).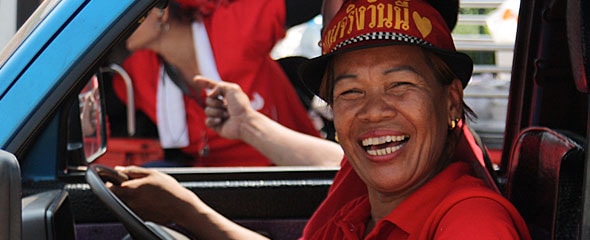 ความจริงวันนี้
kwaam jing wannée
Truth Today.
And here's another great Thai smile. Her slogan comes from the political TV show of the same name.
The logo and/or slogan was around during last year's Red Shirt rallies. During these four days I saw a number of shirts and banners from the 2009 Red Shirt event. Actually, anything red was a consideration (slogans didn't seem to matter): Bowling shirts, pizza delivery hats, etc.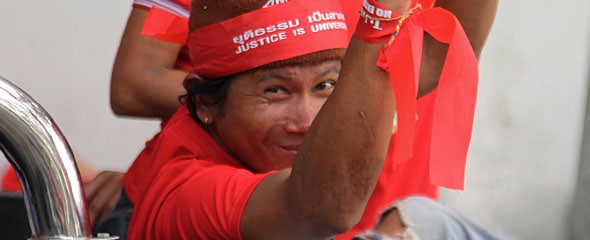 ยุติธรรมเป็นสากล
yút-dtì tam bpen săa-gon
Justice is universal.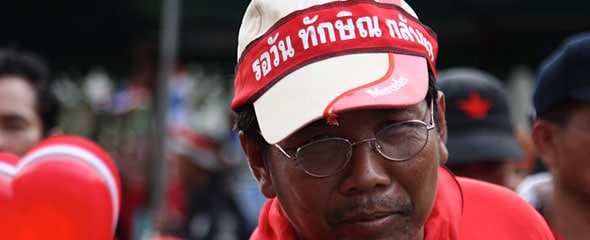 รอวันทักษินกลับ
rorwan táksĭn glàp
Waiting for the day Thaksin comes back.
Red Shirt t-shirts…
T-shirts were also in abundance. When I decided to write this post, I came close to running out to buy a selection… but then I woke up (as I've already put Khun Pissout's youngest through uni…)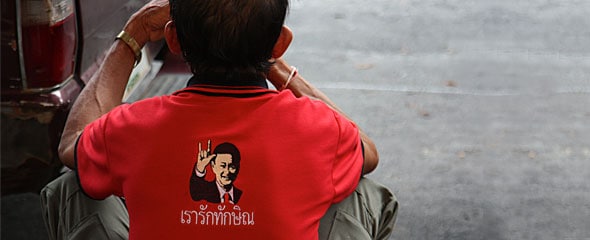 เรารักทักษิณ
rao rák ták-sĭn
We love Thaksin.
I expected to see more of the "We love Thaksin" type of slogans. A smattering made an appearance, but not in the numbers predicted. And, ok, it might just be my wishful thinking… hmmm?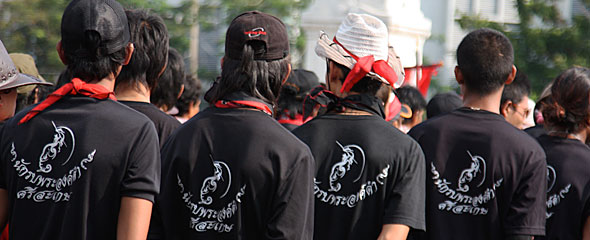 นักรบพระองค์ดำ
nákróp práong dam
Fighters of the Black King.
ศรีสะเกษ
sĕe-sà-gàyt
Srisakate (the province they come from)
The Black King is the Thai King Naresuan. He was trained by the Burmese in martial arts, which eventually became Muay Thai (I believe).
The History of Muay Thai: King Naresuan was the King of Siam from 1590 until his death in 1605. At a young age he was taken captive by the Burmese to ensure the fidelity of his father, Maha Tammaraja, who became King of the Ayutthaya Kingdom after it was occupied by the Burmese in 1569. Naresuan spent nine years of his youth at Pegu under the protection of the Burmese King Bayinnaung, who trained him in martial arts, literature and military strategies.
The Red Shirts donning black shirts are members of the Black Guard. The Black Guard were assembled to protect the Red Shirts from harm (and some say to stop the Thai government from creating false problems). You can see the Black Shirts amassing in a previous post (second video): The Red Shirts in Bangkok: The Faces of Day Three.
Red Shirt flags…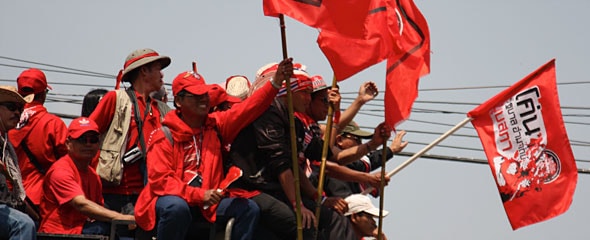 โค่นร้ฐบาลอำมาตย์ยุบสภา
kôhn rat-baalor am-màat yúp sà-paa
Topple the elite government, dissolve parliament.
This design was on banners, flags, t-shirts, the sides of cars… you name it, I found it.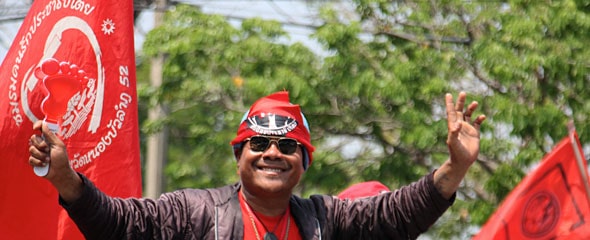 ชมรมคนรักประชาฐิปไตย
chom-rom kon rák bprà-chaa-tep-dtai-yor
Democracy lovers club.
I have a zillion photos of this lovely man, but the flag was visible in only a few. None of the photos came out great, but… it's being able to see the flag that counts.
Red Shirt signs…
As mentioned above, most signs include the different locations where the Red Shirt supporters hale from. Noticeable were streets in Bangkok, as well as countries outside of Thailand.
แดงทั้งแผ่นดิน
daeng táng pàendin
The whole land is red.
เคลื่อนพลล้มอำมาตย์
klêuan pon lóm am-màat
Marching to fell the elite.
หนองบัวลำภู
nŏng bua-lam-poo
Nongbualamphoo (a district in Ubonratchathanee).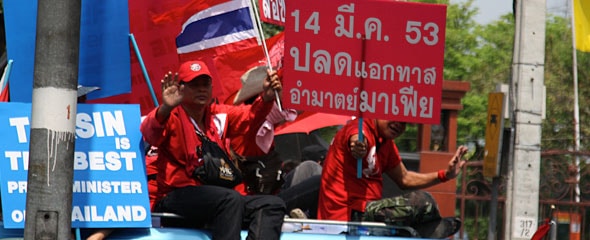 14 มี. ค. 53 ปลดแอกทาสอำมาตย์มาเฟีย
14 mee kor 53 bplòt àek tâat am-màat maa-fia
14 March 53 (2010). Taking the yoke off the slaves of the mafia elite!
Mafia is (obviously) a foreign word: มาเฟีย /maa-fia/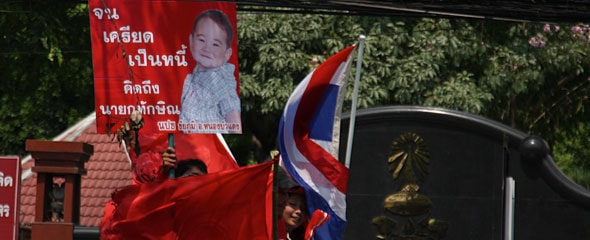 จนเครียดเป็นหนี้คิดถึงนายกทักษิณ
jonkrîat bpennêe kíttĕung naa-yók ták-sĭn
Poor — Stressed — In debt. We miss PM Thaksin.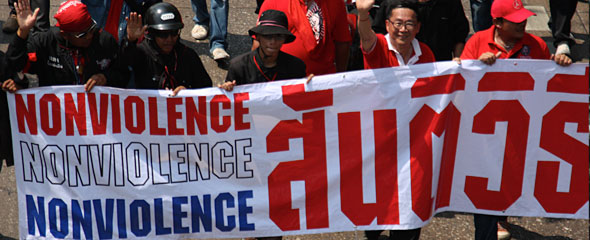 สันติวิธี
săn-dtì wí-tee
The peaceful way.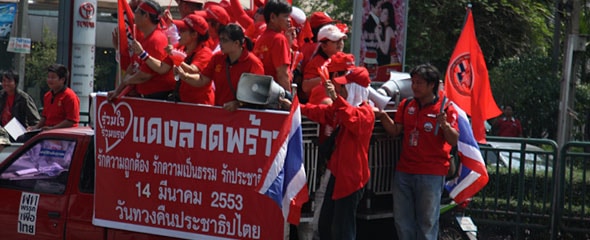 ร่วมใจร่วมแรง
rûamjai rûamraeng
Hearts united, strength united.
แดงลาดพร้าว
daeng lâat-práao
Reds from Ladprao.
รักความถูกต้องรักความเป็นธรรมรักประชาธิปไตย
rák kwaamtòokdtông rák kwaambpentam rák bprà-chaatí-bpà-dtai
(We) love truth, love justice, love democracy.
14 มีนาคม 2553
14 mee-naa-kom 2553
14 March 2553 (2010).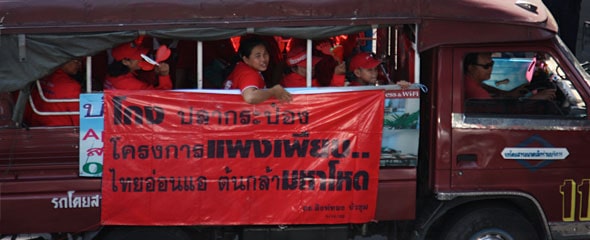 This banner mentions government projects that failed for one reason or the other (usually corruption).
โกงปลากระป๋อง
gohng bplaa grà-bpŏng
Corrupt! Canned fish.
Bangkok Post: The 2009 canned fish scandal: Party spokesman Prompong Nopparit yesterday said Wichen Sommat was responsible for arranging flood-relief bags which included Chao Doi brand rotten canned fish. About 100 flood victims became nauseous and vomited after eating the fish products which were donated through the Social Development and Human Security Ministry.
โครงการแพงเพียบ
krohnggaan paeng pîap
Lavish economy project.
A play on words (kaewmala: it's the play on the term 'sufficiency economy'). This is in reference to corruption uncovered last year in the Sufficiency Economy Community Projects handled by the Democrats: โครง การ พอ เพียง /krohng gaan por piang/.
ไทยอ่อนแอ
tai ònae
Weak Thai.
More word play, only this one is pointing to a strong Thai project (corruption was apparently discovered there too).
ต้นกล้ามหาโหด
dtônglâa má-hăahòht
The brutal seedlings.
This calls attention to the Tonkla Archeep Project (โครง การ ต้น กล้า อาชีพ /krohng gaan dtôn glâa aa-chêep/), a vocational training program. It's an expensive Abbisit project that failed enormously (emphasis on the enormous).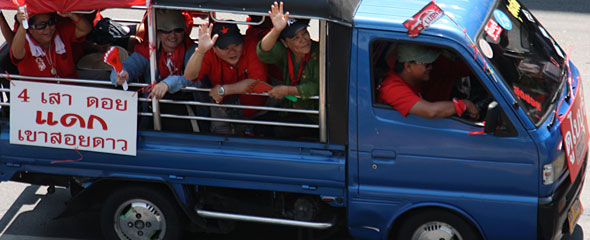 4 เสาดอยแดก
4 săo doi dàek
4 Corruption hill.
This is another play on words. Similar to the west, rich people in Thailand give names to their homes. (บ้าน /bâan/) สี่ เสา เทเวศร์ /sèe săo tay-wâyt/ is the name of Prem's house. So ดอย แดก /doi dàek/ might be a play on the name of his house. ดอย is a reference to Khao Soi Dao (below — khao also means mountain/hill).
เขาสอยดาว
kăo sŏi daao
Khao Soi Dao.
The land belongs to the forestry department, but a VIP built a resort on the property: Khao Soi Dao land encroachment complaint (no longer online).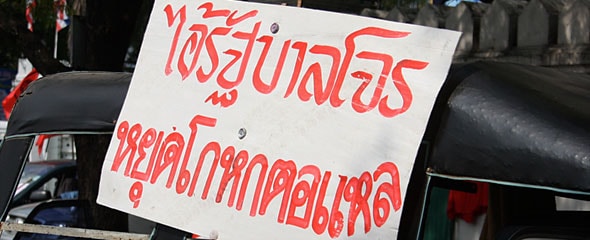 ไอ้รัฐบาโจรหยุดโกหกตอแหล
âi rát-tà-baan john yùt goh-hòk dtor-lăe
Damn government of thieves, stop lying!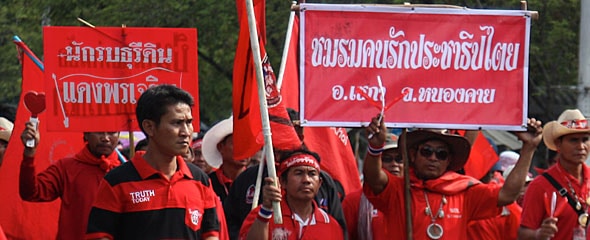 นักรบธุลีดิน
nákróp tú-leedin
Fighters for the common people.
There is a typo in the sign: ธุรี instead of ทุลี (seems that the Red Shirts spell as badly as I do 😉
แดงพรเจริญ
daeng ponjà-rern
Red Pornchareun (where they are from).
ชมรมคนรักประชาธิปไตย
chom-rom kon rák bprà-chaa tí-bpà-dtai
Democracy lovers club >
อ. เซกา จ. หนองคาย
am-per say-gaa jang-wàt nŏngkaai
Seka District, Nongkhai Province (ditto on original location).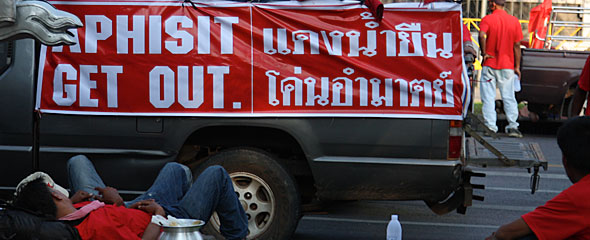 แดงนำ้ยืนโค่นอำมาตย์
daeng yeun kôhn am-màat
Reds from Nam Yeun come to cut down the elite.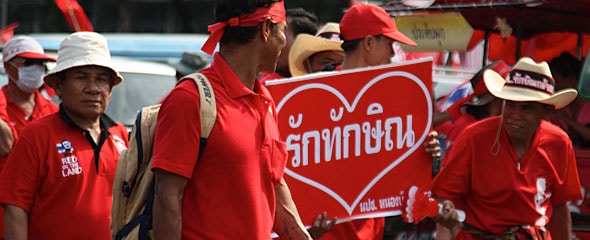 รักทักษิณ
rák ták-sĭn
We love Thaksin.
Bye, bye Red Shirts…
Well, (knock on wood) that's pretty much a rap for me and the Red Shirts. Below is the entire week of the Reds:
A special thanks goes to Gaccha for sharing his VOA files, Khun Phairo for being ever so patient while trying to stuff strong stem a lot cruel into my head, Kaewmala for answering an emergency question as well as adding fabulous insight to the march in the comments (below), and Rikker for being amazing. Again.