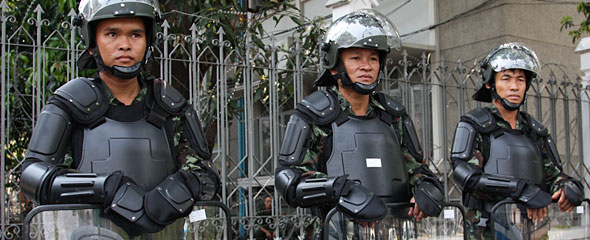 There be Red Shirts…
Thursday afternoon I tried to focus on a Friday post. Sigh. But I could not, would not settle. With everything going on this weekend, there was too much on my mind.
The closer the Red Shirt rallies came, the more alarming the news.
Expats started phoning one another asking, "what do we stock up on?" The one thing everyone agreed on was wine. Oh, and water. So two.
Giving up on my intended Friday post, I called Khun Pissout to arrange a pickup mid-Friday. To, you know… go see what was happening.
So, armed with a couple of cameras and the Hot Spot map from ThaiVisa, off I went.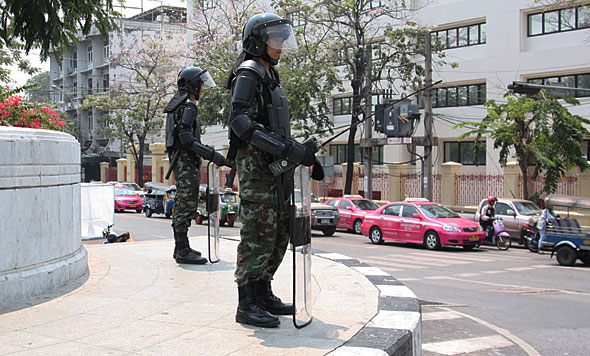 Driving around Bangkok was total bliss. No traffic. There was also a lack of Red Shirts at 11am. Instead, there was plenty of police and army dressed in their greens, getting ready for the onslaught of red.

Various government buildings were decorated in their handy red and white stripes.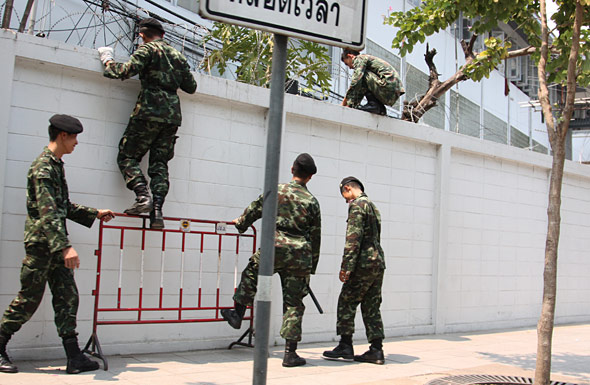 Government buildings were also being tarted up with barbed wire along fence tops.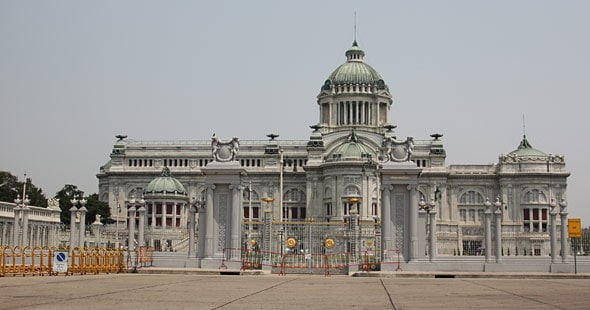 Nothing happening here…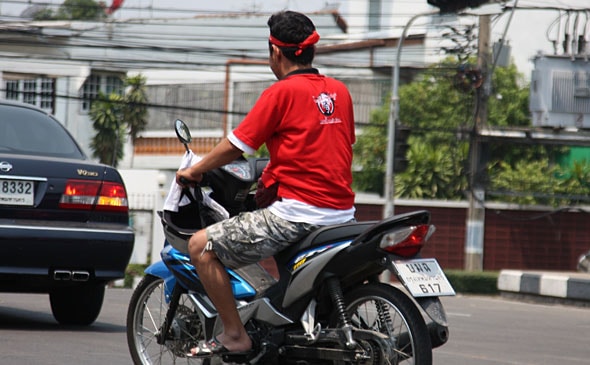 Inside the city, I came across one Red Shirt driving by. One. But as the Red Shirts weren't even supposed to leave their prospective homes until noon, no surprises there.
The plan (as I was told): The Red Shirts from the north were to amass in their home towns, pile into the back of pickups, and drive to another group closer to Bangkok. Talk, talk, talk. Drive to another town. Talk, talk, talk. So the lack of red in Bangkok this Friday was to be expected.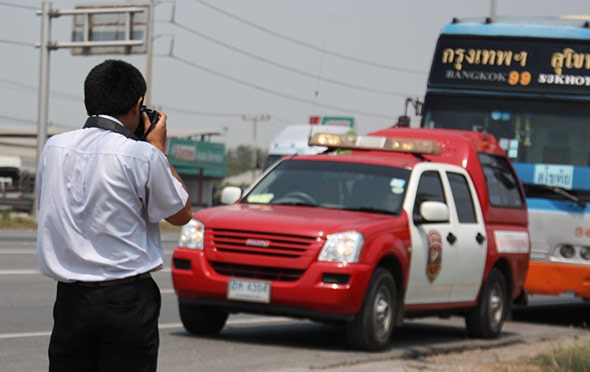 Bored with it all (and not finding out about 'the plan' quite yet), I drove to Ayutthaya to see the buses so kindly donated by the government to bring the Red Shirts in.
The buses are to alleviate the extra traffic from pickups coming loaded down with Red Shirts. But WHAT weekend traffic? The regular (alarming) reports from the Thai government made sure that Bangkok is dead, dead, dead.
Question: How are the hordes of Red Shirts expected to cram into seven buses? No matter. While I was there it was only the army, the police, the press, and me. No Red Shirts = no need for hundreds of buses. Yet.
And I still haven't found out if anyone got on those buses. The jokes going around giggled about where the Thai government would take the Reds getting on buses. In circles? They were not sure (but they had a grand time with the chortles).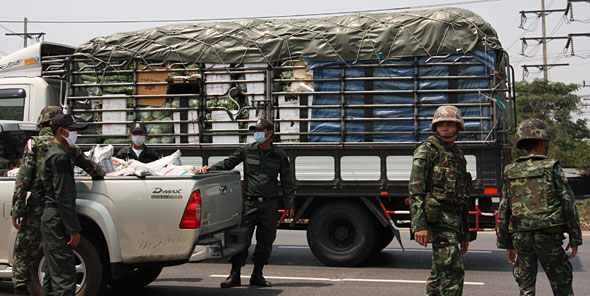 On the main roads coming back into Bangkok, posts were manned by even more army and police.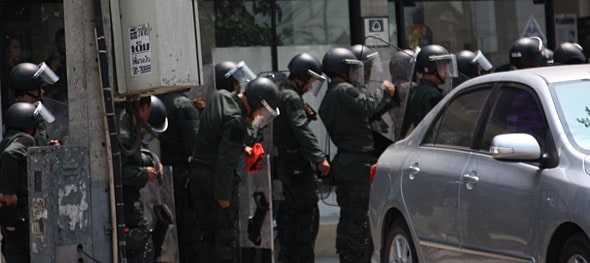 Some included rows of men kitted out in riot gear.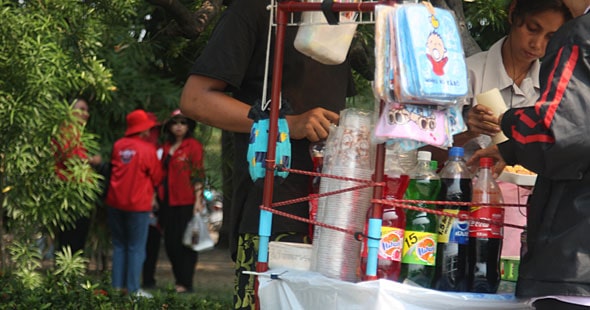 Once back in Bangkok, Red Shirts starting appearing under trees.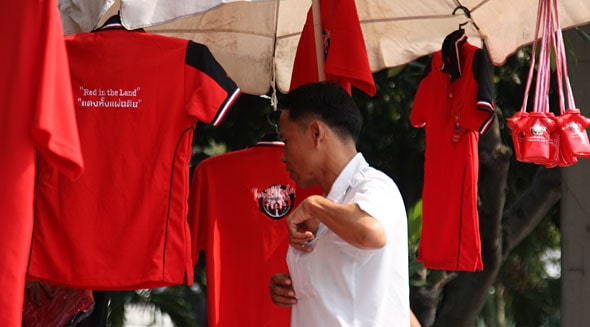 And just like before, the sale of red t-shirts were hot, hot, hot. Khun Pissout asked if I wanted to buy a shirt for Sunday, but I declined. I'm not a migrant worker, but laws have a way of being fluid in Thailand and so I didn't want to push it (and besides, I don't look good in red).
Bangkok Post: Thailand will imprison and hand out heavy fines to any migrant workers who attend mass anti-government rallies in Bangkok this weekend, the labour minister said Tuesday.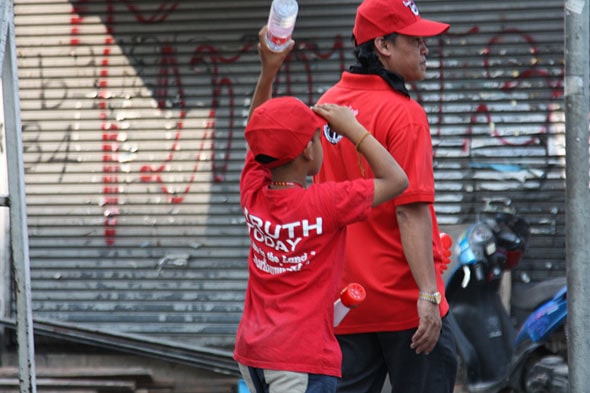 Kids came along for the fun as well.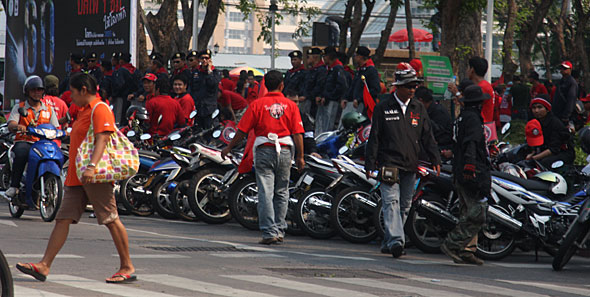 Closer to home, there they were. More Red Shirts.
And that was that (for Friday). But please stay tuned for more Red Shirts over the weekend!
Previous Red Shirt posts…
More photos can be found at Catherine Wentworth : Photography : Red Shirts.
PS: Apologies for being fast and furious with this post… more later… but gotta run as everyone was given a half day off (so time to use up all that wine 😉