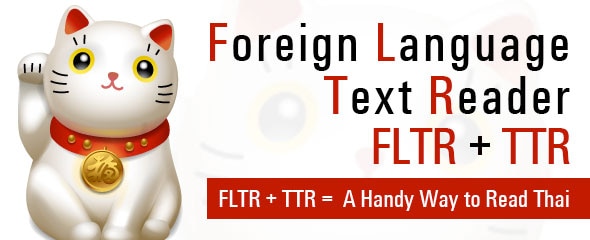 FLTR + Thai Text Reader…
Goodness have we ever been busy. As soon as the post Please Vote to add Thai Language to LingQ! hit the stands, Scott Smith, programmer Rick Bradford, and myself starting discussing other (free) possibilities for reading Thai.
Both Learning With Texts (LWT) and Foreign Language Text Reader (FLTR) were in the running. Due to ease of use, FLTR was selected. If you'd like to know more about FLTR, read Andrej's post, FLTR: The Foreign Language Text Reader.
A mere 21 days later, and mostly thanks to Rick, we give you: Thai Text Reader (TTR).
In a nutshell: TTR hosts the parser and Thai dictionary created by Rick that makes FLTR work with the Thai language. Also on the site are files to download (pdf's and mp3's), as well as other resources where you'll find even more Thai reading materials.
Now here's the thing. This project could be better. At the moment users have to paste Thai into the parser, parse, copy the results, open FLTR, and then drop in the parsed materials. To take out extra steps, coding them into one program is doable … but …
Rick Bradford: There are some minor improvements in the pipeline to do with the dictionary and some context help via mouse-over, but as this is a volunteer project, the ultimate goal of an integrated FLTR clone would probably only be implemented if there was serious interest from the user community.
So if you are serious about being able to use a FLTR clone to work with Thai, please contact Rick: [email protected]
Giving thanks for the generous donations to TTR…
The aim of TTR is to make your life easier with a Thai parser, dedicated dictionary, and materials for download. To help get this project started four sites quickly stepped up to contribute materials: Bangkok Post, Paknam Web, Thai Recordings, and the newly updated Self Study Thai. Time was extremely short and they delivered. My thanks goes to all.
You can locate the downloadable files in the downloads folder on TTR. Below are the direct links to the materials:
Bangkok Post
Paknam: Gor's World
Self Study Thai
Thai Recordings
More downloads are in the pipeline but as this project demanded a fast turnaround, there wasn't enough time to get them compiled before the soft launch.
If you'd like to donate materials to Thai Text Reader the details can be found here: Donating materials. If you know of more decent resources for reading Thai, do contact us.
A recap…
I would LOVE an FLTR clone to work with Thai. Seriously. If you do too, please contact Rick at [email protected] to let him know.