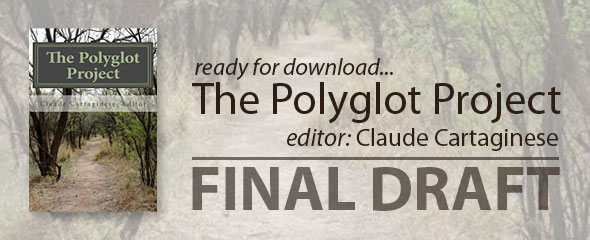 The Absolute Best Way to Learn Foreign Languages…
Back in August I wrote about an undertaking Claude Cartaginese took on: The Polyglot Project: In Their Own Words. His idea was to compile a smorgasbord of language learning experiences. Claude put out a request for entries, and during a several month spread we'd get to read the new additions.
Just this week Claude announced the finished project. You can buy the book at amazon.com, or download it free from his post: The Absolute Best Way to Learn Foreign Languages.
Claude's YouTube announcement is quite fun, so if you have the time…
Generous contributors to the polyglot project…
Before I sign off, I thought I'd list those who gave time to this project. First off, editor Claude Cartaginese. Claude has put together an amazing product for the language learning community. Nice job Claude!
Next up are the YouTube polyglots, hyper-polyglots, linguists, language learners and language lovers… in alphabetical order (apologies for the lack of links but coding boogers drove me crazy for over an hour so… linkless):

Aaron Posehn (aaronposehn), Albert Subirats (alsuvi), Amy Burr (pinkpumkinn), Anonymous, Anthony Lauder (FluentCzech), Bart Vervaart (Bartisation), Benny, Carlos Cajuste, Christopher Sarda (The Word Collector), Cody Dudgeon (Codylanguagesblog), Dave Cius, David James (usenetposts), Dion Francavilla (paholainen100), Edward Chien (propugnatorfidei), Fang (Creativity Japanese), Felix (loki2504), Felipe Belizaire (newstylles), Graeme (roedgroedudenfloede and Hvad Siger Du), Ivan Kupka (Rekreacni anglictina), Jara Kristiaan, Kathleen Hearons (katrudy7), Lorenzo R. Curtis (5Language and 5languages Blog), John Fotheringham (Foreign Language Mastery), Luka Skrbic (LukaSkrbic), mick, Mike Campbell (Glossika), Moses McCormick (laoshu), Nelson Mendez (NelsonMéndez.com), Oscar (OscarP282), Paul Barbato (Paulbarbato), Peter E. Browne (alkantre), Philip Price, Raashid Kola (sigendut1), SanneT, Shana Tan (Hangukdrama and Korean), Skrik (shriekshriek), skyblueteapot (May Contain Traces of Dodo), Stephen Eustace, Steve Kaufmann (lingosteve and LingQ), Stuart Jay Raj (stujaystujay and Language and Mind Mastery), Vera ( LingQVera and Sprachenlernen mit LingQ), Yuriy Nikshych (yurithebest).