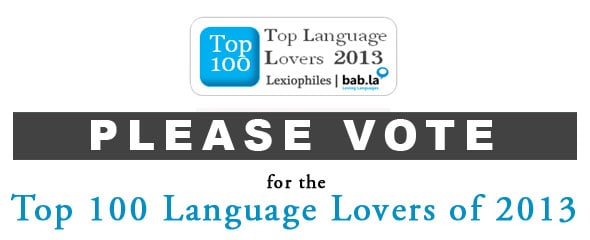 Voting commences for the Top 100 Language Lovers…
For the past five years or so, the hardworking people at Lexiophiles and bab.la have teamed up to organise the Top 100 Language Lovers Competition. This year a grand total of 1024 nominations were put forward (impressive). Out of those, only 100 each were chosen for the four categories: Language Learning Blogs, Language Professional Blogs, Language Twitter Accounts and Language Facebook Pages.
That's a lot of culling (and a heap of work) and they've only just begun!
This is WLT's fourth year and each year I use the energy from the competition to improve WLT. Following the advice from bab.la and Lexiophiles, in the beginning WLT's site design and navigation was tweaked (sorely needed). Also fueled by the competition, various projects (such as the Successful Thai Langauge Learners series) were created. And of course, with the competition in mind posts rich in learning Thai resources and other needed subjects were generated.
But most importantly, the competition motivated me to bring guest writers (the strength of WLT) on board. My thanks goes out to all contributing guest writers – without their posts WLT would be a dull place to be – and a special thanks goes to prolific guest writers Hugh Leong and Todd Daniels. I owe!
What's new on WLT for the 2013 competition?…
After much thought, this year I decided to tackle the illusive and oh so needed top 3000 Thai frequency list. Such a list has been discussed since the beginning of time on many forums, but so far nothing much has come of it. Too many of the words included in frequency lists are too academic, too old-fashioned, too too… well… you know. Dull. And oddly, not so frequent at all.
To create our list we started with known Thai Frequency Lists. After throwing only the useful lists into a spreadsheet, I passed it over to programmer Mark Hollow who worked his programming magic to collate the ginormous list down to under 5000 (or was it 7000 – I forget). Anyway, as it was still too large, with a Thai teacher at my side I managed to get the list to a nice tidy 3000 and a bit. And that's with the addition of the excellent vocabulary from Essential Thai – thanks Jim!)
DRUM ROLL … Vocabulary lists are useless on their own so Hugh Leong (retirement blogger and Thai phrasemaker extraordinaire) has kindly offered to help create patterns via category. As the 'Using High Frequency Thai Vocabulary' series is a megga project and Hugh is a busy guy we'll need additional help so please feel free to jump in (I'll explain more in a later post).
To polish off the vocabulary list with patterns and phrases, the most useful Thai phrases generated in the comments of each post will be recorded for free download. That's right. Free. WLT is all about free.
So, how's that for exciting? Getting this far on the frequency list has been a thrilling adventure so please stay tuned!
Other Thai blogs, twitter and FB accounts to vote for…
As I mentioned, there are four categories in the competition. Being awfully fond of the Thai language (as I would be), I decided to point you in the direction of the Thai blogs, twitter accounts, and Facebook pages that made it through to the community vote.
Vote here for Language Learning Blogs:
Josh Sagar's Learning Thai and my Women Learning Thai (WLT is all the waaaaay down at the bottom…).
Vote here for Language Facebook Pages:
Thai Language Hut and Mia's Learn 2 Speak Thai.
Vote here for Language Twitter Accounts:
The prolific Andrew Biggs @andrewbiggs.
Vote here for Language Professional Blogs:
There's nadda for Thai in the professional section so perhaps next year we should give polyglot Stu Jay Raj (Language and Mind Mastery) a push? He's been working crazy hours on his amazing new project (Jcademy.com) so he doubly qualifies as a professional.
Go on, you can do it, vote Thai…
So… here we are at the end of the post and I'm guessing you already know what I'm going to say. That's right. I'm shameful. Vote Thai.
In sheer numbers of students alone the Thai language can't compete against popular languages such as English, Italian, French, German, Spanish, Chinese and Japanese.
But with your support we can give them a darn good run for their money, so pretty please show your support by voting Thai!