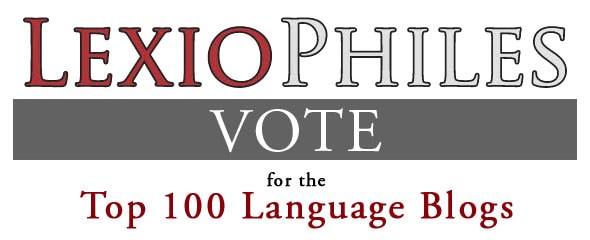 Voting commences for the top 100 language learning blogs…

Before we get started with Rikker's Thai 101 Learners Series, I have wee announcement to make.
Back in February we visited Lexiophiles Top 100 Language Blogs, where I dug through their list to share blogs helpful to Thai language learners too. This week they are at it again, only this time you can get involved.
Five Thai language blogs have been nominated:
Learn Thai from a White Guy
Thai 101
… and Women Learning Thai… and some men too
ฝรั่งงง (no longer online)
Thai Language Hut: Learn Thai Language Blog (no longer online)
The button above takes you to the complete list. Please show your support by voting for your language blog of choice (pssst… I'm waaaaaaaaaaaaaaaay down in the w's 😉
There are four categories:
Language Learning
Language Teaching
Language Professionals
Language Technology
EDIT: I just noticed that Stuart Jay Raj's Behind the Curtain is listed in the Language Professionals section.
I also noticed that you can vote for a blog in each section.
Stu has my LP vote for sure.