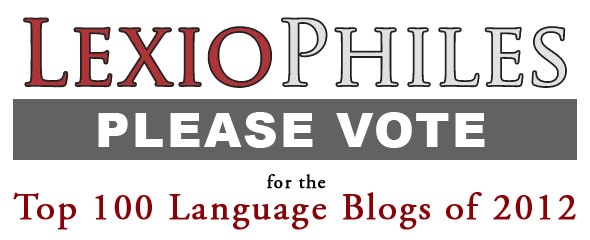 Please vote for the Top 100 Language Learning Blogs of 2012…
Each year the Top 100 Language Learning international competition put on by bab.la and Lexiophiles has gradually gotten tougher. But this year the quality of the sites have taken a noticeable leap, meaning it's a win win for anyone interested in learning languages. It also means that you have even less excuses for not learning a second or even a third language. Yeah, I'm bad.
No doubt, competing in the Top 100 Language Learning Blog competition has improved WLT immensely. It's also taught me that qualifying for the competition isn't about making pretty right before the event, but working on improvements throughout the year.
In the early days I concentrated on tweaking WLT's design, creating posts and series useful to students of Thai, and adding knowledgeable guest authors (megga thanks go especially to Hugh, Tod(d), Rikker, and Luke).
Something must have worked because WLT is now listed as a go-to resource for learning Thai on BBC – Languages – A Guide to Thai.
When I first entered the Top 100 Language Learning Blogs competition, I took Lexio's suggestions on what makes a good language blog to heart. In 2009, competing against more popular languages such as English, Chinese, French and German, WLT came in 85th place. Sweet. In 2010 I kept up with the improvements, and even though I mostly quit blogging about learning Thai during the Red Shirt protests (it was too heartbreaking), WLT came in 54th place. Not too shabby (especially as I didn't expect to place at all).
Last year was a shocker when WLT came 10th in Top 25 Language Learning Blogs 2011 and 19th in the Top 100 Language Lovers 2011. Understandably, I was surprised and totally chuffed at the leap.
Shortly after the competition a tweet came through stating that placing where it did, WLT was representing Thailand. It was then that I realised that the Language Learning Blog competition was not just about the language learning community. It was about my responsibility to Thailand as well.
Seriously, it was a sobering thought. And with sobriety comes much responsibility.
No doubt, I have fun researching and writing posts for WLT. And I also enjoy being in the position to give back to Thailand (reason why I donate all proceeds from WLT to the SET Foundation). But ever since that tweet the idea of taking WLT to another level has been a concern.
After months of going through options to improve WLT I decided to focus on two main projects. One, started after the competition last year, will take more time to complete (and I'll need even more of your help). But the other, already three years in the making, will launch following this post.
Project 1: Top 100 Thai vocabulary…
Since starting WLT I've learned that it's not unusual for students to fizzle out soon after embarking on their Thai language adventure. And while it's clearly a worry, I wasn't quite sure what I could do about it.
From what I'm seeing the problems with learning any new language are: memory, available time, and sustained motivation. But confidence is also high on the list (especially for a tonal language such as Thai).
If you remember, last September I reviewed The Art and Science of Remembering Everything. The resources mentioned lead me to an idea that just might work as a mini Thai course.
The idea is simple. Start out by learning your way around the 100 most useful words in your target language. This includes using those mere 100 words to learn basic grammar. And if you make it through to the end, and still have an interest, work out from there. And if you don't, you won't have wasted too much time. Correct?
Choosing the top 100 Thai words was an adventure. These days I'm staying busy creating workable phrases (words on their own are just words) but I continue to tweak the list.
To see how the method operates I purchased several top 100 courses, but in Italian. Seems they all fudge on what they are calling 100 words (some shamefully) so back to square one I went. But whoever said that necessity is the mother of invention has it soooo very right because getting around the hurdles made me very creative indeed. And in the coming mini-course I'll only cheat a little. Promise.
Disclaimer: In no way can you communicate fully by learning 100 words and choice phrases. But, with the right 100 words one can get a taste of a language. My hope is that a taste will tantalise students enough to push them over the quitting hump and into the excitement of learning more Thai.
People learn in different ways so I'll be using a combo of resources (most free): BYKI, Learning with Texts and Brainscape. Scott came to my rescue with LWT so it'll be implemented first. Ta Scott 🙂
Even though I've been working on this project since last year, more time and collaboration is needed. That's right. I'm in the need for guinea pigs. And if you want to pig out on Thai, please contact me.
Project 2: Successful Thai Language Learners Compilation series…
In 2009 I started the Successful Thai Language Learners series. One, two, three years have now gone by, with over 50 talented students and former students of the Thai language being interviewed.
Some of their replies were surprising, some quirky, and all were totally interesting. Well into the series a suggestion was made to tally the results, so I did. Wanting to share what I found, a compilation series was put together.
The compilation series will start next week. I seriously hope you enjoy reading the results as much as I have.
Oh. And btw. After sending out a zillion emails for the Successful Thai Language Learners series, I was able to interview 47 men and 3 women. So, as it turns out, I chose an appropriate tongue-in-cheek name after all. True?
Now back to voting for your favourite Top 100 Language blogs…
There are four categories to vote for. Please note that you are allowed just one vote for each section.
Other Thai blogs to vote for…
As before, there are other Thai blogs entered in the contest (three). Would I love your vote? Absolutely. But please check them out (if you haven't already).
Let's Talk Thai (formerly Learning Thai)
Thai Language Hut
Learn Thai from a White Guy
Before I sign off I'd like to thank the teams at bab.la and Lexiophiles. As I mentioned before, it's clear that without their yearly competition and advice, WLT wouldn't be the site it is today.