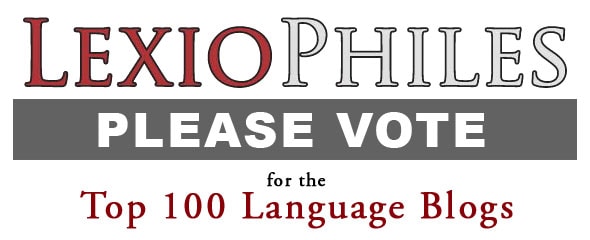 Please take the time to vote…
Bloggers work hard at offering their readers the best materials they can. But how can we tell if what we are doing is worth the effort? Sure, there are stats, RSS subscriptions, blog comments, and the odd kudos email. But…
Getting top dollar for ads is another way to judge if a blog has value. For various reasons I've chosen to offer donations to the wonderful SET Foundation instead – and btw, Peter Robinson sends his thanks!
Being listed on blog ranking sites for your target subject is yet another way to see where your blog places in the world. For WLT, Alltop's Linguistics is a decent place to be seen.

And as WLT is a part of the growing learning languages community… drum roll… getting a place on Lexiophiles Top 100 Language Learning Blogs list is a must. Not to win (although I'm sure that feels good too), but to be listed somewhere amongst the top 100 is an accomplishment. Because face it, learning Thai can't compete with the zillions of those learning French, Japanese, Chinese, or English even.
Each year Lexiophiles collects the top language blogs and puts them to a vote. Half of the final tally comes from external votes (from readers such as yourself) and half comes from the people at Lexiophiles. And each year, in preparation, language bloggers take their sites to the next level.
During this past year I added Thai Language Schools in Bangkok (by guest writer Tod Daniels), Luke with Farang Pok Pok (by guest writer Luke Cassady-Dorion), Getting by With Learning Thai (by yours truly), and the always tardy but ever useful Look Who's Talking About Learning Thai. Oh! And there's the lengthly Learn Thai via Skype series, and (in progress) the HouseTalk series, and the (ongoing) Learn Thai on Your iPhone series. And in regards to ongoing, avid guest writer Hugh Leong, while not a new addition to WLT, continues to write his fabulous posts about Thai Language Thai Culture.
In appreciation, a HUGE thanks from me goes to WLT's guest writers, those leaving comments, and everyone following along whether they comment or not – but hey, stop by even if it's just to say hello sometimes, ok? – your continued support means a lot to me!
Anyway… as of today (in Thailand anyway) there are only six more days left of voting. That's it. In six days it'll all be over.
So if you are reading this on WLT's RSS feed via browsers or email, or if you are just stopping by, please let me know what you think of WLT by voting.
Pssssssssst… Women Learning Thai is all the way down in the W's… ta…