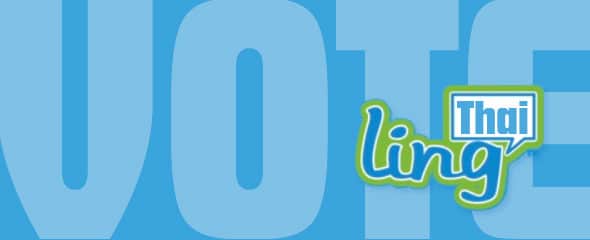 Please Vote to add the Thai Language to LingQ…
We need your help getting Thai on LingQ. At present, LingQ supports about 10 languages including Japanese, Chinese, and Korean, but not Thai. The first step to getting Thai on LingQ is to get 1000 votes for Thai to be added as a beta language.
To vote Thai, go to LingQ's Facebook page: What language should we add next?
So, what's LingQ all about?…
If you are unfamiliar with LingQ, watch this video:
Why do we want Thai on LingQ?…
Last week Scott contacted me about rousting everyone to convince LingQ to add Thai. I looked into LingQ several years back but was unable to generate much interest for Thai, so moved on to supporting other resources for learning Thai. But since then, there's been a marked increase in the numbers of students learning Thai, so hopefully this time our votes will make a difference.
As I don't have recent experience with LingQ I asked Scott to step in to explain:
Scott: I've been using LingQ to learn Russian for a few months and I think the biggest benefit is its versatility. If you like extensive reading you can just read and use the dictionary if you get stuck. If you want to do intensive reading then you can create "LingQs" for your unknown words and review them by doing basic flashcards, cloze deletions, dictation, or multiple choice.

All lessons have audio so you can practice any combination of listening, reading, shadowing, etc. For the fully supported languages, it has tons of material ranging from beginner dialogues up to complete radio programs. It is also easy to add your own material and has apps for Android and iOS which allow you to review your lessons on the go. It is the best language learning tool I've found and it would be a huge help to my Thai studies if it was added.
Scott in turn asked polyglot Wulfgar to expound even further:
Wulfgar: I'm glad that there is an effort to make Thai a supported language on LingQ. I have been using LingQ for about a year to study 4 different languages – French, Russian, Japanese and Mandarin. It's an excellent tool. There are many different ways to use it, and it has a variety of functions, but let me tell you what I use it for. There is a stage in my studies when I am trying to accumulate enough vocabulary to read native material. This can be a really intensive and grueling experience with a book, for example. I used to trudge through a book, page by page, looking up words in a paper dictionary, setting aside unknown words for memorization. Difficult, time consuming, but it works. An improvement to this was mouse-over dictionaries. These allowed me to quickly see the definition, and some would even build a list of words that I looked up.

LingQ has gone several steps further. It has a mouse over dictionary which keeps track of unknown words, of course. It highlights unknown words blue, and previously looked up words yellow, which I find very helpful when reading. It has flashcards, or an export function that will let you use your own flashcard software. There is a library full of material of different levels, most of which has audio. I really like to read material that also has audio – the reading and listening reinforce each other. It's very convenient being able to go to the library to get material; no more searching all over the place to find it. And because it keeps track of your known words, you can tell how difficult a lesson will be for you (how many unknown words per minute for example) and chose appropriately.

As I mentioned earlier, I use it to study 4 languages. Having a single location for all of these saves a lot of time. I often create my own lessons, uploading material into LingQ. For example, I'm reading the Count of Monte Cristo in French, which is publicly available online, so I load a chapter at a time when I want to read. Sometimes I pull something difficult into LingQ just to see how hard it really is – I check the unknown word count. I've put in subtitles of movies, letters from friends, etc.

I'm a big believer in Krashen's i+1 theory, or something similar to it. I believe one acquires language most efficiently at a level (i+1) slightly above their current state of language proficiency (i). Consistently using lingQ lessons which have low levels of new words (less that 10 per minute for me) is an excellent way to follow this theory. Making difficult material more comprehensible, or knocking it down to the i+1 level, accomplishes this also. For example, listening to the same material that you read, memorizing unknown words with flashcards, etc. There are many ways to accomplish this, and LingQ can be a big help.

Back to Thai. I'm currently learning Thai, and I'm at the point where I want to become a reader of native material. There are some nice tools for Thai, but they aren't as useful or convenient as what LingQ would offer. There is an effort to gather lots of existing lessons together to fill the library, and a standing offer from an individual to create many new lessons something like Thai Recordings, but mostly dialogue based. LingQ would offer a mouse-over dictionary, which would parse something like the bulk lookup in Thai Notes, which is imo the best free online parser by far. There are some who say it's impossible to parse Thai, but I disagree because it's already been done, and without forcing spaces between words.

In summary, I hope you all will vote for LingQ to implement Thai. It's a great tool that can be used in many ways, and will dramatically improve the resources to study this beautiful language.
Again, please help us add Thai to LingQ by voting. Go ahead, send your brothers, your mothers, your husbands and lovers to all vote Thai!: What language should we add next?