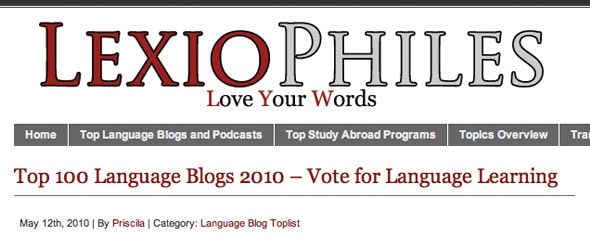 Top 100 Language Learning Blogs 2010…
Hi everyone. It's that time of year again! Time to vote at Lexiophiles Top 100 Language Blogs 2010.
Last year it was all excitement when WLT placed in their language learning section. And this year is no different. I'm still excited about it all. Why? Because it's not just about the competition. It's about community. And it's about making my site the best it can be.
Joining a competition nudges a blogger to take a serious look at their site. And at Lexiophile, they lay it all out in their ranking criteria. Overall, they are looking at: content, consistency and interactivity.
Following their suggestions, last year I rewrote my About page, joined MyBLogLog (no longer online), added an Archives, started a series: Interviewing Successful Thai Language Learners, made it easier to sign up for RSS, and tidied up my navigation.
As I was on a roll, the improvements didn't stop when the tallies were in. Since that competition I have:
Hand coded a Tidy Archives (now replaced with an auto archives) page for logical browsing.
Revamped WLT's site design to bring in dashes of colour.
Added more Guest Writers (which meant I needed yet another rewrite of my about page).
Designed a dedicated button for my Learn Thai for FREE resources.
And along my right column I added banners to Thai language forums, groups in Thailand, my favourite bookstore, and more.
This year Lexiophiles mentioned FaceBook pages, so I did just that. I created a FaceBook page specifically for WLT. And while I was reluctant at first, it's turned into a fabulous addition. Gotta love technology, yes? 🙂
Other Thai blogs to vote for…
While I would absolutely love it if you voted for WLT, I'm not the only Thai blog on the list.
Learning Thai: Josh Sager (now Let's Talk Thai)
Learn Thai the Bon's way: Bon Ratta
The AUA Thai Blog: David Long (no longer online)
Thai Language Hut: Learn Thai Language Blog (no longer online)
And this is where that community bit comes in. In my way of thinking, it doesn't matter who you vote for, only that you do. Another suggestion: adding that list of Thai language blogs to your feedreader wouldn't be too shabby of an idea either. Right?
Note: You can find descriptions of the language learning blogs listed here: Top 100 Language Blogs – Nominated blogs for Language Learning. But where you vote is here: Top 100 Language Blogs 2010 – Vote for Language Learning. On top of voting for the language learning section, you can also vote one time each for the other categories: Language Teaching >> Language Technology >> Language Professionals.
And last but not least, a thanks…
WLT started out as a blog for learning Thai resources, and that was fine. But when I added Guest Writers, it climbed to the next level. Guest writers not only give more variety, but they free me up to find more learning Thai resources, as well as hunt down the ever elusive Successful Thai Language Learners (it's oddly difficult to locate people willing to interview!) And because of their contributions, I would like to extend a warm thanks to all.
Rikker Dockum: Thai 101 Learners Series. Rikker is a linguist and Fulbright grantee researching the ancient Thai language. He regularly blogs at Thai 101: Thoughts on Thai language, media, and culture. And when my Thai needs to be checked, Rikker does not balk at the many requests. Thanks Rikker!
Hugh Leong: Thai Language Thai Culture. Hugh is a former director of AUA Chiangmai, a writer of more than a handful of books for the Thai professional market, and much more. You can find Hugh at Retire 2 Thailand and Retire 2 Thailand: Blog. Lately Hugh and I have been collaborating on posts with sound. Well, to tell the truth, Hugh does the work and I turn on a mic. Thanks Hugh!
The other writers may not be as proliferate, but they are no less important: Tina Gibbons, Amy Praphantanathorn, Tony Wright (letstalkthai.com.au), Lani Cox, Daniel T. Murphy, and Andrej Nitsche all add to the growing mix that is WLT. Thanks all!
A special thanks also goes to my long suffering Thai teacher, Khun Phairo, as well as Kaewmala. Both answer Thai language questions from the needed female point of view. Ta 🙂
Oh, and I can't forget to send my thanks out to one more. You! (I know, I know… sounds pretty cheesy but I really do mean it).
And that's it. A wrap. If you have the time, please stop by Lexiophiles Top 100 Language Learning Blogs 2010 and vote. For anyone.