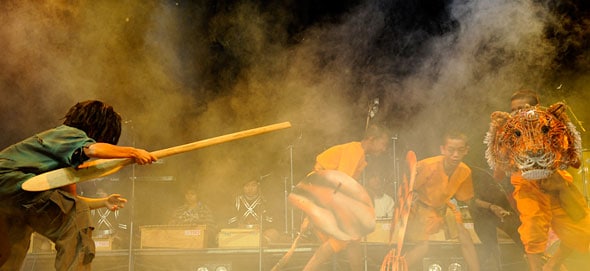 Living with the Tiger…
Yesterday I received an email from my buddy Talen from Thailand Land of Smiles (no longer online):
Baan Gerda and "Living with the Tiger" need your help. Living with the Tiger is a full length documentary about Thai children who have HIV/AIDS and were orphaned and or abandoned by their families to die in hospice. These children were taken to a small village in Lopburi called Baan Gerda where many of them were nursed back to life from deaths door by the Childrens' Rights Foundation.

Living with the Tiger is about these children and the struggles they have faced and continue to face as they reintegrate back into the same communities that shunned them and left them to die.

If you are looking for a good mobile application to learn Thai, you can check out Ling. Through this application, you can learn Thai with games, flash cards, and puzzles. It can help to improve your speaking, listening, reading, and even writing skills.
Talen explains further:
The filmmakers hope Living with the Tiger provides a better future for these children living with HIV as well as raising awareness of the disease, the stigma surrounding it and the deep-rooted fears that many still hold regarding HIV.

Screenings:
March 14th: Foreign Correspondents Club Bangkok. 8pm-10pm
March 17th: Pratravadi Theatre, Bangkok. 8pm-10pm

Both of these screenings are open to the public and FREE. Reservations must be made at www.livingwiththetiger.com
Living With The Tiger Trailer. Uploaded by livingwiththetiger.
To participate: The children's stories raise some important issues about our attitudes towards HIV infected people. Help to improve their lives and the many others in their situation.

We don't have a PR company or big budget so help us get the word out. Take action today…