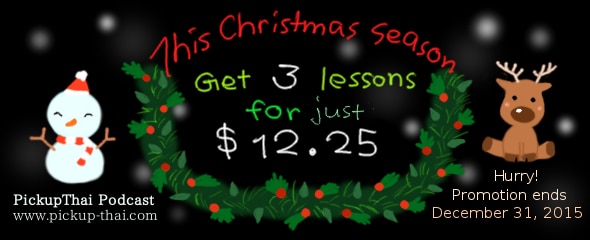 After PickupThai Podcasts's successful Black Friday Sale I asked Yuki if there was going to be a dedicated Xmas sale. And ho ho ho, there is! So if you somehow missed Black Friday and want to top up your collection, or if you just want to take advantage of an excellent sale, or both, here you go.
Until 31 December 2015, three lessons are just US$12.25. I'll leave you to do the maths for six lessons, nine lessons, yadda yadda.
As before, if you want to experience a few lessons before you buy, just download free samples at Pickup Thai's Podcast Store. Checking out Pickup Thai's customers' reviews is also advised.
If you are looking a good way to learn Thai online, check out ThaiPod101. Although their courses are not free, they are cheap, effective, and can quickly teach you conversational Thai. All ExpatDen readers get a 25% discount using this link.
Yuki and Miki online:
Web: Pick Up Thai | YouTube: PickUpThai | twitter: @PickupThai