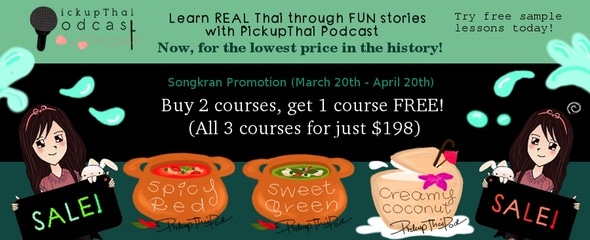 Learn Thai the new way with PickupThai podcasts, fun & interactive Thai audio lessons that teach you to speak real and natural-sounding Thai, exactly the way Thais speak!
Our unique humor-filled lessons will have you feel like you're just listening to fun stories, not studying.
Forget the dry boring textbooks you have been using and learn "Real Spoken Thai" with us!
We have three courses available for learners of all levels, beginner, intermediate and advanced.
No matter what level you are at, we have a course that's just perfect for you.
HOT! Songkran promotion…
Get all of our three courses for just $198 USD.
(Buy two courses get one course FREE!)
It's the best deal & lowest price we have ever offered!!!
Check out the deal now at PickupThai's Value Packages.
More on PickupThai Podcast.
Customer reviews…
"PickupThai Podcasts are one of the most complete, effective and efficient methods of learning real Colloquial Thai that I have used."
– Tom Witt
"Pickup Thai exceeds by leaps and abounds, among its many strengths, by emphasizing realistic spoken Thai."
– Michael Kissner
"The humor interjected in the lessons makes for a fun learning process and always gets me laughing but more importantly, helps me retain what I've learned."
– Charles Yezza
"Every time I re-listen to one of the podcasts I realize how many different scenarios and teaching methods are crammed into these lessons."
– John McLeod
"My progress surprises me: 1 month, 3h per day, 10 lessons total and natives think I have been living here for two years."
– Andrey Chaschev
"I wish I had found this a long time ago."
– R. Morris
Read more about the courses at PickupThai Podcast's Customer Reviews.
Not sure if our courses are what you're looking for? Try before you buy with PickupThai Podcast's free samples!