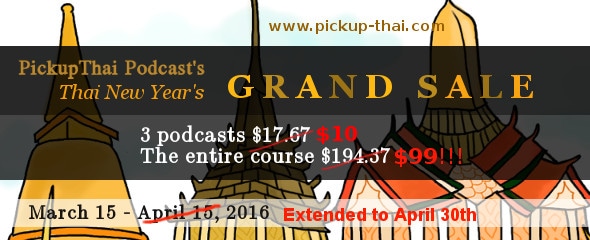 Just on time for the Thai New Year is a snappy promotion for PickupThai Podcast's two existing courses: Sweet Green and Spicy Red.
Three podcasts at $10 each (usual price $17.67)
An entire course at $99 (usual price $194.37)
Duration: March 15th to April 30, 2016
Why 'existing' courses? Because I'm proud to announce their long awaited course for beginners: Creamy Coconut.
So now there will be THREE fun courses at PickupThai Podcast.
Creamy Coconut: Complete beginners.
Sweet Green: Beginners to lower-intermediate learners.
Spicy Red: Upper-intermediate and advanced learners.
The price for the new beginner lessons will be $2.89 each. When you subscribe to the whole course it drops to $2.50 each (2.50 x 30 = $75). There will be 33 lessons in total, but as before (to give you the opportunity to check out the learning style), three will be free.
The first lesson will be released on April 10th. Soon! Mark your calendars because new lessons will be released every 10th, 20th and 30th of each month.
Each lesson will include a short conversation and speaking practice along with accompanying vocabulary.
We keep our lessons fun to listen to by adding humor to the stories (even though they may be short) and of course, keeping it real! No unnatural, impractical, or canned phrases. The speech is just as natural as in the two other courses (no robot talk). Basically, the main concepts are the same, except for this time, everything will be short, slow and easy. Perfect for novice Thai learners!
Btw: As soon as I get my eager hands on PickUpThai's lessons for beginners you can be sure of a review. Stay tuned.
Yuki and Miki online:
Web: Pick Up Thai | YouTube: PickUpThai | twitter: @PickupThai