Just in time for Xmas…
Hey all. Here's a quick post to let you know about Pick Up Thai Podcast's Black Friday sale. This is the biggest discount offered so far – I hope you get a chance to take advantage of these wonderful courses (gawd, I love their stuff).
As it's so close to Xmas, Sweet Green and/or Spicy Red would make an excellent present for the serious Thai student in your life. Or you. That'd work.
It starts on Black Friday and ends on November 30th, two Mondays from now.
If you are looking for a good resource to learn Thai online, check out Learn Thai from a White Guy. Upon entering your email, you'll get five free lessons to help you start learning to read Thai.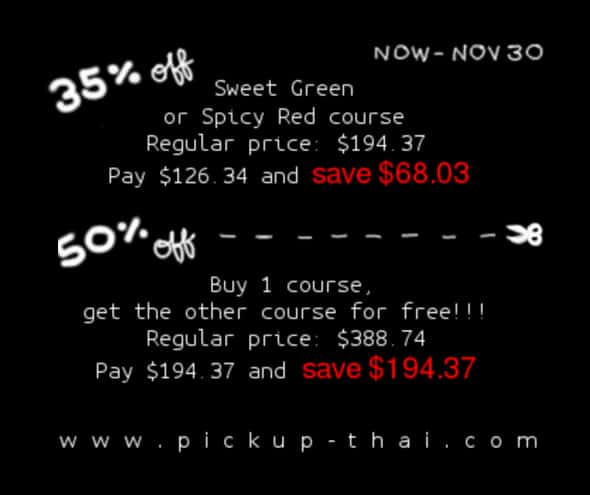 What to check them out first? Then download free samples at Pickup Thai's Podcast Store. 

Want to hear other learners' experiences with the podcasts? 
Go ahead and read their customers' reviews.
Yuki and Miki online:
Web: Pick Up Thai | YouTube: PickUpThai | twitter: @PickupThai