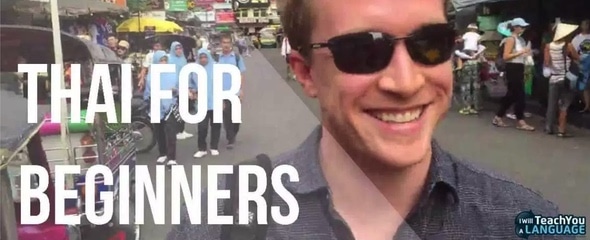 Back in August Olly Richards (I Will Teach You A Language) and Jan Van Der Aa (Language Boost) made an appearance with The Challenge: Two Weeks to Learn Thai in Bangkok!
During those two weeks they tweeted, Facebooked, and created YouTube videos about their experience.
Once back home, Olly wrote a lengthly post detailing just how he accomplished this feat: Thai For Beginners: How to Learn to Speak Thai From Scratch.
In this post, I'm going to take a step back and reveal everything I discovered about how to study Thai as a beginner, so you can benefit from my experiments and start your journey to learn Thai on the right foot.

I'll start by describing in detail how I learnt Thai during my mission to Bangkok. Next, I'll answer common questions about learning Thai. Then, I'll finish with my recommended action steps for those who want to learn to speak Thai, followed by some great resources.
And to top it off, Olly is giving away a pdf with audio files created from his copious class notes. You can download them for FREE here: 150+ Essential Beginner Thai Words & Phrases for Effective Conversations.