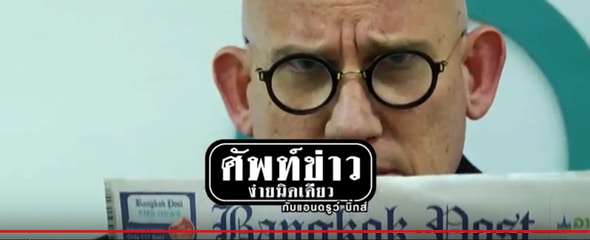 Although the Andrew Biggs Academy mostly focuses on teaching English, Andrew's new course can be used by both Thais learning English and those learning Thai: ทราบข่าวง่ายนิดเดียว /sâap kàao ngâai nít dieow/.
"Sap Khao" is a service for Thai learners of English as a second language … but it is also an excellent tool for anybody interested in learning Thai.

Andrew Biggs, who is fluent in both Thai and English, explains the headlines of the day. This is a perfect opportunity for non-Thais to learn new Thai words and phrases.

Every day, Monday to Friday (9am), you receive a 10-minute video in the morning explaining the day's news. You can watch it as many times as you like, and at any time you like for a period of 90 days. And at 1,599 Baht per year, it works out to the cheapest Thai lesson you are ever going to have!
To acquire the course you first sign up at Sap Khao.
See you there!
Website: Andrew Biggs Academy
Facebook: Andrew Biggs Academy
YouTube: Andrew Biggs TV
twitter: @AndrewBiggs