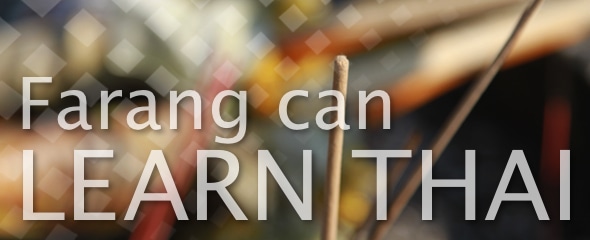 Farang really can learn Thai…
Farang Can Learn Thai is an exciting Facebook group created in November of last year by language enthusiast Richard Jensen. Two months later (almost to the day), membership is already at 1766. I put the group's popularity down to Richard's kind nature guiding the generous spirit of its members.
Too often it has been said that farang (foreigners) either can't or won't learn the Thai language. This group has been created to help those who wish to learn Thai. It exists in order that we may help each other by sharing ideas, posting videos or web sites that will aid us in the quest to master the Thai language.

Everyone is encouraged to share experiences related to Thai language learning and anything about Thailand you feel will be beneficial to all. Please feel free to add files by clicking on the Files tab at the top. Invite anyone, farang or Thai. let's have some fun and learn Thai.
Farang Can Learn Thai is a relaxed, social group. Scanning through the members there's a good balance of Thais, Asians, and Westerners amongst the mix.
Questions about the Thai language get asked. Thais, Thai teachers, and the more advanced Thai students take turns to answer. And (my passion) learning Thai resources appear round the clock. Richard especially keeps finding great stuff I never knew existed!
Due to the international membership, moderators from different time zones keep watch for spam, so please don't join the group to sell sunglasses or other unnecessary doodads (your posts will be deleted and you'll be banned).
Thai teachers, bloggers, developers, and more…
As the word about the Farang Can Learn Thai Facebook group got out, many from the learning Thai community stopped by to share their knowledge.
In alphabetical order, here's a list (along with their details):
Ann Norman
thailandqa.com: 100 Carabao Songs in English
Benjawan Becker
Site: Paiboon Publishing
Blog: Benjawan Poomsan Becker
Facebook: Paiboon Publishing
YouTube: paiboonpublishing
WLT: Interview: Benjawan Poomsan Becker
WLT: Teaser: The Interpreter's Journal: How it Started
WLT: Teaser: The Interpreter's Journal: Mistakes and Misinterpretations
WLT: Teaser: The Interpreter's Journal: Studying Foreign Languages
Jan Badertscher
sites.google.com: Thai Learning Resources
Josh Sager
Blog: Let's Talk Thai
Twitter: @letsTalkThai
Mia Rongsaiw
Site: Learn 2 Speak Thai
Facebook: Learn2speakThai
YouTube: learn2speakthai
Podcast: Thai Girl Talk Podcast
Twitter: @learn2speakthai
WLT: Questions… Questions… Lani and Mia from Thai Girl Talk
Mod
Blog: Learn Thai with Mod
Facebook: Learn Thai with Mod
YouTube: ThaiwithMod
Twitter: @ThaiwithMod
WLT: Learn Thai With Mod
Parisa Koknoi
Blog: Speak Thai with Noi Naa
Facebook: Speak Thai with Noinaa
YouTube: SpeakThaiWithNoiNaa
Ryan Zander
Site: Nagaraja Rivers
Blog: Nagaraja Rivers
Facebook: Nagaraja Rivers
Twitter:@nagarajarivers
iTunes: Ryan Zander
WLT: Successful Thai Language Learner: Ryan Zander
Stuart Cox
Twitter: @stuartcox (Learning Thai Daily)
Stuart G Towns
Site: Its4Thai
Twitter: @ITS4Thai and @sgtowns
WLT: ITS4Thai DRAW + iPhone and iPad Review
Stu Jay Raj
Site: Jcademy Cracking Thai Fundamentals
Blog: Language and Mind Mastery
Facebook: Jcademy.com by Stuart Jay Raj
YouTube: Stuart Jay Raj
Twitter: @jcademy and @stu_jay
WLT: Stuart (Stu) Jay Raj: Interview Part One
WLT: Stuart (Stu) Jay Raj: Interview Part Two
Yuki Tachaya
Site: Pick up Thai
Facebook: Pick up Thai by Yuki Tachaya
YouTube: Yuki Tachaya
Twitter: @PickupThai
WLT: PickUpThai: Colloquial Thai Terms and Expressions
WLT: PickUpThai: Colloquial Thai Compound Words
Steve Kaufmann from Linqq is in lurk-mode for now.
Please join us to talk about the Thai language at Farang Can Learn Thai. You are sure to be warmly welcomed if you do.