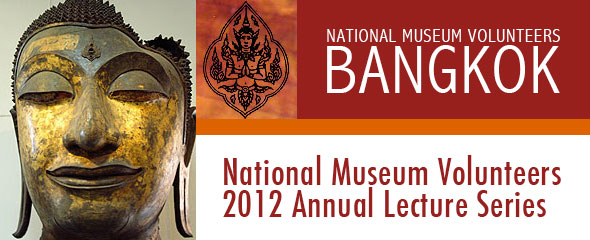 National Museum Volunteers Annual Lecture Series…
Last year was my first chance to attend the lectures about Thailand, Thai history, and culture arranged by the National Museum Volunteers. Along with many events, their Annual Lecture Series was postponed due to the Thai floods. But, now that the new year is upon us, the series has been rescheduled.
Lectures from Jan 19th through to Feb 9th, 2012…

The Thai Hybrid: 19 January 9.30am
Philip Cornwel-Smith
(author of bestseller 'Very Thai')
Thai popular culture brims with quirky hybrids of handmade and hi-tech, indigenous and import. Some traditionalists worry that today's adoption of foreign novelty dilutes Thainess, yet Thai history has been distinguished throughout by cultural fusion. Appropriation seen in popular culture reveals Thainess as a process that is eclectic, creative and relentlessly hybrid.

Introduction to Thai Ceremonies & Observances: 19 January 11.00am
Venerable Kantasilo
A talk by American born Buddhist monk, Venerable Kantasilo, will aim to explain national Buddhist observances and ceremonies that take place over a one year period, providing answers to the many questions foreigners are likely to have pertaining to the significance of such practices in Thailand.

Contemporary Thai Politics: Six Realities We Cannot Duck: 26 January 9.30
Michael J. Montesano
Michael J. Montesano, a visiting research fellow at the Institute of Southeast Asian Studies in Singapore, will tell the audience how keeping track of Thailand's confusing politics is easy as long as one remembers six basic truths. He will also talk about how these "truths" conceal paradoxes and ironies that must also be grasped if one really wants to make sense of where Thailand is heading.

On the Floral Road to Siam: 26 January, 11.00am
Sakul Intakul, floral artist
The talk will be given by renowned floral artist Sakul Intakul, an engineer turned floral artist who is well known for interpreting spiritual ideas through sculptural plant installations. His portfolio includes Royal commissions for the HM the Queen and total floral conceptual design for Bvlgari Hotels and Resorts in Bali; he is also the author of several books on floral art.

Royal Thai Cremation Ceremonies: 2 February, 9.30am
Mr Chakrarot Chitrabongs, NMV patron
This lecture will trace the origins of the royal cremation practice since the founding of Bangkok as a new capital city during the reign of King Rama I, whose mission was to revive the old Siamese traditions of the former capital city of Ayudhya that had been utterly devastated by warfare. In their turn, the Kings of Chakri have developed this ancient tradition, introducing changes and technological innovations until it appears as it does today. The purpose of the lecture is to describe to the audience the background information for a thorough understanding of the symbolism linked to traditional beliefs and practices, so that they can follow and understand the ongoing preparations of the ceremony in the various stages up to the actual event. The lecture will be illustrated with photographs that date back to the period that photography itself had been introduced into Siam.

Ramakien – Introduction: 2 February, 11.00am
Stephanie Strasser
Stephanie Strasser, an NMV member who spent her early childhood in Bangkok and who returned to Thailand recently, sought to find out more about the famous Wat Phra Kaew rubbings, eventually finding herself immersed in the world of the Ramakien. Her lecture is a summary of a wonderful story of love and war where gods are reborn on earth to battle demons and where flying monkeys have magical powers.

Let's go Wat Hopping: 9 February, 9.30am
Joyce Meer & Bill Lipsey
NMV members Joyce Meer and Bill Lipsey will be going Wat Hopping, sharing with the audience their passion and insights on What's a Wat after having explored more than 100 Buddhist temples throughout Thailand, some relatively unknown.

Invoking the Land Gods; Understanding the Thai Spirit House: 9 February, 11.00am
Marisa Cranfill
Marisa Cranfill, one of Thailand's foremost (non-Thai) experts on Thai spirit houses will give a fascinating talk entitled Invoking the Land Gods; Understanding the Thai Spirit House. Cranfill will explain that the Thais' relationship with the land god is a very personal one because it affects their daily life. "You give the land god what it likes and it will give back good things. It is like a bargain."
Bangkok National Museum
Na Phrathat Rd,
Phra Nakorn District,
Bangkok 10200
My schedule continues to be crazy but if I'm in Bangkok I'll be attending a few talks listed in the National Museum Volunteers Annual Lecture Series.