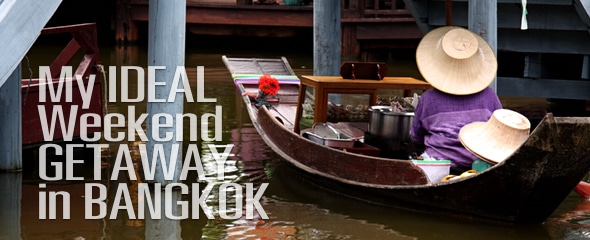 An ideal weekend getaway in Bangkok or expat disasters guaranteed?…
Just what would your ideal weekend getaway in Bangkok be? I've lived in the city nine years so you'd think that there wouldn't be much left of the city for me to experience fresh. After ticking off touristy things that everyone ends up doing, and local things usually not found in guidebooks, for sure, I'm left with things that are either too boring to bother with, or exciting and possibly dangerous even.
But back in 2012, snafus ranging from being merely uncomfortable and sometimes embarrassing, to potentially life threatening, forced me to step away from the "exciting and possibly dangerous" options. And not just in Bangkok.
Here are highlights (only) of my expat disasters in 2012: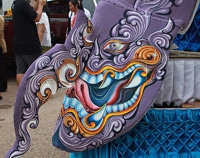 On the night before a return flight from Italy the man decided to partake of beef Carpaccio (thinly sliced raw meat). He was violently ill from Dohar all the way to Bangkok. It was awful for him (bless his heart). And with nowhere to hide, embarrassing for me.
Continuing on with food poisoning … When scouting my neighbourhood in Ari for a post about eating street food, both of us (the man and me) ended up with the worst case of food poisoning I've ever had (I'll skip the visuals). The man suffered for three days – I lasted six.
On trips to Singapore (where they had to cut the lock off my luggage), Penang, and Chiang mai, due to smog from regional burning I was mostly confined to hotel rooms and rented condos. Being an asthmatic, not being able to breath was no holiday.
There were booking snafus to both Siem Reap and the Thai Ghost Festival (minor irritations, but when setbacks like this keep happening they can change the tone of a trip).
Then, in Cambodia, after friends and I went for a long-awaited fish spa experience, I broke out in oozing blisters from my knees to my toes (sexy – not).
And on a visit to Laos (by myself – my dear friend bailed due to an injury acquired from an overly ambitious Thai massage), I was bedridden with formaldehyde poisoning from a bogus bottle of white wine. My first episode of formaldehyde poisoning was in Cairo, so luckily, my tongue (but not my head – that came later) recognised the taste and I didn't finish more than a small glass. Still, I couldn't move from my hotel room let alone crawl far from my bed.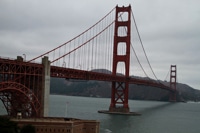 Even after all that, it was only after I got fogged in for three extra (expensive) days in San Francisco that I emailed Talen to protest "ENOUGH ALREADY!" and that I was backing out of our planned skydiving adventure. Oh. And any other adventures that involved even the slightest potential of landing in the hospital or being out of commision for any length of time.
I'm terrified of heights, and being terrified is exciting. But with that long run of mishaps, I figured being miles off the ground was tempting fate. Not being superstitious either, Talen agreed.
Yet here we are, two years later, and the run of bad luck has mostly ceased shifted focus. My crazy desire to jump out of planes never fully went away, so of course I'll include it in my ideal weekend getaway in Bangkok. Talen, are you ready for this?
Skydive Bangkok: On your life changing Tandem Skydive, you will be briefed by your Tandem Instructor about the jump, and then you'll be on the aircraft enjoying the scenic ride up to altitude … enjoy the freefall and the adrenaline rush as you fall at speeds up to 200-220 kilometers per hour!!
For an additional fee you can get videos of your long decent to the ground. I'll pass. The real possibility of screaming and/or upchucking at 200 kilometres per hour isn't something I'd want anyone else to see. Landing in one piece after a 16,000 foot drop would be enough of a memory for me!
My next thrill of the weekend would be sampling a few drinks at the tallest bars in Bangkok. "What kind of thrill is that" you say? But you have to remember, this is Thailand. And Thais don't worry so much about safety. How exciting is that?
Rooftop bars are all over the city so I've compiled a shortlist from bangkok.com's top 20 rooftop bars in Bangkok. Throwing out the wimpy under 40's, eight are left:
63rd Floor: Sky Bar (lebua at State Tower Riverside)
63rd Floor: Distil Rooftop Bar (Riverside)
61st Floor: Vertigo and Moon Bar (Banyan Tree Hotel Sathorn)
55th Floor: Red Sky (Centara Grand at CentralWorld Siam)
47th Floor: Cloud 47 Silom (United Center office tower)
46th Floor: Zeppelin Bar (Sukhumvit)
45th Floor: Octave Rooftop Bar (Marriot Hotel Sukhumvit)
40th Floor: Zoom Skybar (Anantara Sathorn Sathorn).
I've only experienced one, the Sky Bar. That's where I discovered why some rooftop bars advertise having "no interrupted views". It's because they don't bother with what us westerners call "safety measures". Like, adequately situated handrails at waist height, to stop you from plummeting off the side of tall buildings.
Not having something secure to grab onto is truly terrifying. You must try it.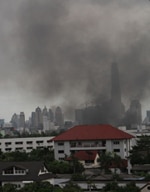 The only other time I've been seriously scared of heights as an adult was also in Bangkok. It was during the Red Shirt protests. There I was, on the rooftop of my condo, taking photos of Bangkok burning. As I started clicking away I remembered the sniper in my area taking his own deadly shots. I froze, then sunk to the ground as slowly as I could (I didn't want him noticing) and crawled on hands and knees to the stairwell and back to safety.
Exciting stuff, but not something you can sign up for during your average tour of Bangkok. Sorry about that.
There are many other death defying adventures you can experience in Bangkok, so don't despair. I asked on twitter, "what's the scariest thing you can think of doing in Bangkok?" The replies came back with:
@Saksith: Recreating The Hangover II in a weekend!
@KristoferA and @gjmarshall: Taking a motorcycle taxi (on Sukhumvit).
@mkukreja1988: Going out with a ladyboy.
@Ajarncom: Riding a bicycle.
Other adventures to consider (tame and not so tame):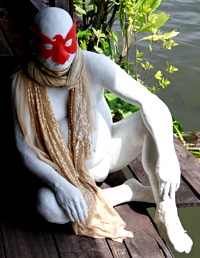 To finish off, here are a few relaxing choices to calm down even the craziest of weekends:
What are your suggestions for an "ideal weekend getaway in Bangkok"? What about the "scariest thing you can think of doing in Bangkok"? Or would you rather wimp out and relax?