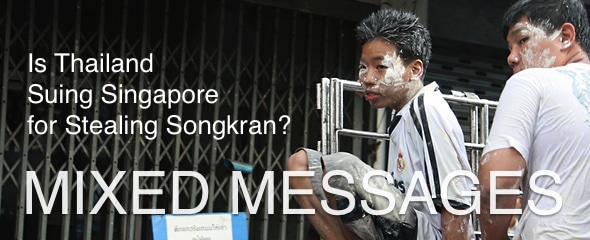 Thailand Suing Singapore for Stealing Songkran?…
I don't know about you but I'm bored bored bored with the political protests in Thailand. Go home already! Just recently Kaewmala started reminiscing about the good 'ole days when we would poke fun at the hilarious antics of Thailand's Ministry of Culture instead.
Do you remember when MiniCult decided that bare boobs at Songkran were no longer Thai? And then MiniCult had to do a mad scramble to replace the lovely Songkran boobs gracing their own website? And wasn't that fun?
Well, this week Singapore announced that their annual Songkran festival for 2014 will better than ever with the Largest Water Festival Celebration Party in Singapore! Then yesterday TAT (Thai Tourism Authority) said that it welcomed Songkran in Singapore. But today we woke up to a Bangkok Post article (no longer online) Thai official threatening to sue Singapore over Songkran.
I don't know what to think about these mixed messages except for GAME ON!
Thailand threatens to sue Singapore for 'stealing' Songkran: A senior Culture Ministry official has threatened to sue organisers of a Songkran festival in Singapore next month, saying it will undermine the value of the rival Thai New Year celebration.

Culture Surveillance Bureau director Yupa Taweewattanakijbaworn said Songkran is not just about splashing water for fun, but is aimed at strengthening relationships between family members and communities.

Singapore is using the festival to promote tourism, without acknowledging the value of the traditions behind Songkran, she said. "This is wrong because the value of the traditional celebration is being distorted," she said.
Seems she didn't do her homework, or her Google finger is broken, or both.
Wikipedia: Songkran is a term derived from the Sanskrit saṅkrānti (or, more specifically, meṣa saṅkrānti). It may refer to the traditional New Year celebrated in Thailand and several Southeast Asian countries when the sun transits the constellation of Aries, the first astrological sign in the Zodiac, as reckoned by sidereal astrology.

Songkran can also refer to the traditional New Year celebrated by the Dai people of Yunnan, China, and by the Tai Dam people of Northern Vietnam.
Wikipedia: The Water Festival is the New Year's celebrations that take place in Southeast Asian countries such as Burma, Cambodia, Laos, and Thailand as well as Yunnan, China. It is called the 'Water Festival' by Westerners because people splash / pour water at one another as part of the cleansing ritual to welcome the new year.

Traditionally people gently sprinkled water on one another as a sign of respect, but as the new year falls during the hottest month in South East Asia, many people end up dousing strangers and passersby in vehicles in boisterous celebration.

The act of pouring water is also a show of blessings and good wishes. It is believed that on this Water Festival, everything old must be thrown away, or it will bring the owner bad luck.
From the Indian Holi to the Thai Songkran: Songkran is believed to have originated in India, and the word Sankranti become Songkran. Holi is also celebrated in Burma (Myanmar), where it is still celebrated as a festival of colors. Gradually it moved to Siam, where the water and color mix gave way to a water festival. In Thailand, besides water, talcum is used to celebrate Songkran. In recent years, colors are being imported from India, and a section of revelers use colors along with water.
Now, let's put aside the fact that Songkran isn't a Thai only holiday for a minute. The argument is, "This is wrong because the value of the traditional celebration is being distorted". But what about all the holidays Thailand has grabbed from other countries? Chinese New Year, New Years, Xmas, Valentine's day … and more.
After the MiniCult's ill-informed rant I'm seriously thinking about flying down for the Largest Water Festival Celebration Party in Singapore. Are you with me?
Pssssst. Unlike in Thailand, Singapore will at least have beer.
BREAKING NEWS…
Official: No Plan To Sue Singapore Over Songkran: Ms. Yupa told Khaosod late yesterday that her agency, which operates under the Ministry of Culture, has no intention to file any lawsuit against Singapore.

"I never said anything like that," Ms. Yupa insisted, "Such reports have caused damage to me, and to the Ministry of Culture".

The director of Thai cultural watchdog claimed that she merely said in previous interviews that she postively views the Singaporean Songkran as good PR for Thai Songkran, and expressed her wish that the Singaporeans would "play Songkran correctly" in accordance to the Thai tradtion.

"It's a sensitive subject. I don't want to cause any disturbance to international relations," Ms. Yupa complained, adding that she's distraught to see her "misquotes" being amplified and "distorted" on the social network.
And now I really don't know what to believe because both the Bangkok Post and the Nation posted her original quotes.