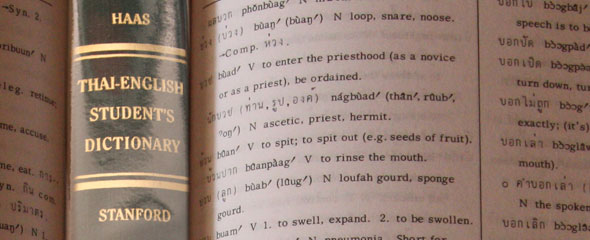 Getting serious about learning Thai…
There is a rumour going around about several must have resources for the serious Thai language learner. Not that I have gone into serious mode or anything, but I am curious about design and transliteration styles. I also have a love for books, so I set out to acquire what I could (which isn't always easy in Thailand).
The last book on my main list was the esteemed Mary Haas Thai-English Student's Dictionary. I saw it a year back at Paragon but balked at the price and then it was gone. Yesterday I didn't leave the next opportunity to chance.
And then there were four…
Three focus on Thai grammar (take your pic) and one is the above mentioned Thai-English dictionary.
A Reference Grammar of Thai (paperback)
Authors: Shoichi Iwasaki and Preeya Ingkaphirom
…provides a clear, detailed and comprehensive guide to Thai grammar, designed for intermediate to advanced learners. Written by two leading experts on Thai, it places a special emphasis on functional accounts of its grammatical phenomena: the use of demonstratives, personal reference terms, the modality system, the aspectual system, pragmatic particles, verb serialisation, relative clauses, question formation, passive and causative constructions, topic marking and many more.
Unlike any other book on Thai grammar, it draws on data from everyday spoken discourses such as informal conversation, group discussions, interviews and narratives, as well as non-technical written texts such as folk tales, short stories and newspaper articles, to discuss grammatical phenomena at both sentence and discourse level. An extensive index is provided and examples are given in both Thai orthography and IPA symbols, making this an invaluable resource for linguists as well as students and teachers of Thai.
Thai, an Essential Grammar
Author: David Smyth
…the ideal guide to the basic structures of the language for both students on taught courses and independent learners. Grammatical forms are explained in clear, jargon-free style and illustrated by examples, given in both Thai script and romanization. As well as grammar, it includes guidance on pronunciation, speech conventions and the beautiful Thai writing system.
Thai Reference Grammar, the Structure of Spoken Thai
Authors: James Higbie and Snea Thinsan
…written to meet the need of students and teachers of the Thai language for information on advanced sentence structure. The book is divided into chapters based on common grammatical-structural categories. There are over 500 separate topics, and the most important feature is the sample sentences for each topic, of which there are over 2,000. These sentences are not stuffy, old-fashioned grammar examples, but samples of typical, idiomatic spoken Thai.
The authors, an American and a Thai both with advanced degrees in linguistics and language teaching, analyzed thousands of Thai sentences to formulate clear and concise explanations for all the important sentence patterns of the Thai language. Examples are given in both Thai script and transliterated Thai, written in the English alphabet with no special phonetic symbols. Tones are marked with a special font that shows the level of the sound of each word, essential to pronunciation in tonal languages like Thai.
Mary Haas Thai-English Student's Dictionary
Compiled by: Mary R. Haas
Both English-speaking students of Thai and Thai students of all disciplines will be hard put to find a more comprehensive and satisfying answer to their general vocabulary needs. Professional translators, researchers, and even specialists whose only concern is problems of transliteration, will all benefit from this remarkable publication.
Mary died on my birthday in 1996, but as her dictionary is in Bangkok as of yesterday (and doesn't stick around for long), I thought I'd post this now instead of Sunday.
NOTE: If you want to go for free, you can see some of the Thai-English student's dictionary on Google Books. Beware the Google viewing limit… (A special thanks goes to Aksara Anwa Akson Thai (no longer online) for bringing it to my attention).
Except for A Reference Grammar of Thai, all books can be found at Kinokuniya, located in the Siam Paragon shopping complex.
Hurry…