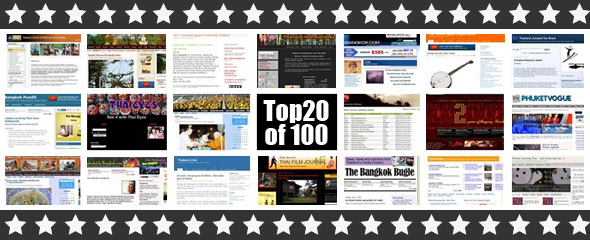 The top 100 Thailand blogs: accept no imitation…
UPDATE: Matt's Top 100 Thailand blogs list is no longer available.
Matt Crook, formerly of Thailand and now of East Timor, is the writer/blogger for The Lost Boy.
One lost boy wandering aimlessly, fighting the tanks, looking at the ladyboys, running round the city. This is a 24-year-old expat's take of life in the City of Angels, with more than a few sinners.
Matt also lists an impressive range of bloggers on his dedicated 'Top 100 Thailand blogs' page (no longer being served).
The top 20 of the top 100 Thailand blogs…
Going off on holiday and leaving (most) everything behind is fine. The not so fine part is knowing that you can't post right away when something great happens, like WLT making it to Matt's cherished top 20.
I'm way down at the bottom of the pile (hoping to make my way up… hint… hint…)
So finally (apologies for being tardy Matt), I give you the top 20 out of the top 100 Thailand blogs.
1) New Mandala
New Mandala was established in June 2006 by Andrew Walker and Nicholas Farrelly. Hosted by the Australian National University (ANU), it provides anecdote, analysis and new perspectives on mainland Southeast Asia. Since its inception the site has devoted its attention to the politics and societies of this region, and especially Thailand and Burma.
2) Bangkok Pundit (no longer online)
The main purpose of this blog is to post on issues related to Thai politics and primarily the situation in the Deep South. Only on very rare occasions which the author will stray from Thai politics into international politics (i.e my recent series of posts on Burma). This blog will be primarily focusing on current events and will try to use only open sources.
3) thai-blogs.com: Thailand Blogs (no longer online)
Stories about culture, language and small-town travel are posted by various expat and Thai contributors.
4) Thailand Land of Smiles (no longer online)
As I add more to the blog I hope people planning their first trip to Thailand or their tenth trip can maybe learn something new or at least smile in agreement with some of the stories, tips, and information I've learned and if nothing else there will be lots of great pictures to look at.
5) 2Bangkok
2Bangkok is daily Thai news you won't find anywhere else. Since 1999, 2Bangkok has featured background and perspective on local news with summaries of the Thai-language press. These stories are often quite different than ones that appear in English. 2B also has the latest on politics, mass transit, infrastructure, Thai history (such as the Bangkok trams), and updates on gem scam store locations.
6) Absolutely Bangkok (no longer online)
About: Absolutely Bangkok.com is like a wild garden, an other, more subtle, no copycat take on lifestyle, politics, travel, food & events in Bangkok. An insider's take on this wildly poetic city, which deep in its heart remains a wildly charming village.
7) The Pattaya Ghost (no longer online)
About: This is a quick summation of the blog and some links to get u started. We wanted to create a Bangkok Nightlife blog with a twist – we wanted to keep u up to date on what is happening and what we are actually doing.
About: Daily news and travel photographs from Thailand. This blog is part of the Paknam Web Network.
9) ThaiCrisis (no longer being updated)
About: The purpose of this blog is to help foreigners (us, farangs) to avoid the propaganda, to try to correctly assess the situation. Many of us have interests and affection for this country.
10) FACT
About: Freedom Against Censorship Thailand กลุ่มเสรีภาพต่อต้านการเซ็นเซอร์แห่งประเทศไทย.
About: Wise Kwai is a Bangkok-based journalist and film fan who's been writing about Thai cinema since 2003.
12) The Bangkok Bugle (no longer online)
About: News, views and opinions from Thailand's media industry.
13) Thailand Informationen (German) (no longer being updated)
About: Thailand Thai News and Information. Everything about Thailand and Thai culture.
14) Thai Eyes (no longer online)
About: Thailand Lifestyle Blog.
15) Travel Happy
About: Backpacking And Travelling In Thailand and South East Asia: A Personal Guide.
16) Thailand Jumped the Shark (no longer being updated)
About: Documenting the Shark Jumping activities of the Thai people: Thai media watch, Thai society, Thai politics, farang.
17) Phuket Vogue
About: Phuket Vogue is a resource dedicated to bringing you up-to-date information about restaurants and nightlife in Phuket. This website is constantly expanding to bring you the most vogue clubs and eateries on the island. Whether you want to party in Patong or dine out in Phuket City, we have the info for you.
18) Women Learn Thai… and some men too 😉
About: Expat making her way through Thai language and culture.
19)Bangkok Dazed (no longer being online)
About: Don Gilliland's Bangkok Weblog.
20) Bisean
About: All about South East Asia, hot Eurasians and having fun on both sides of the fence.
There are wonderful blogs listed in the top 20 (and more), so please take the time to vote for the blog of your choice. And Matt, thank you MEGGA for the adding me to the group.