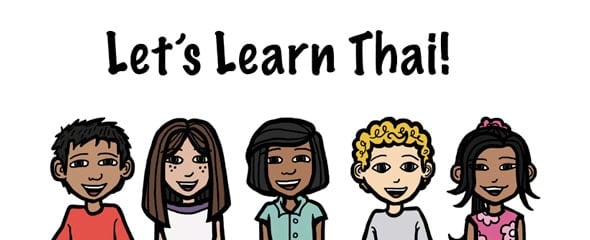 Learn Thai Through Stories, Grammar and Exercises…
I'm going to do something I rarely do, and that's share a project I haven't seen (yet). But the concept is so good, I just had to share asap.
Chickynet Interview – Karine from Kawee Publishing: For many years Karine searched, without success, for a language book which she could use to teach Thai to her young son. Two years ago she decided to write her own book. Instead of using standard phonetic symbols which is she found too difficult for young readers, she uses the Roman alphabet to teach Thai. The stories and exercises have been beautifully illustrated by Jessica Emmett. Fun to know is that Karine's son Alec is one of the characters, Kawee.
Illustrator Jessica Emmett: I can't believe! The book "Learn Thai – Through Stories, Grammar & Exercises – Book 1″ by Karine Jones has finally been printed and went on sell! It has been a great project. After months of throwing ourselves into finishing the book, my copy finally arrived in February 2013! =D As someone that has a been a long digital artist I had almost forgotten the feeling of holding an object in your hands.
Kawee Publishing: Learn Thai Through Stories, Grammar and Exercises – Book 1″ is a fun and educational book for complete beginners. Each lesson consists of an illustrated story with fun characters, simplified grammar notes and exercises and games. Thai script has been added for the Thai readers. Children easily associate with the characters of the book and love the fun games.
You can order your copy from Kawee Publishing (I'm off to do that right now).