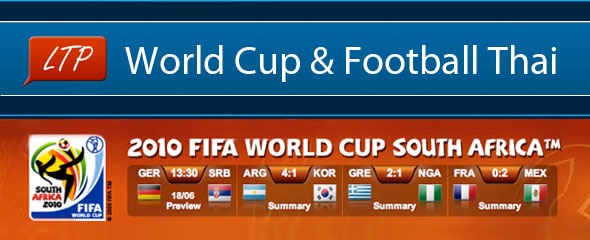 World Cup & Football Thai…
Are you following the World Cup on Thai TV? Do you understand what is being said, or are you watching with the sound turned off? For those who are confused and befuddled, or just want to participate verbally, Jo and Jay from Learn Thai Podcast have generously created two fun-filled videos of Thai words and phrases to help.
Learn Thai football slang and Thai language phrases that you can scream while watching your favorite sports team. 100% slang and all the country names are just examples! Have fun!
This is my favourite so far:
ฝรั่งเศส หมู แพ ชัวร์
fà-ràng-sàyt · mŏo · pae · chua
(France · pig · lose · sure)
France will lose.
Instant Thai Phrase Lesson: Football II…
The World Cup at my house…
I have to confess that I haven't watched much World Cup this year. While I'm (sometimes) awake at the godawful time it's on in Thailand – 1.30am, correct? – watching footie is not something I'm driven to do in the wee hours. Don't get me wrong, I do enjoy a good game (but on my time).
Nevertheless, the games have touched my Thai life in two places. Just not in a healthy way.
Due to the drinking of 50 cans of Coke, a Thai friend is flying to South Africa for the World Cup finals next month. All excited about the win, she had a zillion questions about the country. And being a gal, it was all 'what to wear' and 'what to see' and 'what to eat' (I'm surprised she's still hungry ;-). Tagged on was 'what to avoid', as apparently it can be dangerous out there.
Also due to the World Cup games, my แม่ บ้าน /mâe bâan/ (mother + house = housekeeper) started eating larger orders of McDonalds. That's right. My fabulous แม่ บ้าน gets McDonalds once a week (long story, and one I will get to in a later post).
McDonalds in Thailand is giving away free World Cup 2010 Coca-Cola Glasses with XL meal orders, so my แม่ บ้าน is busy eating and drinking her way to a full set. She has four so far, and I guess the idea is to have several of each colour. Wish her luck… and a good diet plan for afters.
And where am I during this World Cup Coca-Cola feast? Pretty much out of it, as I don't drink Coke unless it's heavily laced with rum or some such. Which means never. How about you? Are you watching the games? Collecting Coke glasses? Drinking lots of rum? All of the above?
More LTP on WLT…
And before I go, here's a HUGE thanks to Jo and Jay for creating the two free World Cup videos. Ta you two 🙂