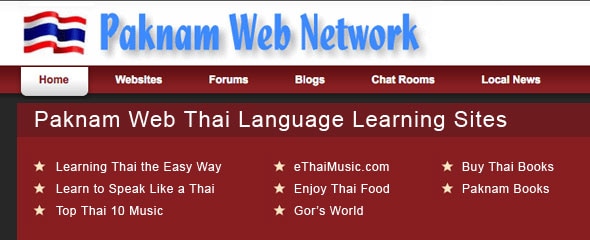 Thailand's Paknam Web Network…
When it comes to learning about Thailand, the collection of websites found under the Paknam Web umbrella should be your first stop on the Internet highway.
The Paknam Web Network is the largest collection of English language websites about Thailand. We have sites about every aspect of Thai culture and life. These include forums, chat rooms, blogs, photo albums, travel news and guidebooks. Many of the websites receive between 6,000 and 60,000 unique visitors per day…
The Paknam Web Network is managed by Richard Barrow (writer, photographer and managing director). Richard's support team includes: Stephen Cleary (freelance travel writer and translator), Suthee "Phong" Buayam (content provider), Kritika C. (shop manager), and Panrit "Gor" Daoruang (Webmaster and famous Thai blogger).
The websites started as a small project at Sriwittayapaknam School. We mainly had student webmasters who helped produce half a dozen websites about Thailand from guidebooks to fansites. Our first big break was the site that we did for The Beach movie. We soon found ourselves the center of media attention as journalists from around the world were ringing us to find out the movements of Leonardo DiCaprio. We also received an invite from the filmmakers to visit the set in Phuket and Leo's mum sent the students a hundred Titanic videos. The students came and went over the years but two of them are now full time employees.
Learn Thai with the Paknam Web Network…
Amongst the Paknam Web Network are some of the top Thai language learning sites available (learn2speakthai.com no longer online). The Thai lessons are 100% free to the public. And Free is good.

Learning Thai the Easy Way (learningthai.com no longer online)
This is a large site with a tight focus on learning to read and write the Thai language. You will find many useful learning materials under these subject titles: Thai Alphabet, Writing Thai Resources, Learn to Read Thai, Grammar Notes, Listening Resources, Conversations, Reading Resources, Study Aids, Games and Quizzes.

Learn to Speak Like a Thai (spokenthai.com no longer online)
Filled with listening resources to get your ear fine-tuned to the Thai language, Learn to Speak Like a Thai contains: Learn Thai Podcasts, Free Downloads, Aesop Fables, Thai Audio Books, Thai Soap Operas, Thai Television News, Thai TV Commercials, Thai Sports News, Thai Radio, Thai Students and Student Video Blogs.

Thai Language Study Aids
This site compliments the Thai learning courses produced by Benjawan Poomsan Becker. There are learning aids for: Thai for Beginners, Thai for Intermediate Learners and Thai for Advanced Readers.

eThaiMusic.com (offline for now)
eThaiMusic.com and Top Thai 10 Music go a long way to satisfying Thai music lovers. Check back often to find new songs, the majority translated into English with Thai transliteration. You can even learn about the different Thai Groups and Singers. And if you have any Thai music questions, then stop by Paknam Web's two music forums: Thai Music and Thai Songs in English.

Gor's World (gorsworld.com no longer online)
In 1997, Panrit "Gor" Daoruang started blogging about his life as a young teen in Thailand. Gor's life as the first blogging Thai teen is an interesting read, but what is useful for Thai learners are the stories exhibited in both English and Thai.

Sriwittayapaknam School – โรงเรียนศรีวิทยาปากน้ำ (no longer online)
The Sriwittayapaknam school is where the Paknam Web Network got its beginnings. On this blog you will find posts describing the daily lives of the students at Sriwittayapaknam. The posts have both Thai Script and English explanations under beautifully shot photos. Sound files are included on some of the posts, but not all.

Enjoy Thai Food (enjoythaifood.com no longer onlie)
On Enjoy Thai Food and Thai Street Food there is a spread of Thai food in both English and Thai. Be sure to sample the tasty selections: Talking Menu, Picture Menu, Ingredients, Cooking Videos, Thai Food Photo Album, Useful Thai Phrases, Food Quizzes and Thai Cooking Schools. They even have a Thai Food forum.

Learning Thai Forum
The Paknam Web forums cover the range of Thai learning too: Thai for Beginners, Thai For Intermediate, Spoken Thai MP3, Thai Songs in English and Thai Grammar. Go to Spoken Thai MP3 [Archive] – Paknam Web Thailand Forums for the download list.

Buy Thai Books and Paknam Books
Paknam has two bookstores: Buy Thai Books for those living outside Thailand and Paknam Books for those living in the country. My favourite from the learn Thai sections is their B&W Thai Alphabet Flashcards.
When you find the need for a bit of background to go with your Thai lessons (and you will), Paknam's Thai Culture Blogs keep you informed on: Buddhism, Do's and Don'ts, Festivals and Events, Superstitions, Thai Culture and Thai History.
And if you want to see what is going on with the best blogs in Thailand, slide on over to Pakman's Thailand Voice.