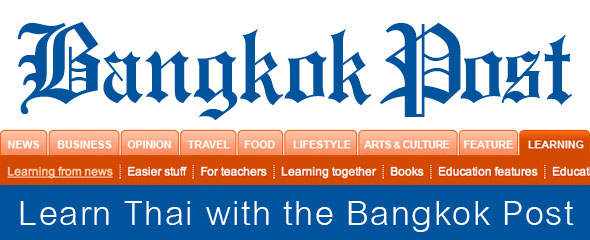 The Bangkok Post teaches Thai…
Exciting for intermediate Thai language learners is a new section at the Bangkok Post: Learning From News > Learning Thai from Post Today.
Bangkok Post: We now have thousands of readers using stories from the Bangkok Post each day to learn English, but our sister newspaper Post Today can be just as useful for those of you who are learning Thai.
Each post has a short article in Thai and English, with audio for both. You can read along with the audio online, or copy everything onto your computer to study later.
Here are the available subjects so far:
Call for world to brace for expensive food
Donkey wifi
Nicknames
Under control
Practice bullets
Big-name signing for BEC Tero Sasana
Phuut Thai, laew laeng Tai
Abbreviation headaches: น.1, สวป., ผบช.น., พล.ต.ท., กก…
Actress death mystery
The flood season
Don Mueang ready for business
YouTube clip makes news again
Another video clip makes news
Tennis in the news
Politics in the news
Senate debate
Chalerm has his say
Sandbag meeting, a Thai version
Sihanouk dies
Sihanouk's return
3G auction criticised
Edit: If you want to find the rest of the Thai posts google "Learning Thai from Post Today".
Edit: Learning Thai with Post Today (Archive)
To get updates on new articles follow Terry Fredrickson on twitter: @terryfrd. If you have suggestions or questions or just want to say "hey", join their Facebook page: Bangkok Post Learning.