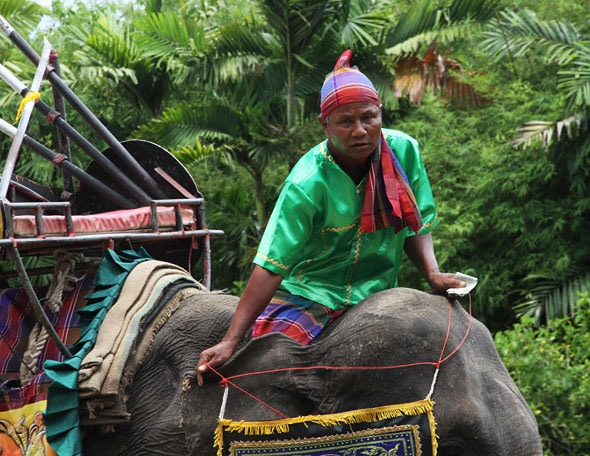 Thailand's Jumbo Banquet and Jumbo Queen contest…
I received a Dumbo sized disappointment this weekend. All over the Internet there were announcements of Samphran Elephant Ground's Jumbo Banquet and Jumbo Queen Contest. I've been dying to take photos of a Jumbo Queen contest so was thrilled at the thought of a new adventure.
jumboqueen.com: On the 1st of May in 1996, Samphran Elephant Ground and Zoo celebrated its 10th anniversary by hosting the first Jumbo Banquet. Now an annual event, the banquet features elephants feasting on tons of their favorite vegetables and fruit – in a show of thanks to the elephants for all their hard work and the happiness they bring to the public. Organizers were overwhelmed by the enthusiasm shown for the event by the public and the media alike.

The following year, to add to the entertainment, the Jumbo Queen contest was incorporated into the festivities. The aim of the contest is to select the contestant who best exhibits the characteristics of an elephant, by virtue of her grace, elegance and size, to help promote elephant conservation causes in Thailand.
In preparation, I contacted long-time friends to see if they wanted to ride along with me. They weren't totally convinced so I raved hugely about the Jumbo Queen contest as well as the Jumbo Banquet. They finally agreed to come along so I then double-checked the information from the source:
jumboqueen.com: The event start from 08.30 – 17.30 with regular price.
Next up, I called my regular taxi driver to discuss price and times. And on Sunday morning early, excited to see the Jumbo Queen contest and Jumbo Banquet, off we all went.
If you are looking for a good resource to learn Thai online, check out Learn Thai from a White Guy. Upon entering your email, you'll get five free lessons to help you start learning to read Thai.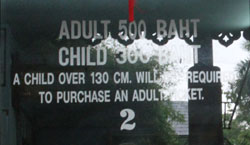 The entrance fee at the Samphran Elephant Ground and Zoo for foreigners is 500 baht for adults and 300 baht for kids. For Thais it's 100 baht but for Thai drivers it's free.
I don't fuss at the price differences but I know some of you do so there you go. Note: I haven't found it mentioned anywhere else and didn't find the Thai price at the ticket counter. The lass selling the tickets was not comfortable with me pressing for the answer (twice) but hey I needed to know.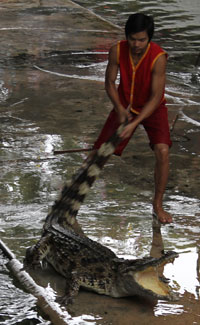 Once in the park we looked around for the Jumbo Queen contest. There was a big sign mentioning a crocodile (alligator?) show, a magic show, and an elephant show. And in the late afternoon, the Jumbo Banquet but no Jumbo Queen contest.
A bystander mentioned that the contest had been canceled several years ago. He also shared titillating gossip about the reasons. I won't share them here because while I found the telling quite hilarious, it might contain shred of truth so I'd rather be safe (yup, I've been warned – TiT).
The official statement is that the Samphran Elephant Grounds and Zoo ran into problems with the contest and the problems need to be sorted first. But they are not sure when the next Jumbo Queen contest will be.
What did we end up doing? Well, my son was raised in SE Asia, meaning that I've seen a gazillion crocodile farms, elephant shows, and monkeys in cages scratching their butts. So after attending five minutes of the alligator show and a part of the elephant show, and being unwilling to stay the full 8 hours in the hopes of seeing elephants being fed (again), we took off.
Cost for the excursion: 1,500 baht for the nonexistent Jumbo Queen contest + 2000 baht for transportation = 3,500 baht.
But here's the thing. I knew better. Thais are not known for keeping their websites updated so really, even with all of the information out there saying that there was a Jumbo Queen contest on 1 May 2011, to avoid this snafu all I had to do was call. My bad.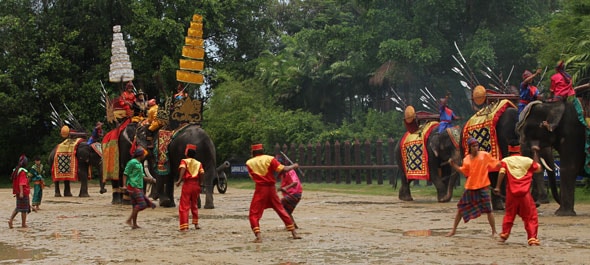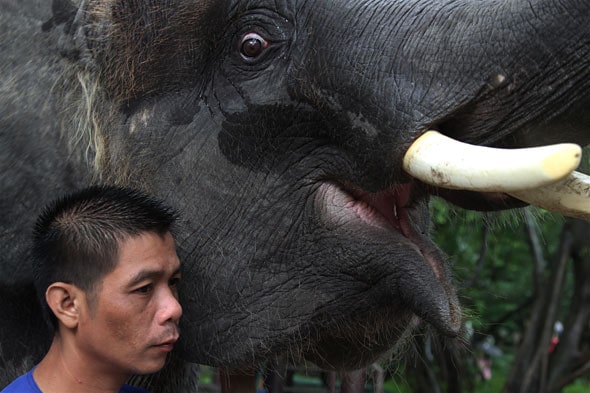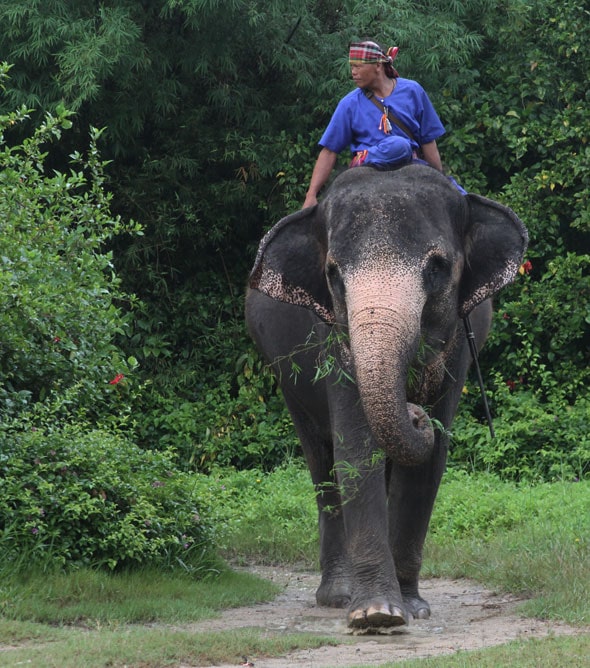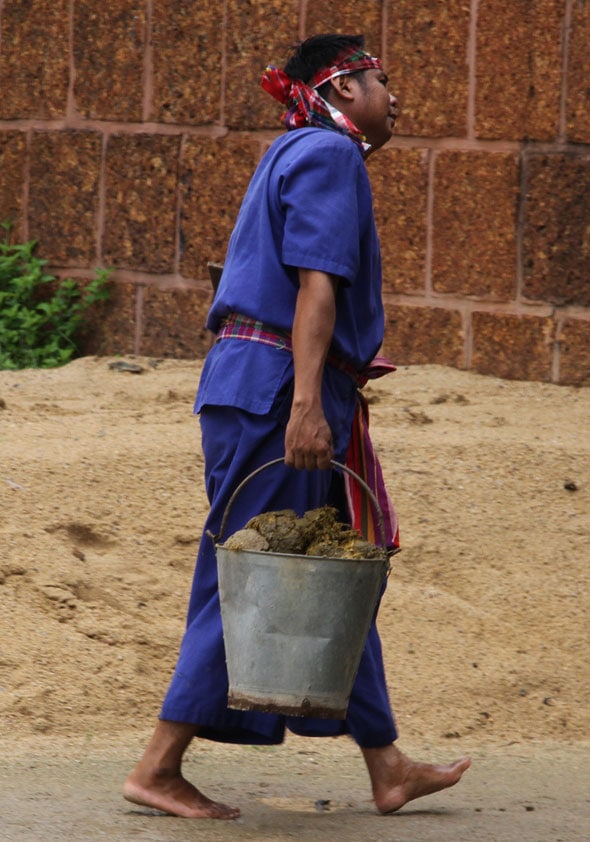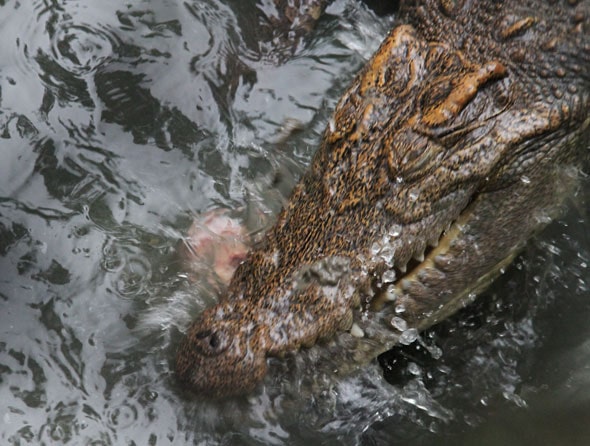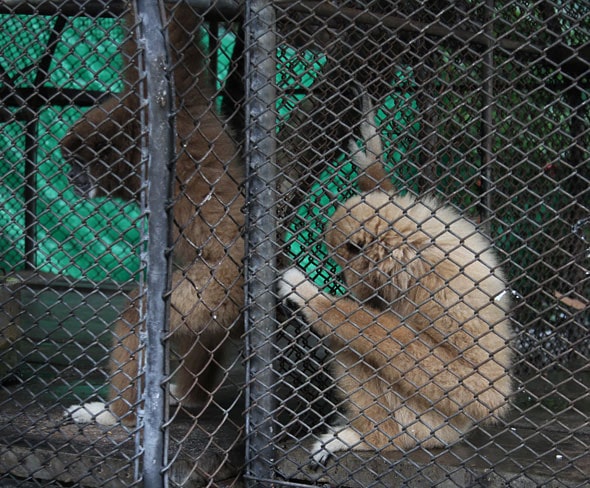 Jumbo Queen contests can be found from Chiang mai to Pattaya and elsewhere. And no surprise, you can even find a Thai Lady Boy Jumbo Queen contest!
Pssst… Talen… wanna go?

Advertisement