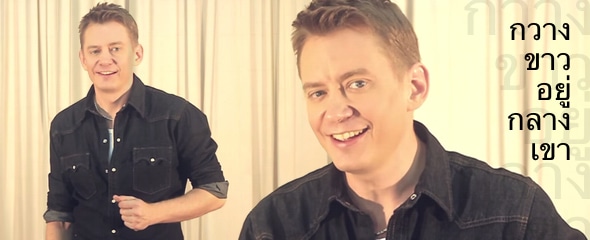 Jonas's Tongue-twister: กวางขาวอยู่กลางเขา…
Jonas Anderson's new song, กวางขาวอยู่กลางเขา, is a hilarious hit. The lyrics tell a story about a western English teacher who falls in love with a Thai lass and asks her to check his Thai. And what Thai it is! The song is a mix of tongue-twisters and nonsense verse, and in places, sung at high-speed.
Note: For this song I won't add transliteration – there's enough distraction as is. Those who prefer transliteration can just drag the Thai script into Thai2English.com.
Lyrics and English translation: กวางขาวอยู่กลางเขา…
คนน่ารักเขาว่ามักจะใจดี จะมีเวลาให้พี่คนนี้สักนิดไหม อยากจะรบกวน ชวนมาทำอะไร ที่พี่ยังสงสัยอยู่ตั้งนาน
Nice people are said to be kind hearted. Would you have a little time for me? Can I bother you with a request to do something that has confused me for a long time?
อยากสบตา อยากเห็นหน้า อยากศึกษาภาษาใจ อยากให้เธอ มาเป็นครู อยากจะรู้พูดแบบนี้ ถูกต้องไหม
I'd like to meet your eyes, see your face and study your heart language. I want you to be my teacher. I want to know if I am saying this right…
กวางขาว อยู่กลางเขา ไปกลางเขา กวางขาวเดินมา ยายกินน้ำลำใย น้ำลายยาย ไหลย้อยรดย่า
The white deer lives in the middle of the mountains. I walked there and the deer walked towards me.
ยะลา มาระยอง แล้วขึ้นล่อง ระหว่าง ระยอง ยะลา
I travelled from Yala to Rayong and went up and down between the two provinces.
ยายกินน้ำลำใย น้ำลายยาย ไหลย้อยรดย่า
Grandma (mom's mom) is drinking lamyai juice and her drool is dripping on another grandma (dad's mom).
กล้วยตานีปลายหวีเหี่ยว เหลือหวีเดียวหิ้วห­วีเหี่ยวไปหิ้วหวีเหี่ยวมา
Grandpa's bunch of Nee bananas is withering. There is only one withered bunch left that he is carrying here and there.
Jonas: The following parts are a bit nonsensical since the main point is just putting words together that are similar yet different to make it easy to trip over them.
เช้าฟาดผัดฟัก
Had gourd stir-fry in the morning.
เย็นฟาดฟักผัด
Had stir-fried gourd in the evening.
ผัดผักฟักขาว
Vegetable stir-fry with white gourd.
ชามเขียวข้างขวาคว่ำเช้า
The green bowl on the right is overturned in the morning.

ชามขาวคว่ำค่ำ 
ควานคลำ ชามขาว
The white bowl is overturned in the evening. Groping about for the white bowl.
Yuki: ฟาด is an impolite term for "to eat". And the guy had the same thing both in the morning and in the evening but used two different ways to express the same dish 😀
Are you up for the challenge?…
If you do take up the challenge, after uploading your video to YouTube, please post the link in Jonas' Facebook page: Jonas Thailand.
Hugh and I would like to thank Jonas for his help and permission, and Yuki (Pick up Thai) for assisting with the translations. You guys are great!