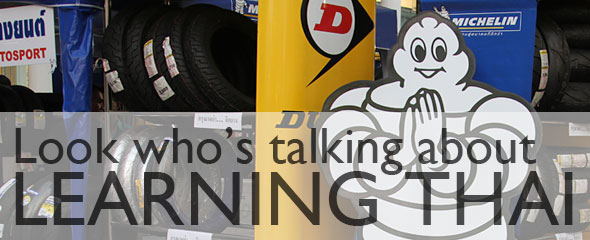 Who's talking about learning Thai…
This is the fifth Who's talking about learning Thai post. How time flies. September was the first post in the ongoing series, followed by October, November, and December.
A couple of the bloggers mentioned in the first part of the series haven't updated their sites in awhile, but that's generally how it goes. Bloggers come in with a flurry of posts and then life intervenes. Anyway, I'll keep them on a roster in case they reappear.
WLT's generous contributors …
For January, long-time guest writer Hugh Leong sent in a handy post, Thai Language Thai Culture: At the Supermarket. During a chat with Hugh I mentioned that my housekeeper shortens supermarket to 'supha' which is quite fun. But apparently it hasn't reached Chiang mai yet.
The second guest post comes from Luke Cassady-Dorion. Luke is a bit of a linguist so he decided to review L-Lingo's Burmese & Thai Language Learning Software on his school break. I have L-Lingo's Thai version and I can attest to the value of this software. It is good. And I do plan on writing a review.
The final post comes from Tod Daniels. Tod(d) is well-known for checking out Thai language schools. And lucky for us, he's agreed to write a series on the subject. You can read all about it at Overview: Reviewing Thai Language Schools in Bangkok.
There were two interviews in the month of January. First came the lovely Grace Robinson, followed by the handsome Nils Bastedo. Grace attended Chiang Mai University for a year, and is now in the country on a scholarship. Nils is busy making plans to relocate to Thailand.
Note: If you would like to contribute posts and/or if you have a talent for Thai, please contact me.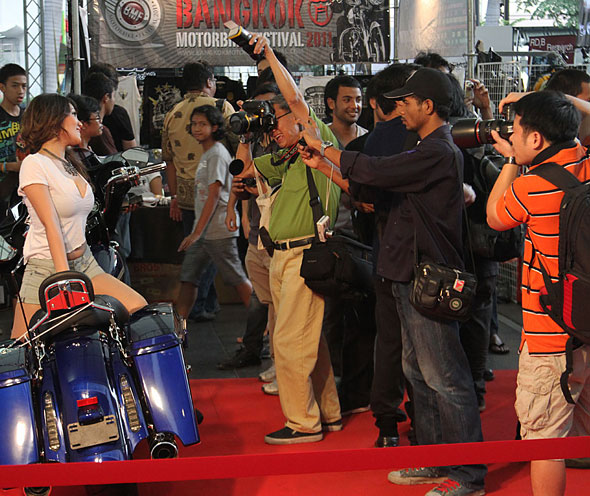 January: Who's talking about learning Thai…
Andrej: Bakunin Learns Thai (no longer online)
Andrej has one post for January, 'Reading Thai'. But as they are connected, here's his post from early February: 'What to expect from extensive reading'. When you read the second post check out the comments. Resources from his posts to save for later are dek-d.com (portal) and Second language reading and incidental vocabulary learning (pdf download – no longer online … but I have it).
Brett Whiteside: Learn Thai from a White Guy
Brett's been traveling for several months, coming back 'home' just in time to write ช่วงนี้ I've been a little ยุ่ง. The main focus is a short description in Thai about his laptop computer, so those of you needing computer vocabulary will find it useful.
Hamish: Tweet Yourself Thai | twitter: @AjarnPasa
I can always depend on Hamish for timely Thai holiday posts: National Children's Day, Teachers Day, and Chinese New Year. Each post has Thai script, roll overs, and fabulous sound files.
Chris: chris_thai_student
Chris makes a good point in Why Language learning classes won't work. I've heard that one hour of language class needs two to four hours of study/use, so we seem to be on the same page. In Loooong vowels and six tones in Thai, he adds another tone to the mix. Not five? Six? Yes. Six. Be sure to check it out.
Josh Sagar: Let's Talk Thai (formerly Learning Thai)
In Double Adjectives and Adverbs (Reduplication), Josh touches on how to add emphasis when speaking Thai. One of the first I learned was จริงๆ เหรอ /jing jing rĕr/. It was so funny to say and I said it often (my early overuse must have been annoying).
Martyn: Beyond The Mango Juice
As Martyn is starting to pepper his posts with Thai I'm going to post one that made me smile: Sanook Singmat and Look Tewadah – เพลงลูกเทวดา. It's from December so I'm cheating a bit, but I was out of town when it went live. So. There you go.
Mod: Learn Thai with Mod
Mod has a new blog and she's doing quite well with it. In Order food Mod introduces patterns. I have a thing about learning Thai with patterns so IMHO, her teaching style right on the money.
Palmisano: Thai Blog
Palmisano continues with the needed basics of the Thai language: What are the Thai question words?, Titles in Thai (Mr, Miss, Mrs, etc), and Thai Possessive Words.
Richard Barrow: Using the iPhone in Thailand (no longer online)
Richard has a great roundup for learning Thai apps for the iPhone and iPad. 'Thai for Beginners for the iPhone' is my favourite (I have apps to give away this week). The 'HEdictionary English Thai app' is for both iPhone and iPad. The 'Thai Talkboard' for the iPad has a curious design (very PC). Looking at the phrases on offer, they are just the sort one would need walking around with an iPhone, but not an iPad. The 'Thai-English-Thai Collins Phrasebook & Dictionary' is the latest in a growing list of products from Collins. I totally smiled at Richard's mention of the very Thai phrase "Do you think it is going to snow?" 🙂
Sarawan: The Parent Vine Thailand (no longer online)
In 'ABC กขค is easy as 123…', Sarawan is venturing into the land of reading Thai by teaching her young toddler the Thai alphabet. The way I look at it, she's in the envious position of experiencing the wonder of a child moving through the learning ah hah's too. Sweet!
Snap: Learning Thai In Chiang Mai
Snap's Thai post for January is Rock, Paper, Scissors…Candle? I've been under the weather since it came out and keep forgetting to find the answer for her. Can you?
Terry Fredrickson and Jon Fernquest: Bangkok Post, Learning From News
The subject of healthy food in Thailand often comes up, so this month I've chosen two posts on the subject: Food sanitation and European collaboration on food safety. Years back Thailand educated the street vendors but bacteria in food is now on the rise. Only this time, in exports.
Podcasts about learning Thai…
Bangkokpodcast.com: Thai Language Series 9: Adam Bradshaw
Apologies, I haven't listened to this one yet. But it's sure to be good. They all are.
YouTube channels about learning Thai…
Adjima Thaitrong: Learn Thai with Mod, fun & easy!
This month Mod brings us Restaurant expressions. That now makes a lucky 13 videos at Mod's place. Nice.
Bloggers who sometimes tweet more than they blog…
What's going at at twitter in the learning Thai field is sometimes fast and furious. So you don't miss out, below are the main bloggers who bounce between twitter and blogging:
Ajarn Pasa: Tweet Yourself Thai | twitter: @AjarnPasa
Ajarn Pasa is one of the few here who gives twitter and blogging equal time.
Kaewmala: Thai Women Talks | twitter: @Thai_Talk @thai_idioms
Kaewmala is a political gal at @Thai_Talk but also shares needed insights on the Thai language at @thai_idioms and @lanna_talk.
Rikker Dockum: Thai 101 | twitter: @thai101
Rikker sometimes blogs, sometimes podcasts, but mostly twitters.
Who's doing all that Thai twittering…
The (mostly) complete Thai twitter list:
@AjarnPasa
@andrewbiggs
@English4thai
@js100radio
@ikimmim
@lanna_talk
@literallythai
@stu_jay
@Thai101
@ThaiAlive
@ThaiShortNews
@thai_idioms
@Thai_Talk
Note: The full list of both twitter people and bloggers can be found here: Thai Language Bloggers. Again, let me know if anyone is missing.
Oh, and the photos are from the 2011 Bangkok Motorbike Festival held at the end of January. I hadn't planned on attending but found myself in the shopping centre so took the opportunity to grab a couple of snaps. A related post will be forthcoming.
Until the February version, enjoy…