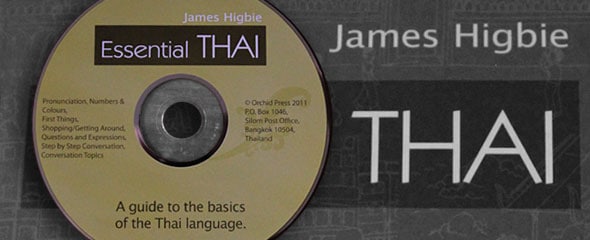 James Higbie's Essential Thai has arrived in Bangkok…
At long last, Jim's Essential Thai has hit the bookshelves at Orchid's Bookshop in Bangkok. You can purchase Essential Thai online from Orchid Press or stop by their bookstore on the 4th floor of the Silom Complex Shopping Plaza. Oh. And I asked at Kinokuniya's too – it's on order.
Orchid Press: Essential Thai is a complete learning package for those who want to acquire basic working skills in the Thai language, quickly and efficiently. Freshly updated and back by popular demand, Essential Thai includes a CD ROM with MP-3 audio files to introduce the student to Thai pronunciation and beginning phrases.

Focused completely on developing practical language skills, Essential Thai introduces conversation and grammar, commonly used vocabulary and how to read Thai script in a logical, graduated, manner.

If you are looking for a good mobile application to learn Thai, you can check out Ling. Through this application, you can learn Thai with games, flash cards, and puzzles. It can help to improve your speaking, listening, reading, and even writing skills.

Whether you are traveling or planning to live in Thailand, whether shopping, booking a hotel, ordering a meal or speaking on the phone or much more, this is the language tool for you.
Anyway, I picked up a copy of Essential Thai this week so a review is indeed in the works (as is an interview with Jim).